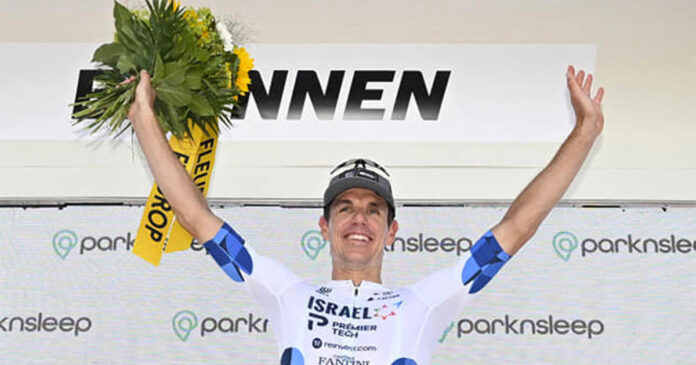 South African professional road cyclist Daryl Impey has won Stage 4 of the Tour de Suisse, his first win for over two years and just over a year since his horrific crash. The win today (Thurs 16 July) was thrilling, with Impey in a huge sprint against the world's top sprinters. Watch below.
An elated Impey took to social media after the win, saying: "Thank you everyone for all the messages and support. It was fantastic to cross the line first, sadly no salute but didn't want to throw it away at the end. I'm smiling, I'm happy and overcoming everything to be back on the top step has been so rewarding for my family and I. BE LEKKER have a good week. Photos by Sprintcycling."
WATCH Daryl Impey's first win for over two years
?? @darylimpey's first win for over two years! ?

The South African takes victory on Stage 4 of the Tour de Suisse with a huge sprint ?
___
?? #TourdeSuisse pic.twitter.com/dfIBteZXvJ

— Velon CC (@VelonCC) June 15, 2022
The SA athlete, who has won the SA national champion title 11 times, had to learn to walk again after his sprint crash in Ruta del Sol in Spain, last year in May. He suffered a broken pelvis and collarbone.
So today's victory is huge. Impey told reporters: "I never thought it was going to be possible."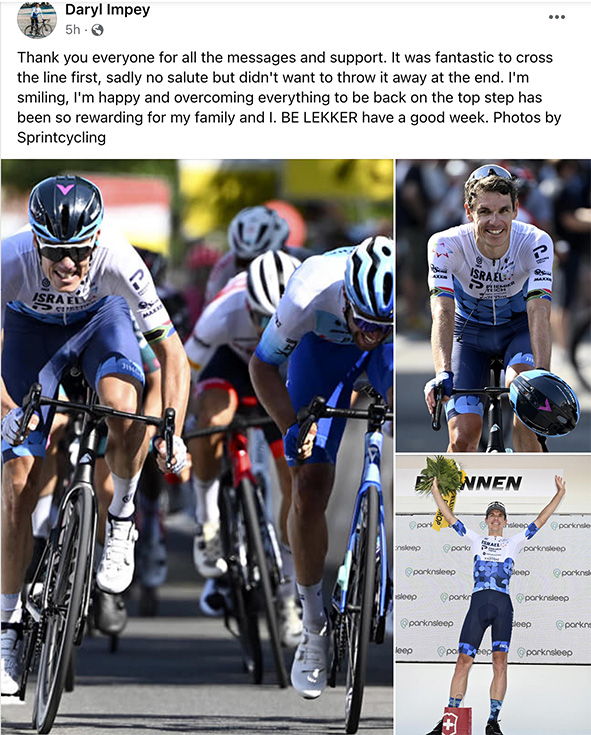 In true South African fashion, he revealed he was feeling "chuffed", and said he loves the heat at the moment in Europe so "it's super to be here".
WATCH 'Chuffed' Daryl Impey after Tour de Suisse stage win
"I never thought it was going to be possible." ?

We spoke to @darylimpey about his Stage 4 win at the Tour de Suisse and @IsraelPremTech's strategy for the rest of the race ?
___
?? #TourdeSuisse pic.twitter.com/lRsgfF6LBa

— Velon CC (@VelonCC) June 16, 2022
Tour de Suisse, Switzerlands biggest (male and female) road race, started on 12 June and runs until 21 June 2022: http://facebook.com/tourdesuisse