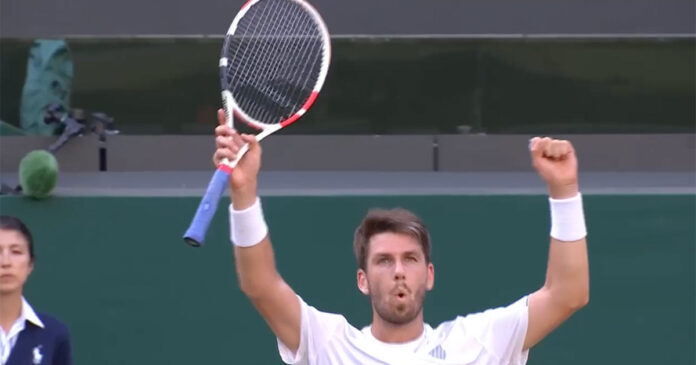 LONDON (Reuters) – British ninth-seed Cameron Norrie – who was born in South Africa, raised in New Zealand and naturalised in Britain – reached his first Grand Slam semi-final when he twice came from behind to beat unseeded Belgian David Goffin in five sets on Tuesday, to set up a dream Wimbledon meeting with Novak Djokovic.
Norrie looked out of sorts for much of the match but, lifted by the fans who threw their support behind their adopted South Africa-born home hope, found an extra gear in a tense fifth set to secure the biggest win of his career by 3-6 7-5 2-6 6-3 7-5.
Cam was emotional and speechless afterwards, as the crowd – including Kate and Prince William – cheered for him.
"I can't even talk, I'm so happy to get through with such a great team, such a great family and friends here," said the 26-year-old who was ranked 50th a little over a year ago. (His parents – who are originally from Scotland and Wales – have been watching him on Court 1, having come over from New Zealand where they still live, and where Cam spent much of Lockdown.)
"It wasn't going my way from the beginning," Cameron said of the match today. "All credit to David, he was moving me and playing really good, but thanks to you guys (the crowd) I managed to stay as patient as I could.
"It was all just adrenaline, using my legs and trying to put the ball in the court, and it's great to get over the line."
As a child, Cameron's family unfortunately left South Africa for New Zealand, after suffering a break-in to their home while Cam and his mom were at home. Their neighbour was also held up at gunpoint. Cam's mom says that when he was just four, and still living in SA, his passion for tennis began when he picked up a cut-off squash racket and hit balls in a pretend court (their driveway). Since then, he's made sacrifices along the way in his dream to play the best tennis, including leaving his family in New Zealand when he was just a teenager to work on his tennis in England, where he spent a year living with a host family.
The very real and prestigious Wimbledon semi-finals is on Friday (8 July 2022) on Centre Court at 15:45 at the All England Lawn Club. South Africans, New Zealanders, Texans (where he studied) and Brits will all be cheering Cam on! "Hopefully you guys can get behind me again," he said on Tuesday, "I'm sure you will by the sounds of it…"
WATCH Crowd Goes Wild as Cameron Norrie Reaches First Grand Slam Semi-Final | Wimbledon 2022
Incase you missed it, here's a brilliant moment from Sunday's match that earned Cam Play of the Day title:
WATCH Play Of The Day: Cameron Norrie | Wimbledon 2022