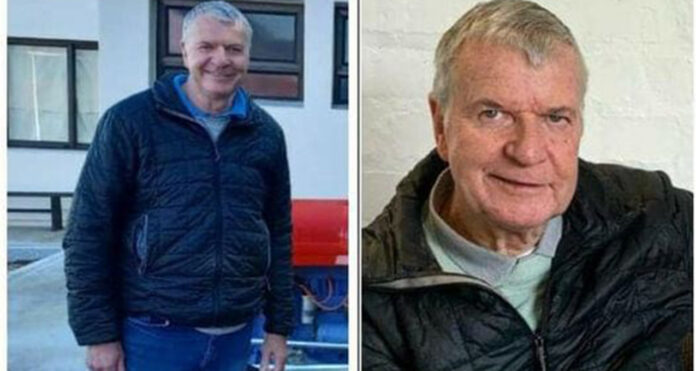 The search continues for missing Capetonian, Gus Thompson, who went missing on Thursday evening. Seventy-year-old Gus unfortunately suffers from dementia. His daughter, Kate Thompson, today issued an update with key points on how anyone who spots him could help.
She says: If you see him:
1) TAKE A PHOTO
2) TRY TO KEEP EYES ON HIM
3) CONTACT 0796504814 immediately (Preferably on WhatsApp)
Kate said: "Despite hundreds of potential sightings, all we have been able to prove conclusively is that he snuck out of his care home in Noordhoek at 6pm on Thursday 14 July (there is CCTV of him leaving) and then we have CCTV of him walking through the day-pass checkpoint on Chapman's Peak Drive at 8pm later that evening (on the Hout Bay side of Chapmans)."
She said he appears to be taking a casual stroll in the video footage and is heading towards Hout Bay.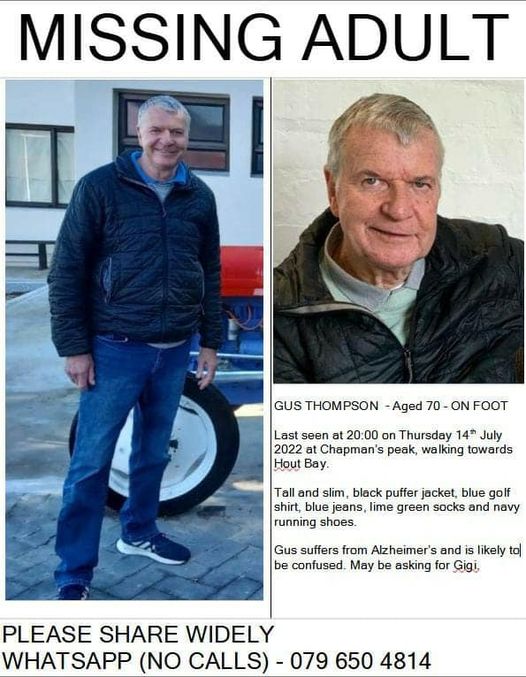 "There has been an exceptionally extensive search effort including, among other things: multiple sniffer dog teams, search drones, private investigators, mountain rescue crews, and Wildlife search and rescue crews. Almost every trail running group and mountain biking club in Cape Town has been made aware. All hospitals, shelters, police stations, soup kitchens have been notified.
"All private security companies have been asked to keep a lookout as well as every neighbourhood watch group in Cape Town. His previous homes and the areas surrounding these homes are being regularly monitored. The 'Pink Ladies' organisation has been notified."
Kate, who is herself an admin at The Angel Network – Western Cape, said there have been hundreds of volunteers blanketing the city with flyers and posters, as well as physically searching the areas around where he was last seen.
"There has been a search by the Sea Rescue people by boat as they initially suspected that he may have gone over the edge of the cliff of Chapman's Peak Drive. But this has been ruled out.
"There is a team of CCTV experts working tirelessly to go through every bit of CCTV footage that they can get access to and they are meticulously searching it all frame by frame.
"And yet, despite all these efforts, the last confirmed sighting remains that CCTV confirmation of him coming over Chapman's Peak towards Hout Bay at 8pm on Thursday evening."
Sniffer dogs have been able to trace Gus coming down Chapman's Peak Drive heading towards Hout Bay to where it is suspected he may have gotten into a car.
"The scent just stops there. It is probable that he got into a car at this point," said Kate. "If he did get into a car, he could be anywhere in Cape Town by now. So now the search has extended beyond the Noordhoek/Hout Bay area and we are pushing out to the wider Cape Town area."
She said the Thompson family has been "absolutely blown away" by the amazing response from the community.
"We have had literally hundreds of people volunteer their time, energy and expertise to assist us in finding Gus. Some of whom were complete strangers to begin with and have fast become what we are sure will be lifelong friends. We are so grateful to each and every person who has so selflessly helped us during this incredibly challenging time.
"Please continue to get this latest flyer out there into ALL communities in Cape Town and surrounding areas. We really need to get Gus's face on every shop window, every business, on every car (please post flyers in your car windows), and on the radar of every citizen of Cape Town.
"The thought of him out in the cold and rain, lost, hungry, confused and vulnerable for four days and four nights really is immensely hard for us to bear."
If you would like to help…
If anyone would like to help distribute flyers and posters, the family has plenty available. "Please just collect them from us and get them out there as much as possible," says Kate. (Please do not call. WhatsApp text only. Number above on the flyer. Thank you.)
Source: www.facebook.com