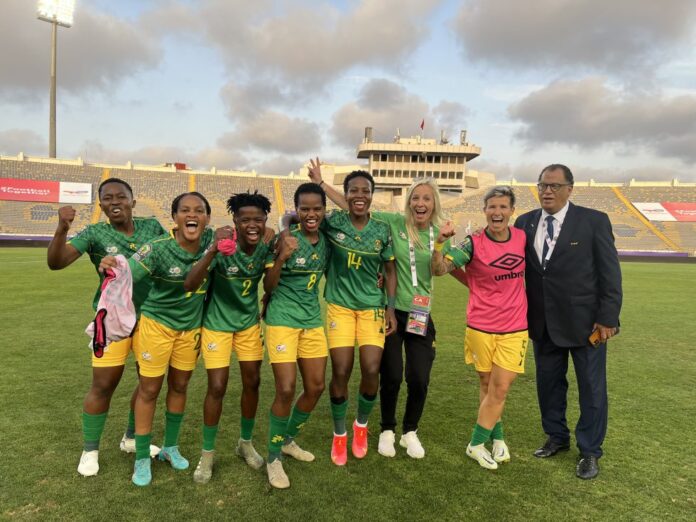 President Cyril Ramaphosa has wished South African women's football team Banyana Banyana well ahead of Saturday's Women's Africa Cup of Nations (WAFCON) final against hosts Morocco at the Moulay Abdellah Stadium in Rabat. UPDATE 23 July 23h50: South Africa's Banyana Banyana WIN the Women's Africa Cup of Nations (WAFCON).
Whilst hosting his Ivorian counterpart President Alassane Ouattara on Friday, President Ramaphosa still took the time to make a video call to the SASOL-sponsored Banyana Banyana's camp in the North African country.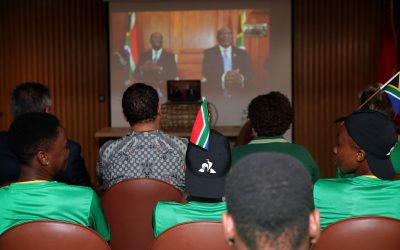 "We are here and we want to applaud you, and to wish you the very best tomorrow," President Ramaphosa said.
"you are making South Africa very proud"
"As you play in the final, you are making South Africa very proud. Even President Ouattara, as he is visiting South Africa, we have made him South African for this moment so that he can also wish you the very, very best. He is very impressed with the progress you have made. With this call we want to strengthen your hand, your boots and your efforts to go out and win the cup for South Africa."
President @AOuattara_PRCI and I had the honour of speaking to @Banyana_Banyana, congratulating them on all their achievements thus far and wishing them well for tomorrow as they go into battle against Morocco in the Women's Africa Cup of Nations. pic.twitter.com/wSq74bsehh

— Cyril Ramaphosa ?? (@CyrilRamaphosa) July 22, 2022
With South African Football Association (SAFA) President Dr Danny Jordaan also in attendance, the South African head of state also congratulated Banyana Banyana coach Desiree Ellis after she was named Africa's Coach of the Year in the women's football category during the Confederation of African Football (CAF) Awards in Morocco on Thursday (21 July 2022) night.
"I also want to congratulate you Desiree Ellis for having been, I believe, made coach of the year. We applaud you, we are very proud of you, we are really so, so proud. And with Mr Danny Jordaan there, I can see him in his beautiful Madiba shirt. I know that he will be supporting you all the way to your victory. So today you are getting this encouragement to go and play your best football, and just vanquish the Moroccans and bring back the cup. The whole of South Africa will be watching, so just know that I will be among those who will be watching. We have nothing but the best wishes for all of you to succeed."
Source: SAFA.net, Cyril Ramaphosa on Twitter