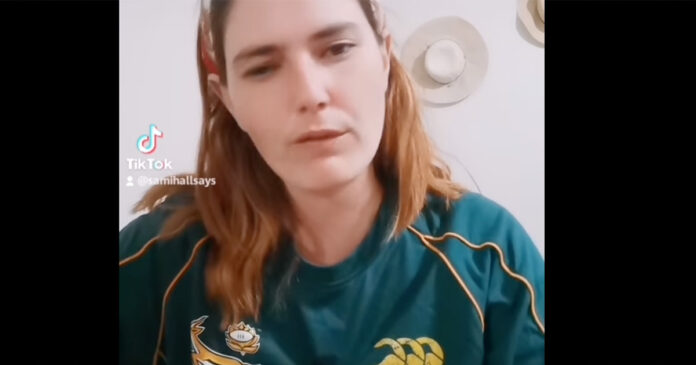 Well known South African TikTok user Sami Hall, from Gauteng, has delivered her verdict on the Springboks' performance in Johannesburg on Saturday against the All Blacks… and she doesn't hold back, although it's intended light-heartedly! Watch below.
Sami launches into her 'Rugga Recap' by saying "We lost. Righfully so." To everyone who wrote that it was a good game, Sami says "it was a k*k game".
Her criticism of the team and coaches include "aggressively avoiding having the ball" and putting the best players on the bench for a match against New Zealand. She also found the ref to be fair – "His weird hand movements was annoying but I think he was fair/equal to both sides. We did not deserve to win. Just my opinion though!! Don't come @ me ???"
WATCH Sami Hall Says Rugga Recap
With some viewers getting a little heated by her comments, Sami said: "Guys. I need everyone to relax. This is just a lighthearted commentary on one game. Please don't take it too seriously. At the end of the day I love Rugby, love the Springboks, and even though I don't understand why the the coaching team is adamant on having the players kick away possession the whole time, I am not an expert. No offence to anyone, and it is really not that deep. I honestly hate that I even have to make this comment, but don't bring any sexist or racist vibes to my page! That is not me. This page is just about laughs and not taking ourselves too seriously. There are respectful ways to disagree with each other, or me in the comments. Let us just relax and be kind. Have a great evening guys. Okay bye ?"
If you love rugby, you'll love TWO SIDES – From the creators of the multi-award-winning Chasing The Sun, Two Sides is a fascinating behind-the-scenes look at last year's historic British & Irish Lions series against the Springboks.
Sami owns Kempton Park coffee shop Mielie Pap Plaas Winkel and is well known to customers for her humorous videos. Follow Sami on TikTok.