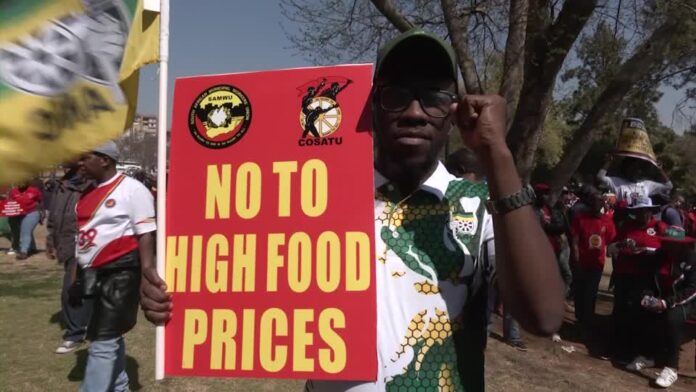 Hundreds of South Africans protested in Pretoria, Cape Town and other cities around the country on Wednesday, 24 August, against inflation that has soared to a 13-year high, in an action led by trade union group COSATU.
Protesters – holding  placards saying, "Stop Taxing Basic Food Items" – sang as they marched through central Pretoria towards the Union Buildings, which house President Cyril Ramaphosa's office.
Mugwena Maluleke, secretary general for the South African Democratic Teachers' Union said:
"We cannot continue with this particular high cost of living in our country, whether it's electricity, it's transport, it's food, these things must then be able to stop because our people are suffering."
Although labour unrest often affects sectors such as mining during wage negotiations, it is rare for COSATU, South Africa's biggest union and a longtime ally of the ruling ANC, to lead a national protest. Members of SAFTU, another large trade union, also marched. A memorandum of demands was accepted by Minister in the Presidency Mondli Gungubele.
The Department of Public Service and Administration said in a circular to government departments that state employees participating in the COSATU-led protests, would not be paid. Many therefore did not join the call for a National Shutdown since they simply couldn't afford to not earn a day's pay.
South Africa's headline consumer inflation rose to an annual 7.8% in July, its highest level since 2009.
Fuel prices were up 45.3% in June, their largest annual increase since the agency's consumer price index series began
The SABC reported SAFTU General Secretary, Zwelinzima Vavi saying that millions of South Africans go to bed hungry daily due to the high rate of unemployment. He said there's no need to celebrate yesterday's release of the unemployment rate for the second quarter, which edged lower to 33.9 percent from 34.5% in the first quarter.
Source: Reuters