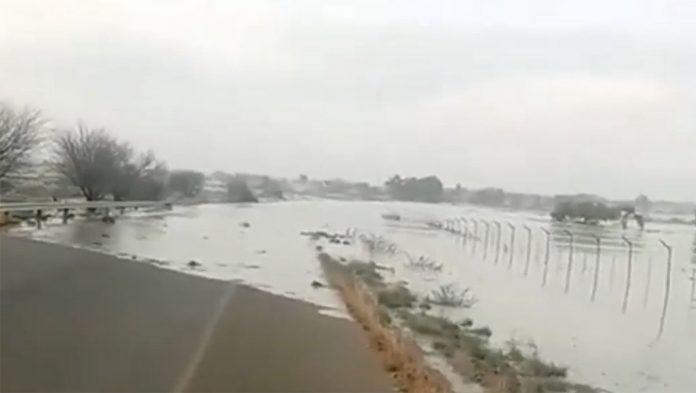 A mine dam has burst in the Free State, flooding the streets of Jagersfontein and collapsing homes. According to the SABC, residents are being evacuated and at least 20 people have been admitted to the Diamant Hospital with minor injuries.
«Reports coming in indicate that several houses in the nearby Charlesville residential area have already collapsed,» said the SABC. «The main road leading into the town is also reportedly flooded.
«Authorities are encouraging residents to leave their homes in order to save lives.»
The burst dam has also damaged the substation, and brought down electricity poles. So, notwithstanding loadshedding, the mining town is without power, reports the SABC.
YouTube commenters said the situation was « scary », with one Valencia J writing: « I have family stuck in thus terrible situation and we don't even know if they safe. »
WATCH  Flooding in Free State mining town of Jagersfontein Video – by 'Oupa Kale'
DA Cllr for Kopanong, Estelle Noordman, said in a statement that the Jagersfontein slime dam has caused undetermined damage. Her full statement reads:
"Early Sunday morning, 11 September 2022, the slime dam in Jagersfontein, in the Xhariep District, burst its walls. The slime dams' water has run through various areas of Jagersfontein and the surrounding areas. The extent if the damage is currently being assessed and the DA has sent representatives to determine what is required.
"Currently, the extent of the damage, injury or loss of life is unknown but from initial reports it is significant.
"The DA has been in contact with the Xhariep Disaster Management Centre (DMC) concerning their response. The Xhariep DMC has indicated that no funds are available to respond and that it is still awaiting approval. The Premier of the Free State, Sisi Ntombela confirmed to the DA Free State leader, Roy Jankielsohn, that the Provincial DMC has been activated.
"The DA will assist the community of Jagersfontein and surrounding areas in any way possible. Regrettably, the disaster has raised multiple questions;
Why are there houses in the path of the water flow?
What caused the slime dam to break?
What additional problems will be caused by harmful materials in the slime water?
The DA will ensure that these questions and more will be answered by the Free State Provincial Government. We will continue to monitor the situation and extend a helping hand to everyone affected by this disaster.
"Our hearts go out to the people of Jagersfontein during this difficult time," she said.