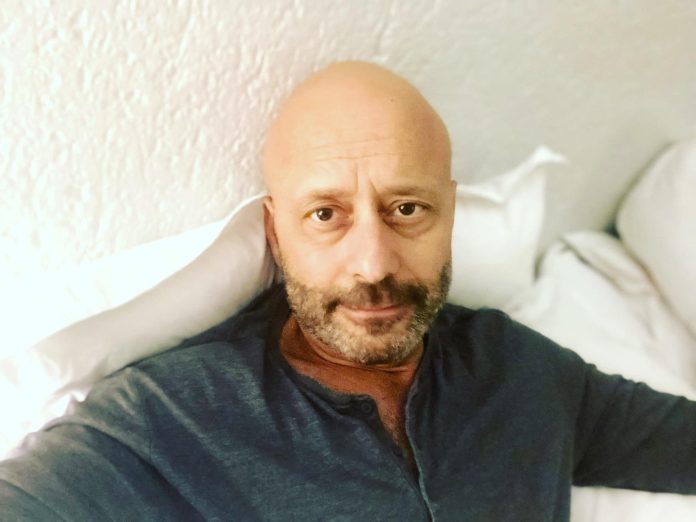 South Africa's popular radio presenter Mark Pilgrim has revealed that his immune system has crashed, and the bush holiday that was planned, to celebrate his birthday, has had to be cancelled.
Writing on social media, Mark said that just 10 minutes before leaving with his girls and partner Adrienne, the doctor called "with the bad news saying we shouldn't go".
It has been a tough week – "a little rougher than expected" – as he underwent his ninth round of chemo to treat lung cancer. Mark was "man down" and in bed most of the week, including on his 53rd birthday on Tuesday. He had been looking forward to the break away – "I thought the fresh air would do me good and the girls were so excited to go on holiday", he wrote.
"Turns out though, after 9 rounds of chemo, my body has called for time-out and my immune system has crashed," he said. In March this year, the British-born TV and radio personality announced that after a couple of scans and 33 years in remission, he had been diagnosed in February with stage 4 lung cancer.
In typical Mark Pilgrim fashion, he found a bright side yesterday, saying: "Good news is my doctors have been amazing… We avoided hospitalization, and my white blood count should increase in the coming week or so."
Mark's updates have continuously been optimistic. Since the day he was diagnosed, he has pledged to "take time (even when scared) to smile and be grateful every day", to be on radio, and to "fight together in spirit" with everyone else going through a similar journey.
In a post in May he said: "My life will not be dictated by a short-looking historical graph curve. I am nobody's statistic. I am me. You can knock me down… but every morning (even if I feel like crap) I will stand up again. If you're going through something similar, believe. Stand tall. And fight like you've never fought before.
"
In the last 24 hours, many others bravely fighting cancer, have reached out to Mark, with comments which included these:
"Praying for you?? we have to be strong…. Chemo start Monday again, four done three to go. Not nice but God is so, so good and in control. Hold on, keep trusting the Lord. There is healing in the name of JESUS.??"
"I share this journey with you, it's tough, lots of disappointments, along the way. We are stronger than we realise . Don't give up. I'm not. I fight everyday. Many blessings. You will get back to good health, healing prayers."
"I salute you Mark Pilgrim – I have just started on this journey but no Chemo yet. And the only way to keep going is to keep the humour going as hard as it is – that is what I am doing and it helps for sure – especially when lying in hospital where I will be at the end of September for another operation!! You are strong, you can do this for sure especially with your lovely family beside you every step of the way ???"
"Mark Pilgrim I was where you are now, not too long ago. All I can say is that your relentless courage, faith and positive spirit, no matter how dark it gets, will bring you through as a conqueror. I am sure you have excellent doctors, a beautiful family who feeds you with love, nurturing and motivation, but this journey is one that can only be 'walked through' by the traveller. It is your strong mindset and positive enduring spirit that will lead you to success. No one really knows or understands how arduous this journey is until they themselves have walked though it. I am proud of you and as a fellow Survivor, I am sending lots of positive healing energy and love. You've got this Mark!! ?✨???"
"I'm on chemo for my metastized prostate cancer. Mark, you're my shining light. I use your positivity when I feel down in the dumps! Thank you."
"Thank you Mark, I had my 16th chemo treatment today and needed to hear this. Keep up the good fight!"
Mark thanked everyone for their continued well wishes and said he hopes to be back on radio next week.
"Trying to keep it real in my posts. Not every day is a good day, but I continue to choose to see the sunshine everyday," he says.
Chocolate Block bottle #9 waiting for me in the studio this morning. Thank you to my colleague Parky, never forgetting, celebrating every round of treatment I get through! I look forward to having a glass again one day! ????✨#dontstopbelieving pic.twitter.com/9LGWizclka

— Mark Pilgrim (@MarkPilgrimZA) September 17, 2022