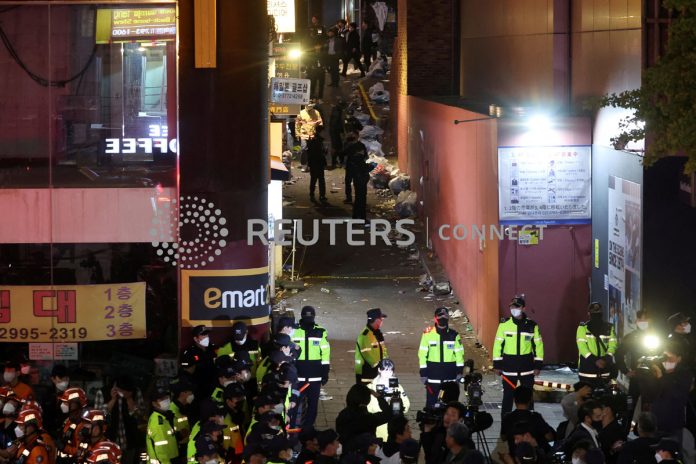 At least 153 people have died, including 22 foreigners, after a crowd surge in the central district of Seoul, the capital of South Korea. They were celebrating Halloween and many were wearing masks and Halloween outfits.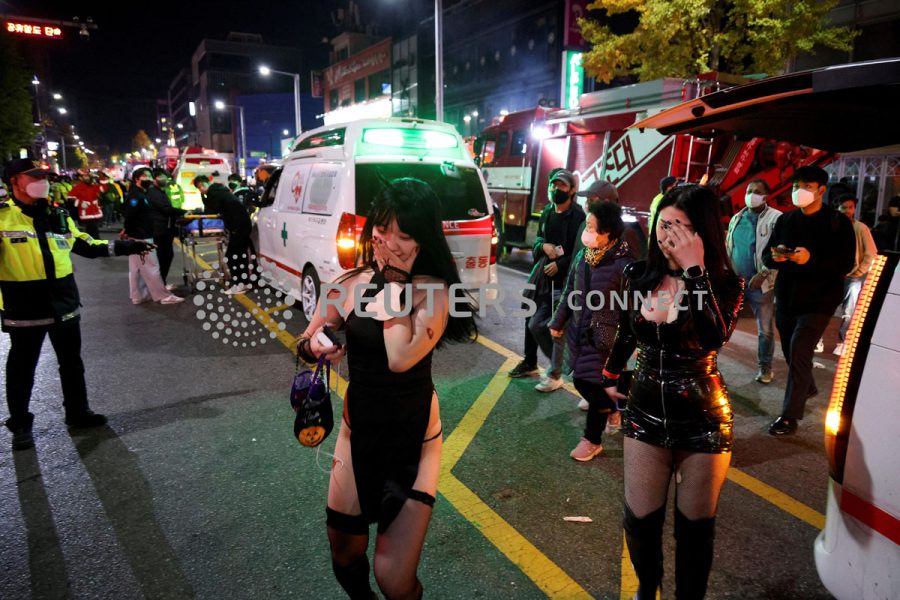 It was the first Halloween event in Seoul in three years after the country lifted COVID restrictions and social distancing. A narrow street was packed with crowds, near Hamilton Hotel. Police were on standby but were battling to manage the crowds in the sloping alleyway.
The incident took place at about 10:20 p.m. (1420 SAT) as a large number of people fell down in the narrow alley.
Choi Sung-beom, head of the Yongsan Fire Station, said in a briefing at the scene that many of the victims were women in their 20s. Choi said another 150 people were injured in the crush. Many are in serious condition.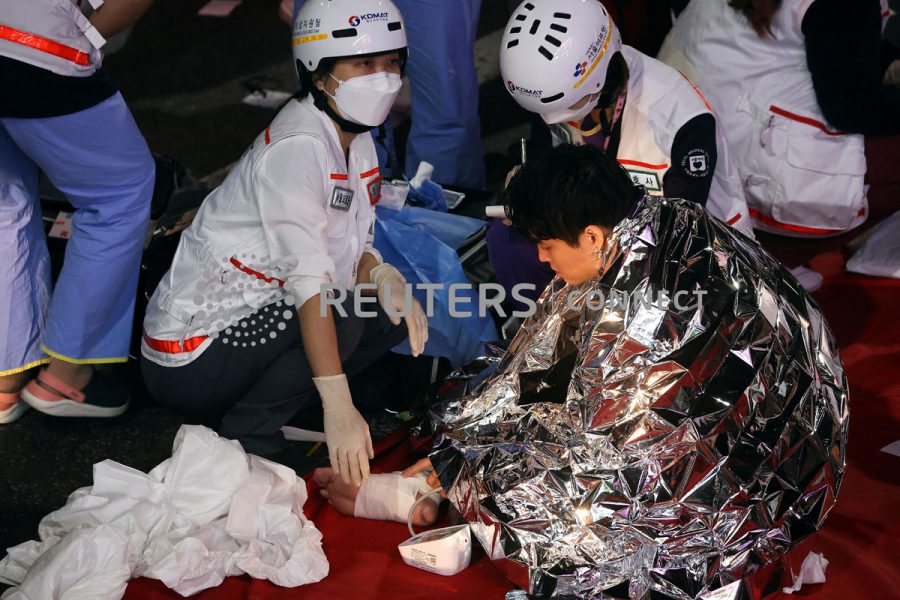 Witnesses described chaotic scenes moments before the stampede. Police were apparently battling to maintain crowd control in the sloped alleyway. In one video on Twitter, a woman can be heard shouting in English: "Oh my God, oh my God, Jesus f**king Christ."
The Itaewon district is popular with young South Koreans and expats alike, its dozens of bars and restaurants were packed on Saturday for Halloween.
Several South African expats live in Seoul. Flower La Elizabeth Warner, who has a SA shop in Seoul and is a regular SAPeople contributor, said on Facebook tonight: "I don't even know what to say. What's happened tonight in Itaewon is absolutely tragic. I thankfully was not there tonight. Thanks to those who have checked up on me. My heart goes out to all those innocent people. Truly tragic."
According to an early report by the Korea Times, emergency officials had received at least "81 calls from people in Itaewon saying they were having difficulty breathing". It was reported that all the people had suffered cardiac arrest and were receiving CPR. Photos and videos on Twitter showed multiple people lying on the road having CPR administered.
A reporter from the Washington Post was at the scene and said she saw bodies being covered and carried away. "So tragic, it started as a fun Halloween night for so many," she tweeted.
Flower cautioned that there will be many graphic videos and photos circulating. "Please do protect yourself if you are sensitive like me." (If you do want to see the shocking and tragic scene, view this tweet.)
She also said: "I pray no one in our expat community has been harmed."
Korea Times reports that President Yoon Suk-yeol ordered officials to swiftly administer first aid, deploy emergency medical officials to Itaewon and secure emergency beds.
Witness Account of Halloween Horror in Seoul
"We came here around 10:00 p.m., then we saw a scene from a movie in front of the hotel over there, like things happening during a war. It was indeed happening. They were doing CPR here and there and people were rushing in as nothing was being controlled. It was completely out of control," Park Jung-hoon, 21, told Reuters from the scene.
Park alleged that: "First of all, there were people who were on drugs, and they were conflicting with other people, which led to injuries. The police station was super crowded. Due to the drugs, there were several accidents such as a high heel stuck in someone's thigh."
Another witness said there was a "lack of preparation" by authorities.
"Seeing this incident, I think the police were not prepared enough. There were way too many people and it was too crowded. I know the policemen and rescue workers are working hard, but I would say there was a lack of preparation," said 21-year-old witness Moon Ju-young.
Some witnesses described the crowd becoming increasingly unruly and agitated as the evening deepened.
Officials in Seoul said that at least 120 people were dead and 100 others were injured after a stampede in the South Korean capital's popular Itaewon district, where crowds had gathered to celebrate Halloween. https://t.co/auJuczo3Ll pic.twitter.com/7FXmfW8qab

— The New York Times (@nytimes) October 29, 2022