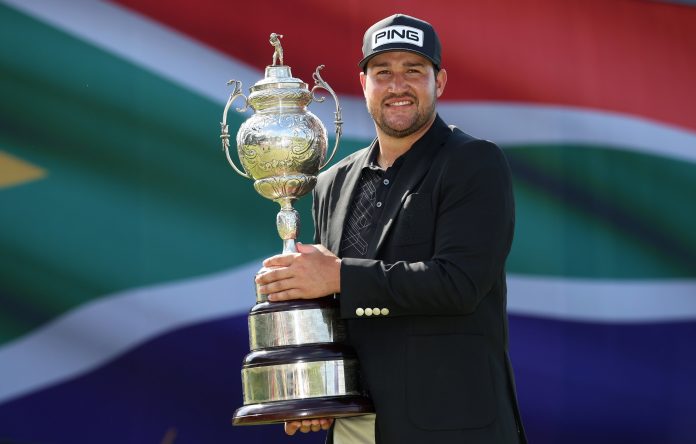 (Reuters) – Home favourite Thriston Lawrence held off a spirited charge from Frenchman Clement Sordet to win the DP World Tour's South African Open by one shot in Johannesburg on Sunday. It was an emotional rollercoaster, with Lawrence admitting afterwards that it was "unbelievable, unbelievable. I want to cry. I've got no words."
The win – his third in the 2022 season – was made even more special since it was in front of his friends and family back home in SA, with the whole post-pandemic entourage out in full force.
DP World Tour congratulated Lawrence, saying this was the 164th South African win on the DP World Tour. The 26-year-old said: "This is what you strive for, being a kid you dream for this moment, to win such a prestigious event in front of an amazing crowd."
Just last week Lawrence made history when he became the first South African to be crowned Sir Henry Cotton Rookie of the Year – an accolade won by greats like England's Sir Nick Faldo (1977), Scotland's Colin Montgomerie (1988) and Spain's Sergio Garcia (1999).
The European tour said he won Rookie of the Year "after a breakthrough season on the DP World Tour that included two wins, six further top tens and a Major debut." And now that's three wins. Lawrence has been feeling incredibly "grateful and honoured" when, as he points out, last year he didn't even have a category.
WATCH Thriston Lawrence's emotional victory on home soil
An emotional victory on home soil @ThristonL ??#InvestecSouthAfricanOpen pic.twitter.com/ryWqrb2jFH

— DP World Tour (@DPWorldTour) December 4, 2022
On Sunday, Lawrence stuttered to a two-over-par 74 in his final round after dropping five shots in as many holes on the back nine, not helped by a double-bogey on the 15th that allowed Sordet to draw level after the South African had been cruising to the win.
They were neck and neck going into the final two holes, but when Sordet missed a short par putt on the 17th, Lawrence held his nerve to win with a score of 16 under par, his third tour title having won the Joburg Open earlier this year, which led to a DP World Tour exemption; and having won the Omega European Masters in August (his first win on European soil)… which led to him moving inside the top 100 in the Official World Golf Ranking for the first time in his career.
Lawrence turned professional in 2014 and currently plays in the European Tour and Sunshine Tour. As of 27 November, Lawrence had secured his highest ranking – 87th… but that will change today after his victory at the Blair Atholl Golf & Equestrian Estate in Lanseria.
He credits his dad for helping him secure a win this week. Lawrence told the European Tour: "My father gave me a tip last week – I was putting terrible the last three weeks – and I trusted him and credit to him, I think that helped, definitely."
(Reporting by Nick Said/Reuters and Jenni Baxter/SAPeople, editing by Ed Osmond and Jenni Baxter)
A home win for @ThristonL ???#InvestecSouthAfricanOpen pic.twitter.com/jeAWXZhyN7

— DP World Tour (@DPWorldTour) December 4, 2022
How it finished in South Africa ?#InvestecSouthAfricanOpen

— DP World Tour (@DPWorldTour) December 4, 2022
At the European Masters in August:
Grateful to be part of history ?
Unbelievable win at this special venue. Thanks to an incredible crowd and endless support back home. #OEM2022 pic.twitter.com/xngVJsUFPQ

— Thriston Lawrence (@ThristonL) August 28, 2022