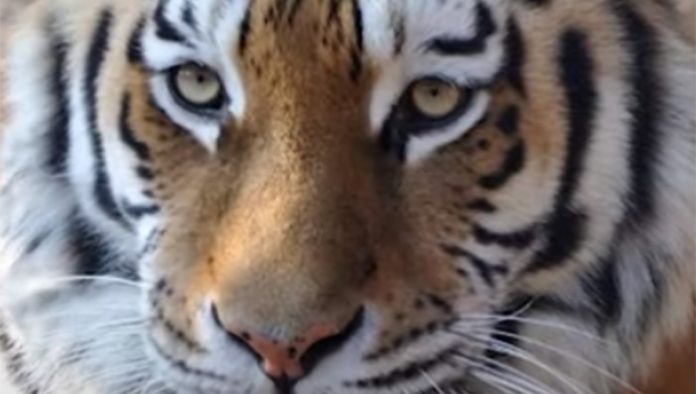 Here's what's coming up on Carte Blanche this week. You can watch the show on Sunday 29 January in South Africa on DStv Now OR stream it overseas in most countries on Showmax from Tuesday 31 January if you're abroad.
She was an eight-year-old Bengal tiger named Sheba, hand-reared and loved. But tigers are apex predators, so when this fully-grown female escaped from her enclosure in the South of Johannesburg, locals panicked. Her owner, Rassie Erasmus (not the former rugby coach!), conscious of the danger she posed, was among them. As reports emerged of Sheba feasting on domestic animals, residents grew increasingly alarmed, fearing they may be next. It became clear to Erasmus what needed to be done: Sheba would have to be killed. It's a story that enraged and baffled in equal measure. What explains government's reluctance to ban the keeping of exotic cats as pets? And was her death the only possible solution? Carte Blanche investigates and discovers there may be more to this story than meets the eye (of the tiger). (Producer: Kate Barry | Research: Sasha Schwendenwein | Presenter: Macfarlane Moleli)
Watch the show overseas | Watch in SA on DStv Now
Also on Carte Blanche this Sunday 29 January
"Naively, I believed there were some in society immune to the toxic pull of corruption. University administrators and lecturers, for example. Surely the people tasked with educating our young people wouldn't betray their calling? Well, it seems the lure of undeserved riches is enticing enough to pollute even the intellectual mind. And worryingly, those who stand against it, are left to fight a lonely battle." – John Webb, Executive Producer
It's just after 4AM on a Friday morning in the Eastern Cape town of Alice. Despite the hour in this usually quiet neighbourhood, a man casually emerges from the darkness, peaks over a high wall and fires three bullets. The target? The home of Fort Hare's Vice Chancellor, Professor Sakhele Buhlungu. It's an unnerving pretext to murder just weeks later: the victim another senior official at the university. But the reign of terror doesn't end there. In January this year, Professor Buhlungu's bodyguard is gunned down in an official vehicle outside the VC's home. Carte Blanche investigates a university, uncovering decades-long fraud and corruption in the process. (Producer: Sipha Kema | Presenter: Masa Kekana)
Watch the show overseas | Watch in SA on DStv Now
Skinny van Schalkwyk is no ordinary woman… A self-declared "biker chick", she bought her first motorbike – a pink Yamaha R6 – almost two decades ago and has never looked back. From track racing to epic adventure rides and stunts, Skinny lives for the roar of her bike's engine and the freedom it brings. But she also has a deep love for the outdoors and, six years ago – together with her "sidekick" Chikita – started the annual "Anti-Pants, Anti-Poaching" bike rally. It's an off-the-wall way of contributing to nature conservation. This year more than 200 trouserless bikers joined them in contributing much-needed cash to the protection of giraffe.(Producer: Stenette Grosskopf | Presenter: Macfarlane Moleli)
Watch the show overseas | Watch in SA on DStv Now
If you're overseas – you can watch #CarteBlanche from Tuesdays, and thousands of other popular local South African shows & movies by subscribing to Showmax International now. You can try it FREE for 14 days. 
CARTE BLANCHE: THE PODCAST
Young Farmers
The pace of transformation in agriculture has been described as lacklustre. But a growing cohort of black farmers are making moves in the industry with minimal support from government or commercial banks.
PICKS OF THE WEEK
To Ban or Not to Ban
To ban or not to ban… Pit bulls have become known as some of the most vicious dogs in the country. As the number of attacks continue to rise, we investigate why the legislation regulating the breeding of these canines is lagging behind.
Heartbreaking 💔 This breed has been exploited, the conditions they are kept in is horrific & then people are horrifically killing them, instead of arresting irresponsible, cruel owners & prosecuting them. RIP to all the victims, human and canine. New regulations needed asap.

— Stormy Anderson (@StormyG55) January 22, 2023
Find full episodes of Carte Blanche on DStv Catch Up.
Carte Blanche is on M-Net & M-Net HD [101],  29 January 2023 at 19:00 & again on M-Net Plus 1 [901] at 20:00
***
Please note: Carte Blanche is only available to international Showmax subscribers in Andorra, Australia, Austria, Belgium, Denmark, Finland, France, Germany, Greece, Iceland, Indonesia, Ireland, Italy, Liechtenstein, Luxembourg, Malta, Monaco, Netherlands, New Zealand, Norway, Portugal, San Marino, Spain, Sweden, Switzerland, United Kingdom. Not all titles are available in all territories. Showmax brings you the best South African series and movies, from the classics to the latest releases, from complete box sets to kids' favourites.