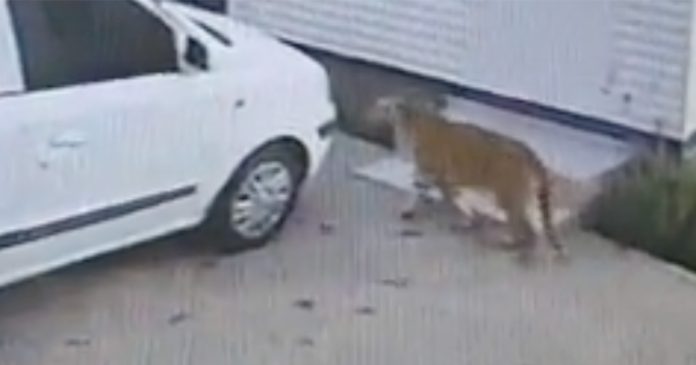 South Africans were surprised today to learn of yet another tiger on the loose, although this time the youngster (an adolescent) was allegedly safely captured and relocated to a sanctuary, unlike Sheba the tiger who escaped her enclosure and was killed (euthanised) on 18 January.
However, the story of today's tiger has been shrouded in rumours, fake photos and accusations. The young tiger was filmed on a business premise and was spotted in Cabot Road, Eastleigh Ridge in Edenvale on Monday morning.
Reports that a tiger has been spotted in Cabot Road, Eastleigh Ridge, Edenvale, JHB, this morning. If spotted please call the SPCA +27721839794. pic.twitter.com/8gJvnvkC6N

— Yusuf Abramjee (@Abramjee) January 30, 2023
Head of Security at SOS told local journalists that they had safely sedated the tiger and taken it to a place of safety (a wildlife sanctuary). However the Edenvale SPCA alleges that SOS has not been very forthcoming with facts and may even have tried to deceive them.
Edenvale SPCA said in a statement on Monday night:
"In light of today's events we can confirm the following as this is still am ongoing investigation:
No tiger has been seen by the Edenvale SPCA staff and no confirmation has been received that she is safe or alive.
No confirmation or proof has been handed over to the Edenvale SPCA by SOS security yet they have made statements on their social media platforms that she has been captured and relocated.
SOS security are the only organization that has confirmed the tiger's capture and relocation but failed to hand over this information to the Edenvale SPCA
SOS security are not permitted, equipped, trained or experienced to handle wildlife yet they have stated they have captured her and moved her.
SOS security refused Inspector Mokalapa entry into a home where we suspected she was being kept but only allowed Udo entry into the home.
Multiple animals were seen in the home of the alleged "owner" but no confirmation can be given as to whether it is the owner of the tiger
SOS security personnel (owners and staff) threatened Inspector Hope and Udo with legal action"
The SPCA said several members of the public "have come forward with very concerning information about SOS Security but will not give their details out of fear as it's alleged their lives have been threatened.
"SOS security gave the Edenvale SPCA the run around and false sighting information which we believe was a tactic to drive our attention away from where she really was so she could be moved. Therefore, obstructed our investigation.
"SOS security has commented on our page stating she is safe and "the Edenvale SPCA don't need to know where she is". Our questions are: who is protecting who here? We are the legal animal welfare organisation yet a security company took control of the situation and sent us to wrong locations? Why?
"Why does SOS Security feel the need to threaten our staff if they have nothing to hide?
What legal power do they have to move a wild endangered species ? The SPCA has to obtain permits for relocation prior to moving an animal yet, SOS security moved a tiger with no permits and continues to withhold information? Why?
"Why are we as the Edenvale SPCA not permitted to know for the sake of this animal's welfare as well as the safety of our public whom we serve? The same public SOS Security claims to serve and protect ? There are 100s of stories going around about this tiger and very concerning information along with these stories.
"We will not confirm that this tiger is safe, alive or at a place of safety until we have the facts. No other media release will be made until we have all the facts.
"It concerns us that SOS security were quick to publish their story- we assume in hopes that this matter would be closed and forgotten about but we are here to remind them that the Edenvale SPCA work with evidence on a daily basis and we will never release a story without giving the whole truth and nothing but the truth. We are in contact with our legal teams and private sources to make sure that the real story is published.
"We can assure our community that we will not leave matters there. This matter will be investigated and an update will be given to our community. This tiger deserves nothing less. Management Committee."
Earlier on Monday the NSPCA – National Council of SPCAs – said it contacted the Gauteng Department of Agriculture and Rural Development (GDARD) and alerted them of the escaped tiger.
"Given that GDARD and the Ekurhuleni municipality are responsible for enforcing the legislation that allows these dangerous animals to be kept in captivity in the first place, some form of accountability and responsibility for the welfare of the animal/s and the residents needs to be taken by them," said the NSPCA.
Just last night (Sunday 29 January), Carte Blanche investigated the tragedy of eight-year-old Bengal tiger, Sheba. "An electric fence deliberately cut to release an apex predator, the owner who took her down, and the police investigation to uncover the truth…" said Carte Blanche.  The programme asked: What explains the South African government's reluctance to ban the keeping of exotic cats as pets? The bylaws in the East Rand include regulations for indigenous wildlife, but not exotic wildlife!
If you live abroad, you can watch this episode of Carte Blanche on Showmax International.
WATCH A young tiger plays with dogs, allegedly filmed in Edenvale
— Honey🍯🐝 (@Honey_Runs) January 30, 2023