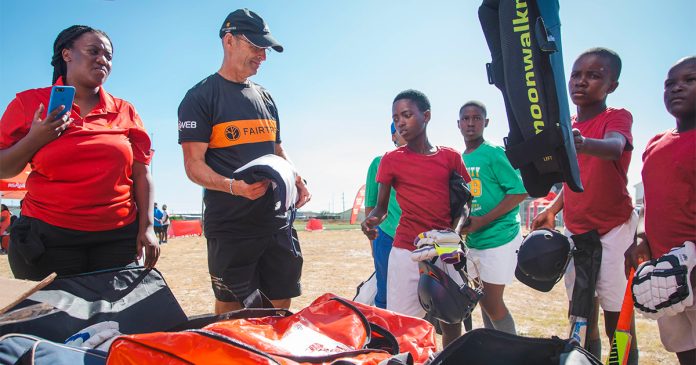 As the Proteas are raising spirits in South Africa with their stellar performance against England in the ODI series (SA has already secured a 2-0 victory with the last match today in Kimberley), children across the country are being inspired to play cricket. And, thanks in part to Richard Branson's Virgin Atlantic Cargo, there are now some delighted children from townships who can also join in the fun.
Last week Branson's Atlantic Cargo helped deliver much-needed cricket equipment to kids in SA in a 2023 campaign that has seen the airline team up with British cricket charity Bat for a Chance (BFAC) and The CATCH Trust (which supports SA township cricket development).
The new SA cricket partnership will enable Virgin to help spread cricket to more communities around the world. Their program kicked off last year and has already delivered to Barbados and Pakistan.
Bat for a Chance has partnered in SA with SA cricket coach and former cricketer Gary Kirsten's Foundation. Kirsten told Sky how the excited the kids were to receive the equipment and that it has been given to those who have shown the most promise and dedication.
Eighteen bags of equipment have been delivered. Virgin Atlantic Cargo MD, Phil Wardlaw, said "our purpose is to empower everyone to take on the world and use our business as a force for good, through our communities, our people, and our partners. Partnering with Bat for a Chance means Virgin Atlantic Cargo is able to bring a real opportunity for children to participate in this wonderful sport and experience the joy of cricket, in South Africa and across the world."
.@VirginAtlantic Cargo helps deliver cricket gear to kids in South Africa – a lovely read: https://t.co/k9PlnSJkr4 pic.twitter.com/qEEW2KcHBY

— Richard Branson (@richardbranson) January 30, 2023
🇿🇦PROJECT LAUNCH🇿🇦

We are thrilled to announce our new partnership with the @GK_Foundation !

Check out none other than the legend @Gary_Kirsten telling you more on @SkyNews news with @skyjacquie 🤩 pic.twitter.com/Z58QT4uPTY

— Bat For a Chance (@BatForAChance) January 23, 2023