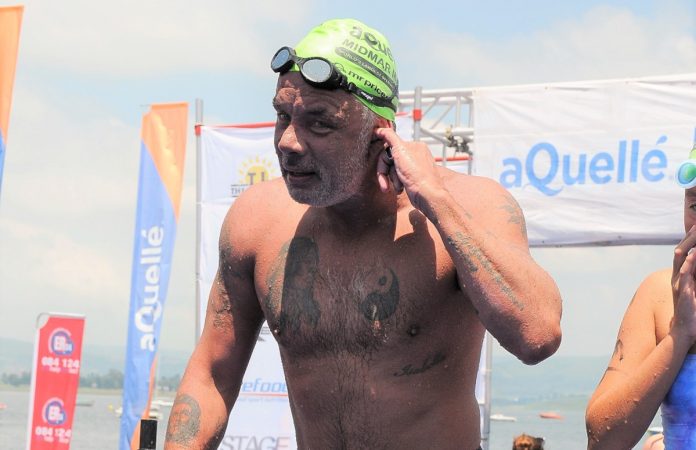 South Africans may be more familiar with spotting former Bafana Bafana star Mark Fish on a football field, but this weekend he'll be taking to the water for the 50th anniversary of the Midmar Mile.
FOR THE LATEST NEWS FROM THE MIDMAR MILE VISIT THE SAPEOPLE WEBSITE
The 1996 Africa Cup of Nations champion is a regular at the KwaZulu-Natal dam and will be taking on the mile for a sixth time, while also raising money for charity.
"The Midmar is an event that is close to my heart as I have competed in five, going on six and they all have been different experiences," said Fish, who has just returned from the African Nations Championship in Algeria where he was working as a member of the CAF Technical Study Group.
"The event is fantastically organised and competitors are friendly and all self-motivated for different reasons.
"I have swum a few by myself, others with friends and the last one with my daughter and am slowly dragging family and friends to do this event with me.
"The environment, the atmosphere, the swimmers, and most importantly the organisation make this event what it is, so well done to all involved," added the aptly named Fish.
Meanwhile, two of South Africa's Olympic gold medallists won't make it to the dam this weekend but have hailed the event and wished swimmers well.
South Africa's 2004 Olympic 4x100m freestyle relay champion Ryk Neethling won the men's elite race at Midmar in 1994 and 1995, and then again in 2001.
"Obviously being the biggest open water swimming event I think that makes it special – and the history of it. I remember as you approach the event on the Sunday morning, you see the traffic and then the butterflies start so it's always a special feeling being there," said Neethling.
"It's a great weekend and obviously it's a healthy event, you meet lots of old friends and teammates and make new friends, there's nothing bad about the experience. It's only positive," added the 45-year-old who still trains three to four times a week but now focuses much of his time on playing polo at Val de Vie Estate, where he works as marketing director.
CHAD LE CLOS NEVER WON THE MIDMAR MILE
Also wishing swimmers well for the weekend ahead was 2012 Olympic champion Chad le Clos.
As a butterfly swimmer, Le Clos has never won the elite race at the Midmar Mile but started swimming the event as a youngster. His foundation is also one of the official charities which benefit from the event.
"It's really amazing that it's already the 50th anniversary of the Midmar Mile. A huge congrats to [race director] Wayne Riddin for everything that he's done. It's crazy to think how far we've come in the last couple of years. I'm very honoured for the Chad le Clos Foundation to be part of this. It's an absolute honour for me and everyone involved.
"Unfortunately this year I won't be able to be there… I have other commitments in Europe, racing the Euro circuit with my coach in Frankfurt. But I want to thank Wayne for everything he's done for me and for the foundation and thank Julian Taylor and the Chad le Clos Foundation team for all they've done. We will have representatives there but one day I hope to swim this amazing event again when my schedule allows.
"It's a huge accomplishment and the biggest open water swimming event in the world so for me it's an absolute honour to be involved in this and congratulations to everyone. We will be watching online and keeping a close eye," added the four-time Olympic medallist.
The Midmar Mile takes place from 9-12 February 2023 at Midmar Dam in KwaZulu-Natal.
Online entries are now closed.
Those still wishing to swim can enter on the day at the dam but should arrive two hours before their race.
For more details, head to www.midmarmile.co.za