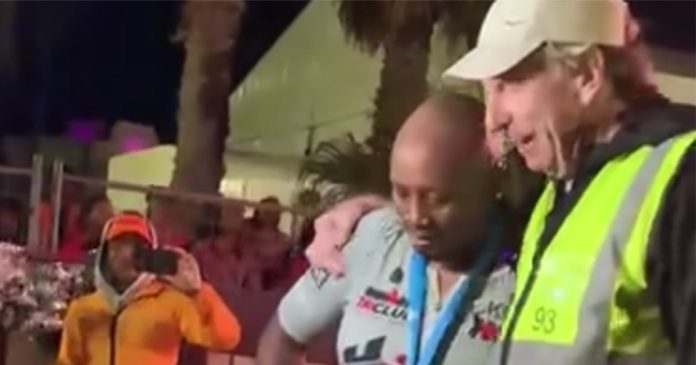 It's one of the most unforgiving long-distance triathlons in the world: the IRONMAN Championship comprises an exhausting 3.8km swim, a gruelling 180km cycle, and an intense 42km marathon. Undertaken after years of training by only the world's toughest athletes, IRONMAN tests the physical, mental and emotional fortitude of every contender. But for Carte Blanche's resident cycling enthusiast, Macfarlane Moleli, it was a promise made to a departed friend, Andre, that pushed him into this elite competition. With just six months of intense training, Mac confronted the ultimate challenge in Nelson Mandela Bay, South Africa, last weekend.
And when he crossed that finish line, the cheers from the South African crowd were deafening. Watch below as a relieved, proud and emotional Mac embraces colleague Derek Watts and holds his medal up to the heavens for his dearly departed friend.
Carte Blanche says:
"It's the moment Macfarlane Moleli has been working towards for the past six months: crossing the Ironman South Africa finish line! The #CarteBlanche team is so incredibly proud of you, Mac! You did it! We know Andre is beaming 💙🌈"
WATCH Carte Blanche's Derek Watts congratulates Macfarlane after completing Ironman South Africa
Mac says that competing in one of the toughest challenges in the world is "one of the best decisions I've ever made in my life. As difficult and as tough as it may seem, it's been a total transformation for me psychologically, physically. It's turned my life around."
The shocking death of his cyclist friend Andre, who was killed by a motorist, is what inspired the Carte Blanche presenter into attempting the near-impossible feat of endurance: the 2023 IRONMAN African Championship. Mac took it on, to not only push himself to the very edge of his physical capabilities but to also shine a light on the tragedy of his friend's death. In a recent episode, Carte Blanche reflected on the mounting death toll among cyclists on South African roads.
Don't miss this Sunday's episode of Carte Blanche – IronMac: The finish line
Watch the show overseas on Showmax International from Tuesday | Watch in SA on DStv No
unbelievably proud of @macmoleli 🙌🏽 #carteblanche https://t.co/6Et6ekhNal

— claire mawisa (@clairemawisa) December 8, 2022
IRONMAN: it's one of the most unforgiving long-distance triathlons in the world. Now, fulfilling a promise to his friend and cyclist, Macfarlane conquers this unforgiving challenge. That's #CarteBlanche this Sunday at 7pm on @MNet, @DStv channel 101. pic.twitter.com/DcHfykViqQ

— Carte Blanche (@carteblanchetv) March 8, 2023
Find out what else is on Carte Blanche this Sunday