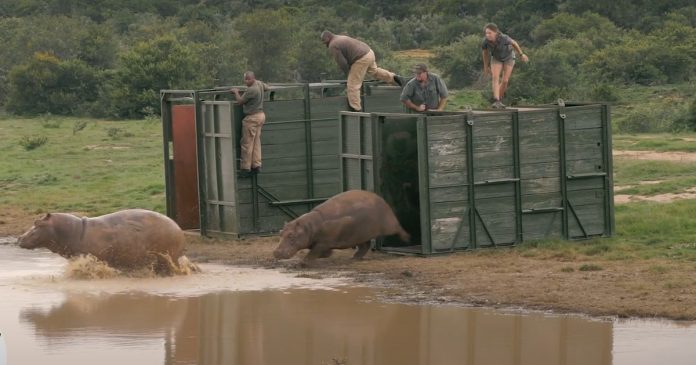 A length of rope, a bag on a stick, a couple of shipping containers combined with many late nights and a massive dose of patience are some of the ingredients required to rehabilitate and release three orphaned hippos in South Africa.
The intricacies of rehabilitating, capturing and releasing one of Africa's most dangerous animals is detailed in the latest episode of Shamwari TV.
Wildlife Rehabilitation Centre supervisor, Lisa Horn, narrates the behind-the-scenes story of the young hippos, who were left behind when their herds moved off to find more water during the drought in the Eastern Cape.
Too young, to fend for themselves, the animals were moved to Shamwari's Wildlife Rehabilitation Centre, where they were cared for until old enough to survive on their own in the wild.
The short YouTube video vividly captures the adrenaline-fuelled process of loading and unloading the large, unpredictable, wild animals without anaesthetic and the moment of elation when they charge into the water to settle in their new home.
WATCH orphaned hippos released back into the wild
Shamwari TV started during the hard lockdown in South Africa, as a way of showcasing the reserve's wildlife and helping some of its neighbouring communities.
Initially it was just ranger manager, Andrew Kearney, going out onto the reserve armed with a rifle and cellphone and filming anything of interest he came across.
His enthusiasm and encyclopaedic knowledge of the bush soon resulted in his posts gaining followers. That's when Shamwari and Andrew Barratt, co-owner of Hungry Bison Films, teamed up to start producing professionally filmed and edited episodes.
The hippo release video marks the 100th episode of Shamwari TV, which has proved a huge success, gaining thousands of followers around the world.
"Shamwari TV has opened a window for thousands of people into a successful 30-year conservation project and what goes on behind-the-scenes to make it all happen. It provides a glimpse into the essence of Shamwari," says CEO, Joe Cloete.