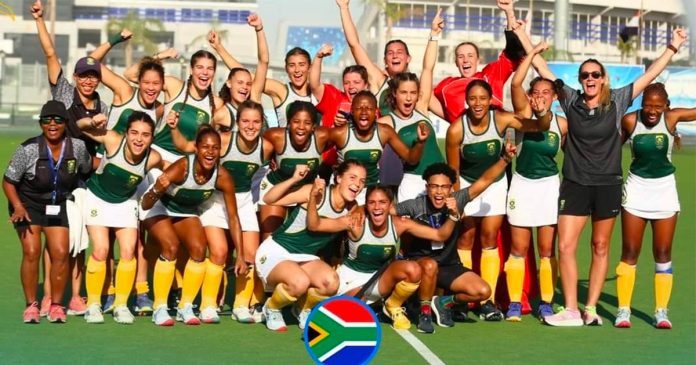 The South African women's hockey U21 team has today WON the Gold Medal at the Junior Africa Cup 2023, and is headed to the FIH Hockey Junior World Cup in Chile in December.
Both the SA U21 Men and Women celebrated qualification to the Junior World Cups yesterday in Egypt by completing a 100% group stage.
Today, Thursday 16 March, the women's team beat Zimbabwe 1-0, in Egypt, to secure the Junior Africa Cup title!
African Hockey Federation (AfHF) said: "Congratulations to South Africa 🇿🇦 Women U21 for winning the Gold Medal🥇- Junior Africa Cup 2023 🏑🏆"
South Africa's U21 men's team is currently facing Egypt in the men's Junior Africa Cup final.
The women's team from Zimbabwe has also qualified for the Women's Junior World Cup which will take place in Santiago, Chile from 6-17 December 2023.
Congratulations to South Africa 🇿🇦 Women U21 for winning the Gold Medal🥇- Junior Africa Cup 2023 🏑🏆

Full Time : South Africa 🇿🇦 1️⃣ – Zimbabwe 🇿🇼 0️⃣#JAC2023 #AfricaHockeyNews pic.twitter.com/ryw2ImFYB9

— African Hockey Federation (AfHF) (@AfrHockey) March 16, 2023
Yesterday's win against host country Egypt, when South Africa qualified for the Junior World Cup and secured their place in today's Africa final:
#JAC2023 pic.twitter.com/DnEFPnck1U

— African Hockey Federation (AfHF) (@AfrHockey) March 15, 2023
Congratulations 🎉 to the Men's Teams of South Africa 🇿🇦 and Egypt 🇪🇬 who qualified to the Men's Junior World Cup in Kuala Lumpur, Malaysia 🇲🇾 (5-16 Dec. 2023)#JAC2023 #JWC2023 pic.twitter.com/2fVn86ktgg

— African Hockey Federation (AfHF) (@AfrHockey) March 15, 2023