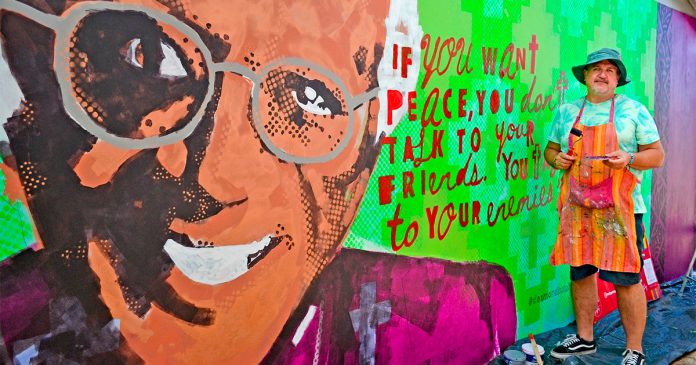 In the past few days, a blank wall in Hermanus in the Western Cape has been transformed into a beautiful and inspiring piece of artwork that pays tribute to a South African treasure, world icon, and former Hermanus resident – the late Archbishop Desmond Tutu.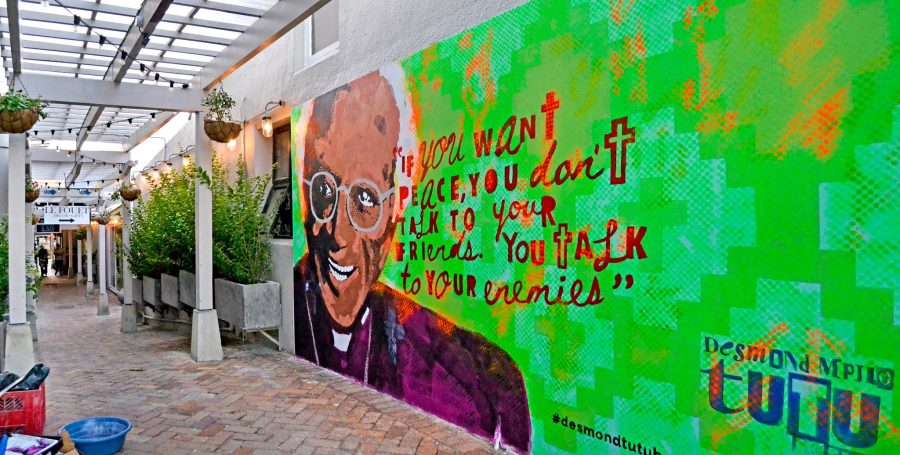 The stunning Desmond Tutu Mural project has been spearheaded by Matthew Kearns (artist Lucky Friday), and came about thanks to his car tyre getting a puncture about four weeks ago!
Matthew, who's originally from New Zealand, explains:
"We were driving from Cape Town when we got a flat tyre. If I hadn't had the puncture, and gone into Grabouw to fix the tyre, I wouldn't have met the church group from the Hemel-en-Aarde valley that was at the farmstall."
The Volmoed Youth group (for which Tutu was a patron) was lining up for ice-creams when Matthew's South African wife Michelle noticed them. They were holding a leaflet about the Desmond Tutu Foundation exhibition in Cape Town. After fixing his tyre, Matthew starting chatting to the church leader, Rev. Edwin Arrison and told him he had been asked to do a portrait of Desmond Tutu in Hermanus to go on a bus stop. 
"I then discussed with him that this project was too important to put on a bus stop, and that I would like to find a bigger wall in Hermanus," Matthew told SAPeople.
Rev. Arrison, who is director of Volmoed Youth and has been involved in the Desmond and Leigh Tutu Legacy Foundation, told Matthew it was a "great idea" and put him in touch with the lawyers at the Desmond Tutu IP Trust.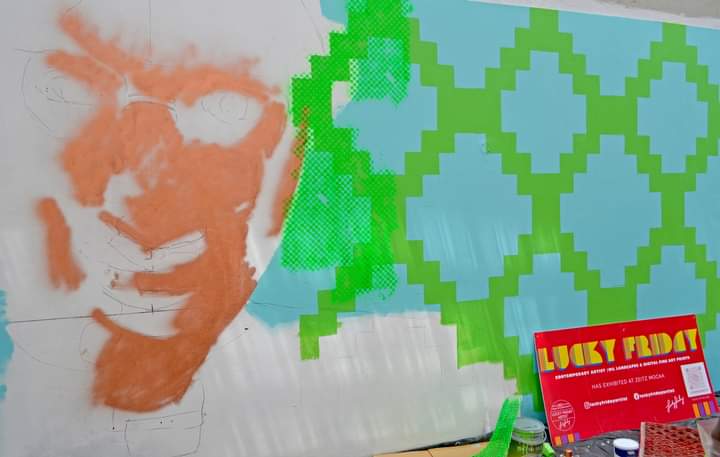 "As an artist, you don't really need to have permission but I thought because he was such a prominent figure, it would be a great idea to get the blessing of the IP Trust," says Matthew.
Once he had their blessing, Matt then posted a message on Facebook – about 10 days ago – asking if any businesses wanted to have the mural painted on their wall.
The Hermanus Waterfront immediately responded and showed him some walls, some were massive but in the end he selected a "wall right at the waterfront that tourists could stand next to". It's 3 metres high by 6 metres wide.
He then showed the Volmoed church the design he had created on his computer. "They loved it because it was bright and colourful, and useful," he says. They also welcomed his choice of a less massive wall, revealing that Desmond Tutu was humble and "wouldn't want to be too in your face". He apparently didn't want too much media exposure after his death.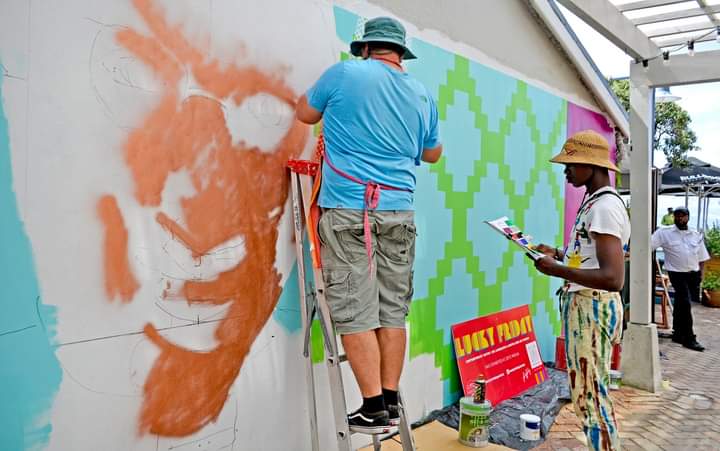 Volmoed was also pleased that by having the mural at the waterfront and at a lower level "people can engage with it, take photos of it".
Being in tourism himself, Matthew "understood fully that this would become a destination piece, that people would want to take a photo in front of the mural. So, we immediately got the Waterfront to say yes to the wall. They cleaned the wall up, they plastered it, removed lights and signs so they could have a really nice space for it."
Other members of the community came on board (apart from all the locals who gathered excitedly over the last few days to watch the mural come to life). Sponsorship came from Prominent Paint South Africa and Wilkoo Marketing paint distributors, while La Pentola restaurant kindly donated food and fed them through the week.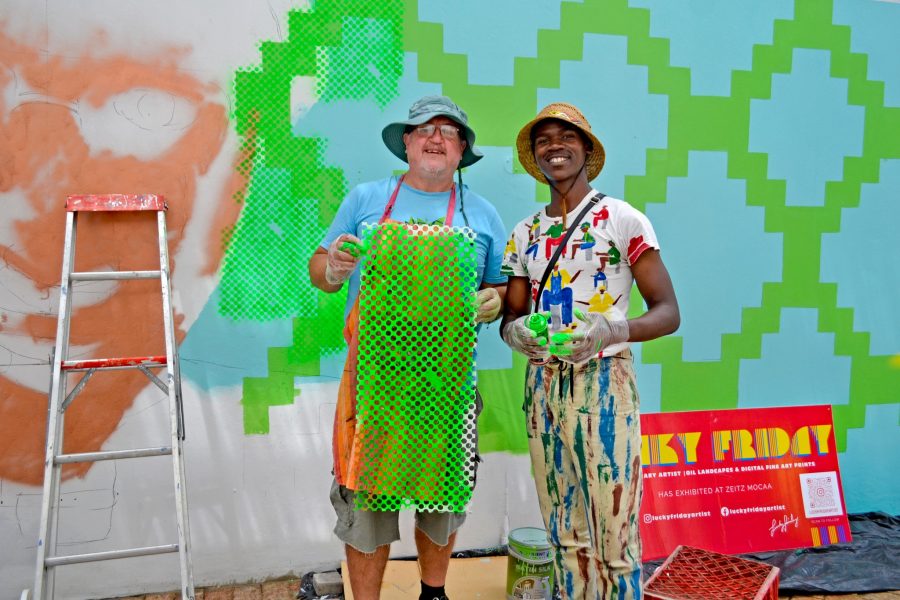 One of the most special coincidences was that the young man who gave Matthew the leaflet at that farm stall is the same local artist – Lutho – who has been assisting Matthew all week!
"I didn't know that until the second day. Lutho said to me: 'don't you know, I'm the man that gave you the brochure?'. So throughout the project, all these strange coincidences have happened. Lutho helped me all week. He's a fantastic guy – plenty of jokes shared between us, and what a talented young man. I couldn't have done it without his assistance. And we've created this absolutely stunning mural."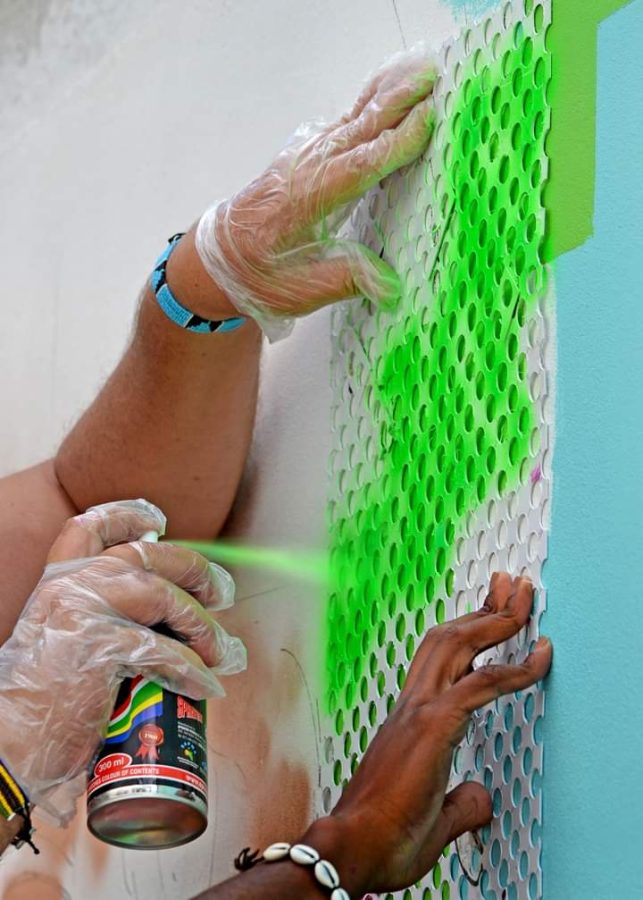 The official unveiling is at 10h30 tomorrow, Tuesday 21 March, Human Rights Day.
Already tourists have been stopping to take photos of themselves with the mural.
"Desmond Tutu is a prolific figure, a man of peace, a wonderful character, a human who I think is a global icon. We've asked the tourists walking past, and almost everyone knows of Desmond Tutu."
Tutu enjoyed the last years of his life, living in Onrus, Hermanus, which he loved. Matthew says the Nobel Peace Prize winner (1984) was "often seen walking around the mall, through the waterfont, going to the local township – giving food and parcels. He was a well-loved community member and he also went and did services up the valley at the Volmoed sanctuary."
The Volmoed minister will be at the unveiling tomorrow to conduct a service and explain the quote and why Tutu chose it: "If you want peace, you don't talk to your friend. You talk to your enemies."
Matthew says: "We're very excited to have this mural in Hermanus, for the people of Hermanus and for tourists to come and engage."
Matthew Kearns is a New Zealand national with a Fine Arts and Graphic background. Matt met his Proudly South African wife, Michelle, in Dubai where he was creative lead for Emirates Airlines. They moved to Hermanus in 2018. Matthew has had several requests for additional commissioned murals in the Overberg.