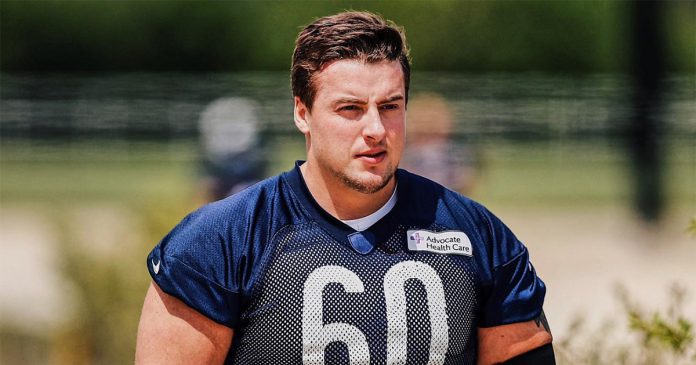 South African expat Dieter Eiselen is proof that if you keep working towards something, good things will happen! The South African-American NFL offensive lineman has just been re-signed with the Chicago Bears for the fourth year!
US NFL (National Football League) sport content creator and podcast host, George Eghator, says the South African sportsman is a great example of how grit, hard work, determination and continuous hard grind can get you ahead.
In a recent podcast interview with George, Dieter says he was "very excited" when he first got the opportunity to be signed by the Chicago Bears. He said that if you had told him in 2014, when he first moved from South Africa to the USA, that he would one day play for the NFL he would never have believed it. At the time he was just trying to play at a university.
"I never had the NFL even in my head," he told George. "And so the fact that I was able to get to that point and just finish my third year, now get re-signed for a fourth – I don't think that if you told 16-year-old me that I would be here that he would believe you."
Dieter says he's "just going to keep going and not stop".
Dieter was born and raised in Pretoria (although he spent the first four years living with his Afrikaans-speaking family on his grandfather's farm outside Pretoria).
Like most South Africans, he was always rugby mad. He started playing at six, and dreamt of becoming a Springbok. He moved to a Stellenbosch school to play more rugby… but fell in love with weightlifting, and his dream shifted to becoming an Olympic weightlifter. In about 2012, he also developed a passion for downloading and watching NFL games, and by the time high school finished, he had his eye on studying in the US – "I kind of developed this idea in my head that I wanted to pursue football," he told TheAthletic. "I really enjoy watching it and I think I have the physical tools to do it."
He flew on his own to the US for a football camp, and "really enjoyed it". He returned and enrolled at a school in Connecticut. One day he was coerced into going to a football camp he was too exhausted for, and it changed his life…
"I was tired and beat and so happy to not do anything, but (Coach Spinnato) forced me to go and it was the best thing I ever did. I don't know if I was pissed off that I had to be there or whatever, but I was competing really hard against the other kids, and in 1-on-1s I was taking my aggression out on these kids."
He performed so well that a head coach from Yale offered him a spot on the spot. He says it was "like we robbed a bank"… and it took the edge off missing friends and family back home. His parents were delighted for him to get the Yale opportunity.
The toughest challenge for Dieter was actually having to speak English every day.
Dieter says he's an "eternal optimist" and he believes he could've become an Olympic weightlifter or professional rugby player, but he's excited being an NFL player! He says: "When I want something, I'm not just saying it. I fully commit to something, and I fully believe everything is possible through hard work."
Other South Africans who've done well with American football are Gary Anderson, Greg Joseph and Gerhard de Beer (a friend of Dieter's).
Dieter's still very proudly South African, and according to his Instagram page, is currently on holiday in the country (Sabi Sands photos below). Last year he made sure he had a South African (and US) flag on his helmet, and said: "I've had the privilege of representing South Africa on my helmet the past few weeks. Thank you @nfl 🇿🇦" Watch below.
View this post on Instagram
Proudly South African:
View this post on Instagram