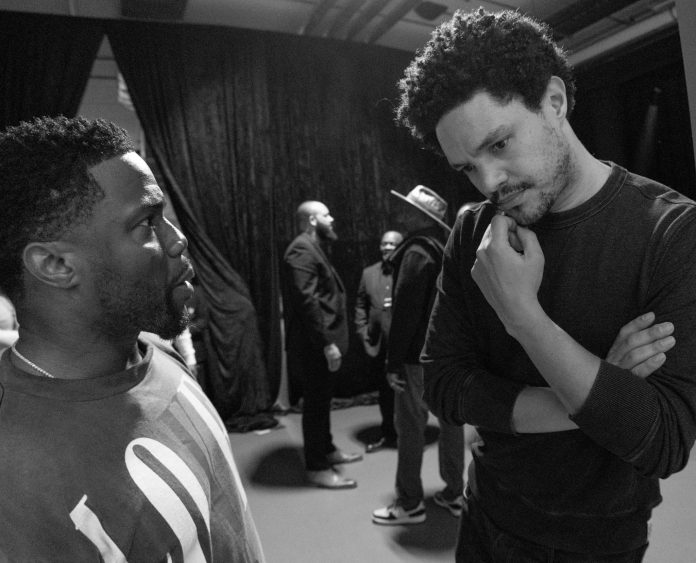 Locals explained their concerns regarding the prize that winners from Trevor Noah's new comedy show 'LOL: Last One Laughing' will get.
Trevor Noah will be returning to work in South Africa in 2024. Image via Twitter @_YurMajesty/ @Am_Blujay
South African comedian Trevor Noah's upcoming show LOL: Last One Laughing is set to launch on Amazon's Prime Video in early 2024, however, Tweeps have come out and voiced their concerns about the prize.
MORE ABOUT TREVOR NOAH'S 'LOL: LAST ONE LAUGHING' SHOW
According to EWN, in the show, the former Daily Show host will pit 10 famous comedians and entertainers from Mzansi against each other to see who can keep from laughing while their opponents try to make them burst into laughter.
It was reported that the last comedian standing will be the winner of a grand prize of R1 million.
However, the accrual prize will be donated to a charity of choice, anywhere in South Africa.
READ MORE: Trevor Noah returns to SA to film breakfast 'conspiracy' vid – WATCH
According to News24, speaking about the show and his momentous return home, the Day Walker comedian was quoted as saying,
"I am equally delighted for the opportunity to be working alongside my fellow home-grown comedy stars on a show that not only entertains but gives back to the South African production and charity communities."
It appears South Africans were not too impressed with the prize offered on the show. Many people online voiced their opinions, complaining that local comedians were struggling financially as it is.
ALSO READ: Trevor Noah lands another hosting gig after leaving 'The Daily Show'
CHECK OUT SOME OF THE COMMENTS FROM ONLINE USERS BELOW…
"This would have been great if it was a straight-up competition for up-and-coming comedians and the R1-million goes to the winner…
"Imagine @PrimeVideoZA and @Trevornoah changing a comedian's life … Not like they making millions over here," @PhilMphela wrote.
"The assumption is that the upcoming comedians are already rich if the R1M is going to charity," @politepal said.
"I hope the comedians on the show are getting paid," @YayaRSA replied.
"Since LOL is International, I guess some of our locally known acts are like up-coming to the International community. The show might improve local act to International level," @jeff_nje wrote.
ALSO READ: Trevor Noah joins Charlie Chaplin in history books, wins R3 million