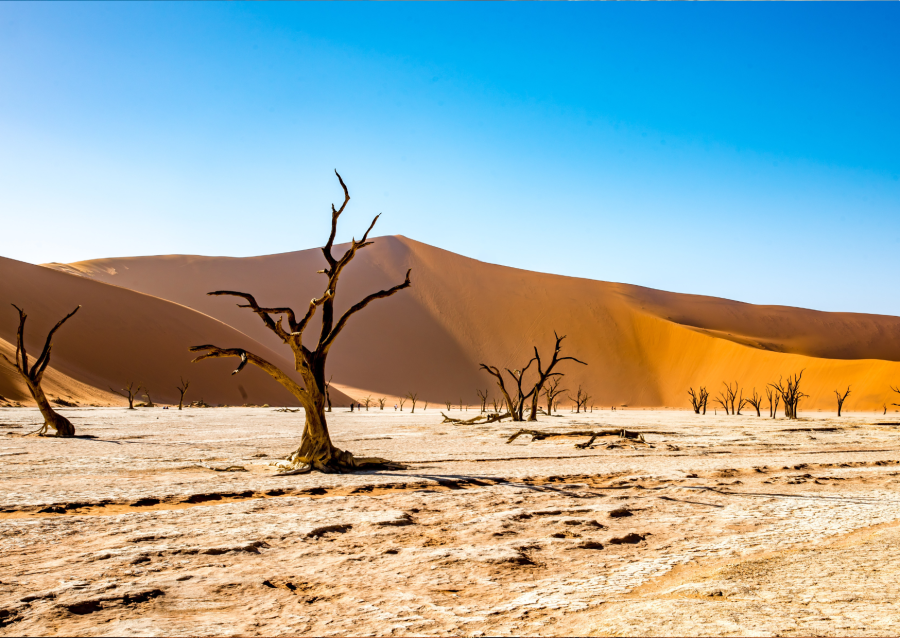 Communities and Working with Nature the Key to Mitigating Climate Change in Africa
Farmer Ndaula Liwela, from Machita settlement in Namibia's Zambezi province, points to the scattered flowers of a baobab tree lying on the dry ground close to her homestead. "The fruit this year will be small and few," she says, even though the iconic tree is known for its ability to store water and thrive in […]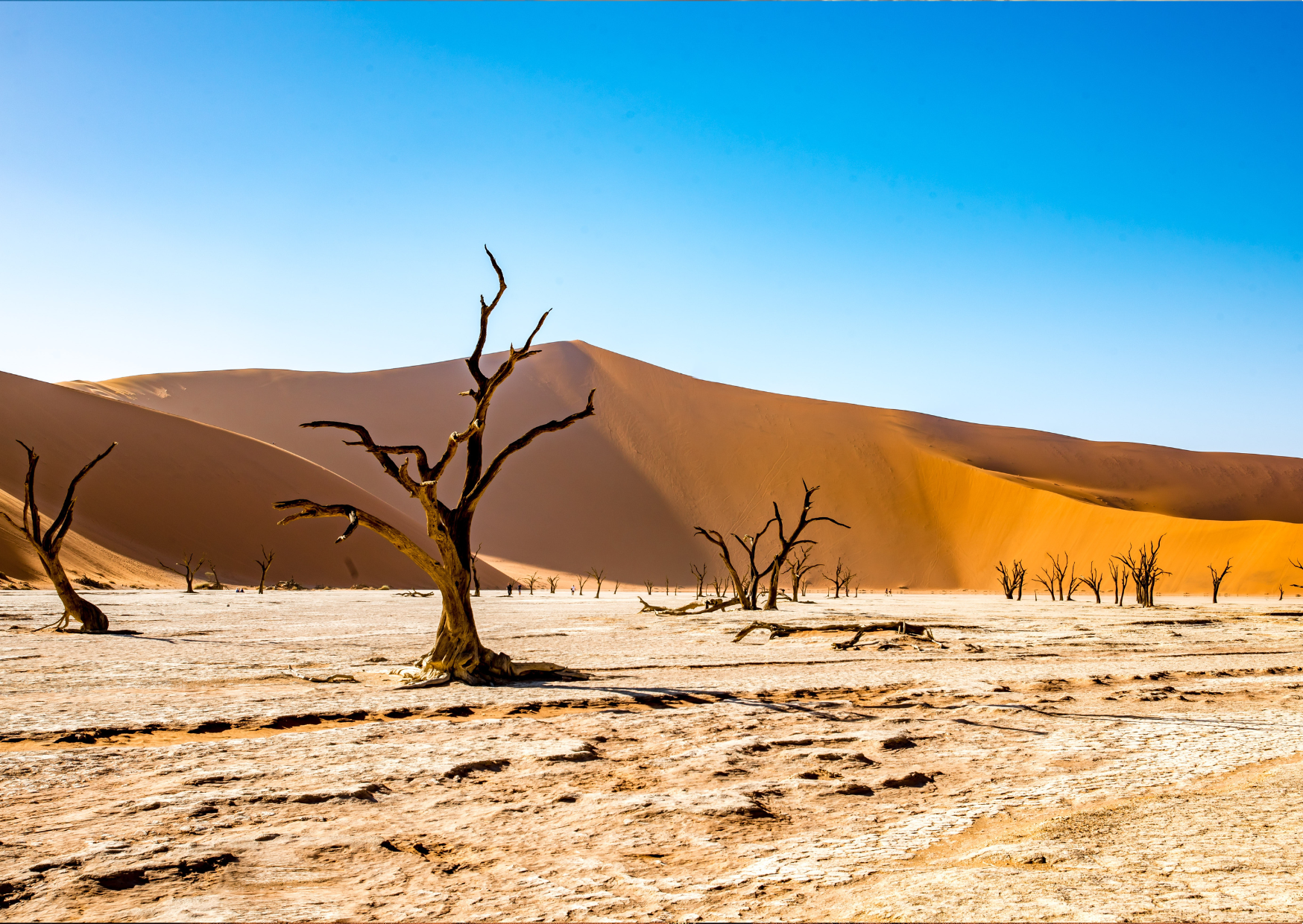 Farmer Ndaula Liwela, from Machita settlement in Namibia's Zambezi province, points to the scattered flowers of a baobab tree lying on the dry ground close to her homestead. "The fruit this year will be small and few," she says, even though the iconic tree is known for its ability to store water and thrive in dry conditions. It's several weeks after she would normally have planted her crops, "but we stopped ploughing when we saw the clouds were not even starting to build".
The United Nations Framework Convention on Climate Change (UNFCCC) COP27 took place in Sharm el-Sheikh, Egypt, from 6 to 18 November 2022, where 'the African COP' hoped to mobilize the funds and actions needed for a climate-resilient Africa, but this means very little to Liwela, whose immediate concern is around how to feed her family in the face of an increasingly uncertain future.
Her home in Namibia's northernmost province lies within the Kavango Zambezi Transfrontier Conservation Area (KAZA), the five-country transboundary park formed to protect biodiversity while supporting people who live in the landscape. It is not far from the Zambezi River, but is water-scarce. Each year, Liwela supplements her livelihood by harvesting baobab and other wild fruits, but this year, even this wild pantry looks likely to let her down.
Many parts of Africa are increasingly affected by the dry season growing hotter and rainy seasons arriving later. Extreme events such as drought are increasing in frequency and severity.
"Liwela's story is not unique. Over the last year, we have interviewed farmers, fishers, grass harvesters, and many others who rely on natural resources in this region. They have noted the impacts of changing weather patterns on their ability to sustain themselves. This leaves them vulnerable, not just to climate change impacts, but also to other shocks, like the COVID-19 pandemic," says WWF Namibia's Sigrid Nyambe. She has been working with communities in this region to gather data on climate change impacts on communities as part of WWF's Climate Crowd program. This information informs pilot projects to help rural communities adapt to the changes they are experiencing while reducing pressure on biodiversity.
The latest IPCC Working Group II report on Impacts, Adaptation, and Vulnerability shows that many climate risks are bigger than previously anticipated, particularly for vulnerable African countries. Many nations have included nature-based solutions as part of their national climate change adaptation plans, but need financial and technical support for action at a grassroots level.
Addressing the Forum on Finance for Nature-Based Solutions organised by the UNFCCC's Standing Committee of Finance, UN Climate Change Deputy Executive Secretary Ovais Sarmad said: "We face a double crisis of climate change and nature. The two are inextricably linked. The mutual, intertwined destruction grows worse by the day. If nature and climate change are linked, it only stands to reason that nature-based solutions lie at the heart of addressing both."
Yet, according to Inger Andersen, Executive Director of the United Nations Environment Programme, in a recent article for the United Nations Framework Convention on Climate Change, "only about 133 billion dollars are channeled into nature-based solutions, and investments must triple by 2030 to meet the climate, the nature, and land-neutrality targets."
"In the last few years, we've seen two crises climate change and a global pandemic – intersect. Both impact the most vulnerable communities the hardest and affect how people interact with their natural resources," says WWF director of climate, communities, and wildlife Nikhil Advani. For example, in Namibia, climate change and the pandemic both increased the unsustainable use of natural resources, says Advani, who also runs the African Nature-Based Tourism Platform. This project was launched in 2021 to connect funders to communities involved in nature-based tourism across 11 countries in eastern and southern Africa, helping to identify the hardest-hit communities and enterprises and their most pressing needs.
Over half of Namibians interviewed in 2021-2022 for the Climate Crowd project reported direct impacts on local wildlife, including high mortality rates and wildlife migration to other areas where water and food are more abundant. Fifty-eight percent of respondents reported that crops had failed or produced very little in recent years, and 62% noted declines in livestock health. About three-quarters of respondents said that the wild fruits harvested seasonally are also declining. And as natural resources become increasingly difficult to find, more people and their livestock come into conflict with wildlife.
"The data we've collected shows that we need to focus more on adaptation efforts that protect the people who are most vulnerable," he said. Within KAZA, there are examples and opportunities for resilience-building through initiatives that are also climate adaptation strategies. These practical, nature-compatible pilot projects being implemented through Climate Crowd often draw on solutions shaped by a community's own traditional, indigenous and local knowledge and practices.
Beekeeping is an environmentally friendly and potentially lucrative complementary industry helping communities cope with unpredictable crop yields. Youth in these communities are frequently unemployed and lack access to income-generating activities as rain-fed agriculture declines. In Namibia, one such project involves training youths from Muyako, Omega 3, and Luitcikxom villages in Bwabwata National Park in beekeeping. David Mushavanga, a local bee farmer with over 16 years of experience, will implement the project in partnership with WWF Climate Crowd and the Ministry of Environment, Forestry, and Tourism.
Other projects being implemented in Namibia will focus on increasing water security through rainwater harvesting and solar powered boreholes, climate-smart agriculture, installing clean cookstoves, and other alternative livelihoods such as craft making.
"Climate Crowd is a bottom-up, community-driven initiative. It's important to support projects the community feels a sense of ownership over. These projects can help them build resilience to multiple shocks and stressors. Environmental emergencies such as climate change could cause social and economic damages far larger than those caused by COVID-19," says Advani.
Through Climate Crowd and the African Nature-Based Tourism Platform, WWF works with community-based natural resource management organizations in several other eastern and southern African countries to provide funding and technical support for solutions that protect natural ecosystems and benefit people while building resilience to future shocks and stressors.
For example in Malawi, a recently funded project led by African Nature-Based Tourism Platform partner KAWICCODA, supports the scaling up of conservation-friendly alternative livelihood activities within the five-kilometre belt around Kasungu National Park.
"Both the climate crisis and pandemics threaten the wellbeing of people and nature, which is why we urgently need to pilot projects that make people and nature more resilient. We can learn from these grassroots-led initiatives. And then we can scale them," says Advani.
____________________
About Climate Crowd
WWF's Climate Crowd works with partners in more than 30 countries to collect data on how vulnerable communities are affected by changes in weather and climate and how they cope with them. The data is analysed and presented back to the communities, who then work alongside WWF and partners to develop and implement on-the-ground solutions. WWF also shares the data online for researchers, educators, and conservation and development practitioners. Explore the data at wwfclimatecrowd.org.
About the African Nature-Based Tourism Platform
To capture the complete picture of the impacts and to help Africa's tourism sector recover and become more resilient, WWF and a host of global, national, and regional partners created the African Nature-Based Tourism Platform. Established in 2021 with $1.9 million from the Global Environment Facility (GEF), the Platform is gathering data on the impacts on communities and SMEs from the COVID-19 crisis, facilitating learning and knowledge exchange, identifying funding opportunities, and developing funding proposals with communities and SMEs.