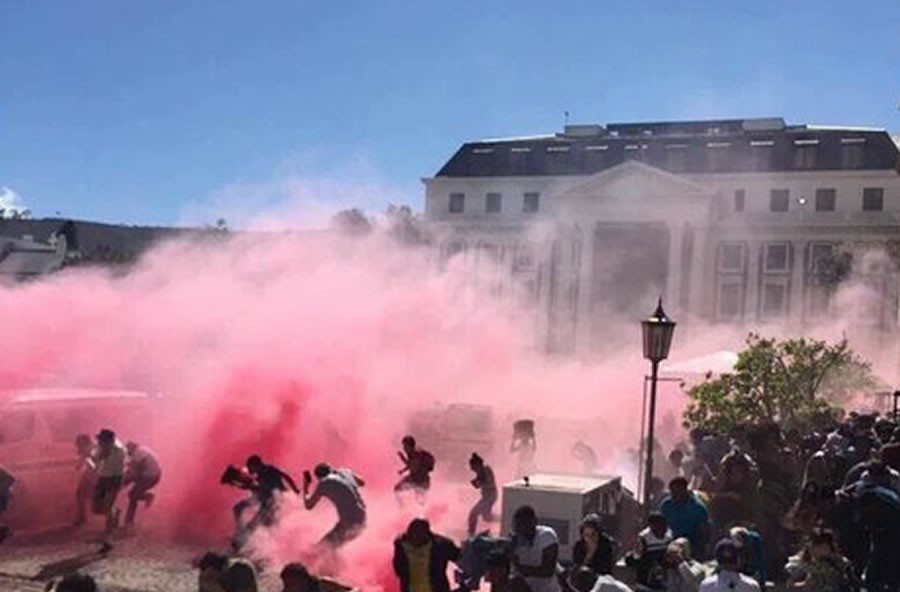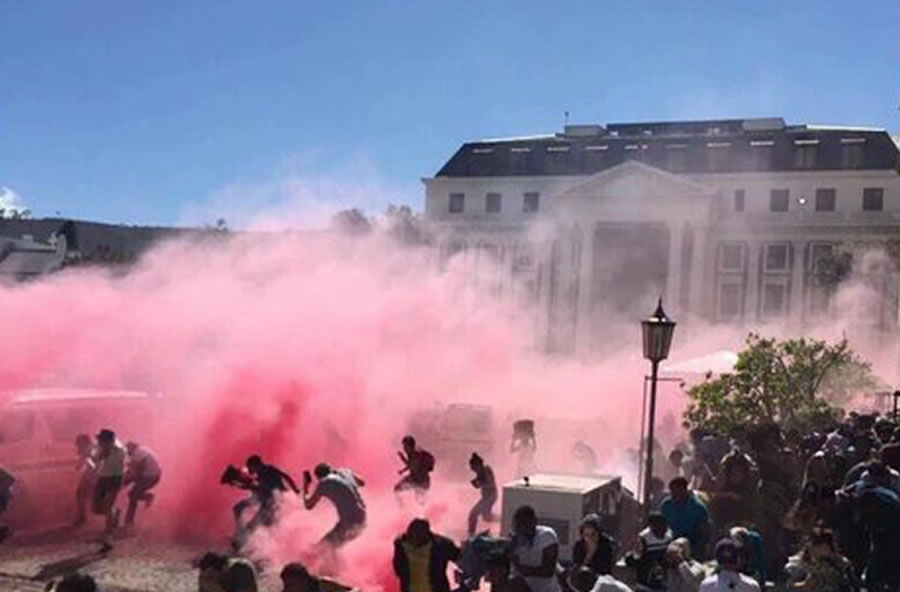 12 Simple, Powerful Views, Photos & Videos from SA Student Protests
Following the clash between student protesters and police outside parliament Wednesday, the widespread protests at universities in South Africa are making headlines around the world. The protests have rapidly evolved in less than a week from #WitsFeesMustFall (where it all began) through various universities' #FeesMustFall to today's #NationalShutDown…and #ANCMustFall. Several universities – from Wits to UCT, Fort Hare, Nelson […]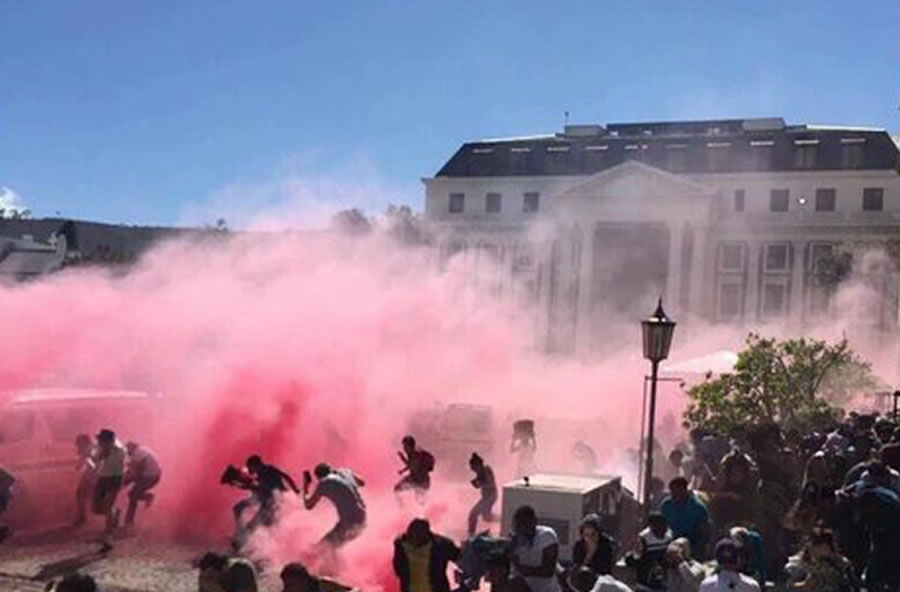 Following the clash between student protesters and police outside parliament Wednesday, the widespread protests at universities in South Africa are making headlines around the world.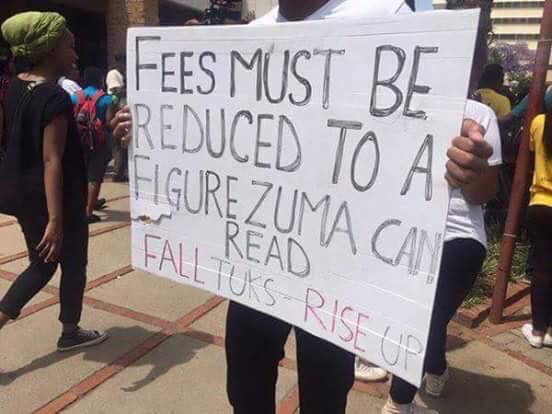 The protests have rapidly evolved in less than a week from #WitsFeesMustFall (where it all began) through various universities' #FeesMustFall to today's #NationalShutDown…and #ANCMustFall.
Several universities – from Wits to UCT, Fort Hare, Nelson Mandela Metropolitan University (NMMU) and others – were brought to a standstill today over the proposed 10.5 percent hike in university fees for next year; and while Wits students gathered at the Consitutional Court those in Cape Town converged on Parliament.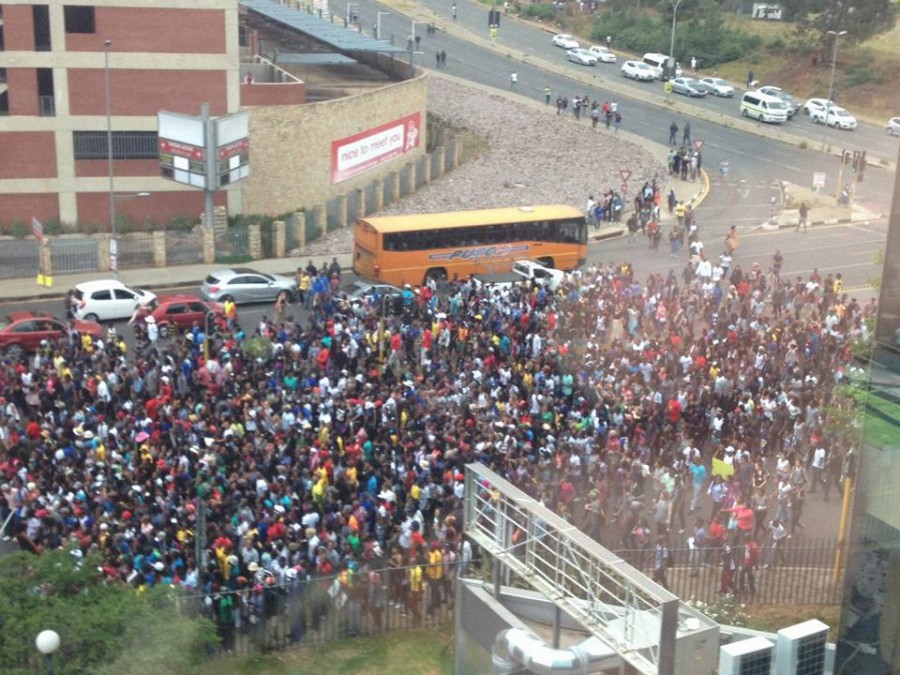 Many social commenters have said these have been the "craziest" few days in South Africa since 1994, with some likening the students' determination today to the "same heroism as the class of '76", referring to those students who took part in the Soweto riots.
Others have criticised the protesters for disrupting lessons during the fortnight before exams begin, and have accused non-students – such as members of the Economic Freedom Fighters (EFF) – for gatecrashing the protests.
Some say the true issue is that the government does not allocate sufficient funding to SA's universities, and that instead of disrupting those students who do want to study, the protesters should take their struggle to Education Minister Blade Nzimande.
Minister Nzimande did meet with higher education stakeholders yesterday, and the latter agreed to encourage their respective constituencies to engage in negotiations for a fee increase of not higher than a CPI-related increase of 6% for 2016.
But today students marched to the Parliamentary precinct…where they clashed with police who fired stun grenades and tear gas, while Nzimande delivered his Budget speech inside.
Here is a selection of views, photos and videos…
1. From Parliament…video of riot police clashing with protesting students
2. From the DA:
"We call for calm and restraint by both SAPS and protesters in the wake of the breaching of the parliamentary precinct by students fighting against the exorbitant cost of higher education…We urge President Zuma to address the nation as a matter of urgency in order to restore calm."
3. From the EFF:
"The EFF rejects the agreement reached by the Minister of Higher Education Blade Nzimande together with university managers that fee increments will not exceed 6% this year…Government should be announcing plans for the realization of no fee universities."
4. From The Presidency:
No statement as of yet.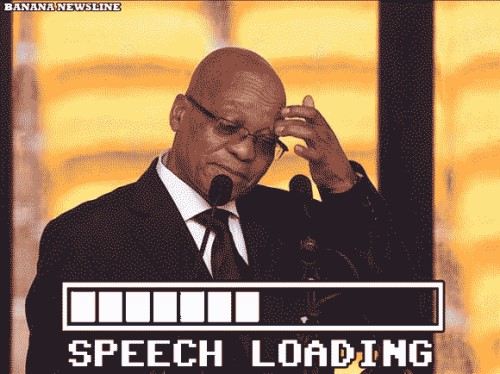 There was a brief ANC tweet which was later deleted:
#NationalShutDown The message is clear. pic.twitter.com/mMrwefGjlN

— Mabine Seabe II (@Mabine_Seabe) October 21, 2015
Update Thurs 22 Oct: President Zuma will meet with university management and student leaders tomorrow to discuss the "stalemate".
5. From students:
"They were shooting at us while we were singing the National Anthem." "They made us put our hands in the air…so we wouldn't be shot." "Please hug a student who was there today. They may not know it, but they need it." "I can't graduate Mom if others can't."
They're skinning us alive. #NationalShutDown #FeesMustFall pic.twitter.com/7BSbTQ7ZYQ — Andrei Damane (@AndreiDamane) October 21, 2015
6. From author and Rhodes scholar, Eusebius Mckaiser:
"This sight of academics at my alma mater Rhodes University protesting with students, warms my heart."
"One difficulty in a time of protest is accurate information dissemination and sifting reliable sources from ones that aren't…Also I think we can err on the side of more rather than less information and take young people as seriously as they deserve to be taken as they narrate their own experiences especially when still images and video footage and audio abound."

7. From an opinion piece on eNCA by Angelo Fick – "What broke today":
"On the afternoon of 21 October 2015, something profoundly delicate, precious, something many had struggled for and fought for, was broken. In watching police deploy tear gas and stun grenades against students sitting on the ground inside the Democratic Parliament, the phrase 'first as tragedy, then as farce' came to mind."
Read full article: http://www.enca.com/opinion/what-broke-today
8. From the National Council of Provinces Chairperson, Thandi Modise:
She said the events at Parliament were "unprecedented" and "regrettable".
"…today's incidents were unprecedented, as Parliament we regret these incidents because we have been told that a few students, as well as a few members of the public order policing were injured in the attempt to disperse the march by the students."
She said instead of embarking on an illegal march, students should have given Parliament space to tackle the concerns around fee increases. The Chairperson was waiting for confirmation that seven people were arrested for attempting to breach a security gate at the National Assembly.
9. From Prof Jonathan Jansen, University of Free State:
A couple of days ago, Prof Jansen wrote on FB: "And on Monday the bills must still be paid. Is this the beginning of the end of South Africa's leading universities?"
10. From writer and author Max du Preez:
"If you were one of the middle class people watching the student revolt on television and mumbled something like 'bloody idiot, go to class and make something of yourself' then I urge you to think again.
"We need every one of these protestors to graduate with a good qualification if we want South Africa to be a winning country one day. We already have a shortage of good doctors, engineers, scientists, psychologists, teachers, academics, accountants and administrators. University fees are too high for most students and prospective students."
Read full article: www.news24.com/Columnists/MaxduPreez/Protesting-students-need-our-support-20151020
11. From South Africans in London:
On Friday South African expats in London will gather outside the SA High Commission in support. More: https://www.facebook.com/events/1921604801397065/
12. From East London this evening:
East London's Fleet street is burning #NationalShutDown pic.twitter.com/kkcATodmBI — sabelo ndlangisa (@Bhintsintsi) October 21, 2015
More on Twitter: