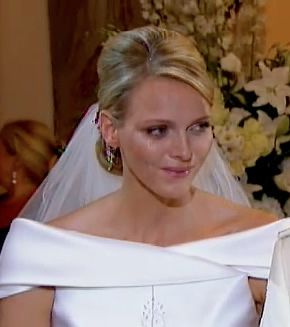 Princess Charlene's Tears in the Chapel at Monaco Wedding
Tears streamed down the face of stunning bride, and princess, Charlene as she stood beside her new husband, Prince Albert II, in the Chapel de St. Devota (Monaco's patron saint) in Monte Carlo this evening. Earlier, the exquisite South African had appeared to fight back tears as her veil was lifted during the religious service […]

Tears streamed down the face of stunning bride, and princess, Charlene as she stood beside her new husband, Prince Albert II, in the Chapel de St. Devota (Monaco's patron saint) in Monte Carlo this evening.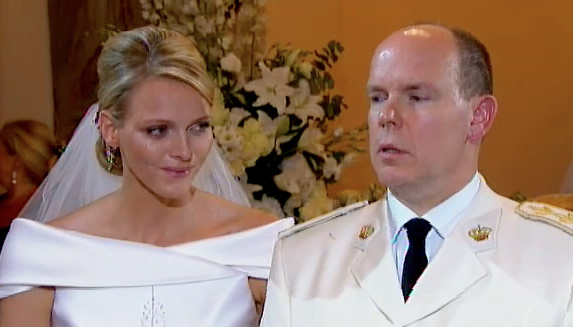 Earlier, the exquisite South African had appeared to fight back tears as her veil was lifted during the religious service in the Palace courtyard, but she managed to vasbyt until the couple had been driven to the Saint Dévote Church where the beautiful singing of a young girl overwhelmed her and the tears brimmed over. At first the Prince tried to comfort her, but after a while he appeared a little impatient (!) as she dabbed at her eyes with a handkerchief.
The singer who caused the tears was 11-year old Juliette de Baets, who was singing a song in honour of the Virgin Mary with her mother, soprano Marie-Clotilde Würz-De Baets.
The new Princess then symbolically laid her wedding bouquet on the altar of the Virgin, and then took Prince Albert II's arm as they stepped out of the chapel together, to the cheers of the Monaco crowd. The royal couple then waved and kissed before returning to the Palace for official portraits.
The new princess wore a stunning Giorgio Armani silk bridal gown, covered in 40,000 Swarovski crystals!