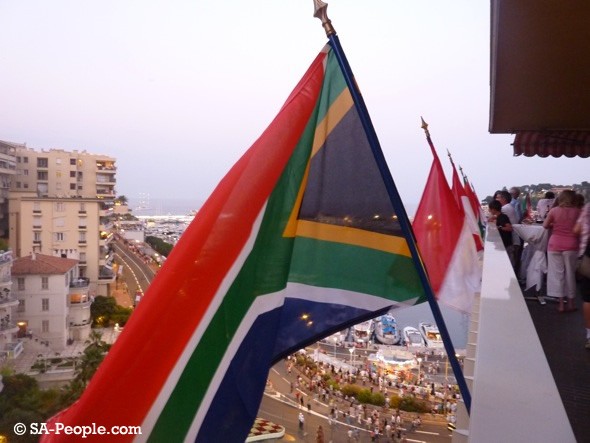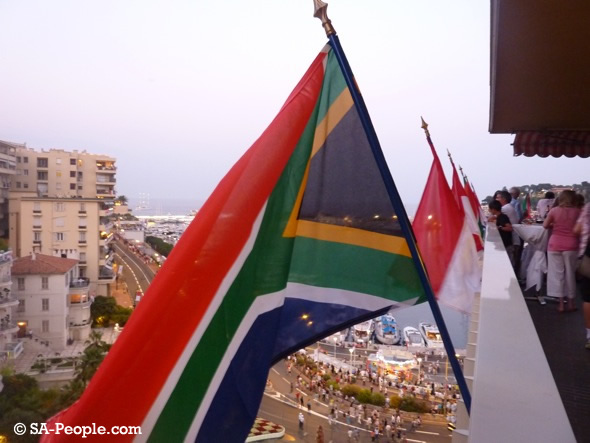 South African Flag Flying High at Charlene's Royal Wedding in Monaco
The most amazing thing that strikes you as step into Monaco is the number of South African flags flying high. It's wonderful. The royal principality has truly paid homage to the culture and background of Charlene Wittstock as she marries the Prince of Monaco in a two-day ceremony this weekend. Update: See photos of Charlene […]

The most amazing thing that strikes you as step into Monaco is the number of South African flags flying high. It's wonderful. The royal principality has truly paid homage to the culture and background of Charlene Wittstock as she marries the Prince of Monaco in a two-day ceremony this weekend.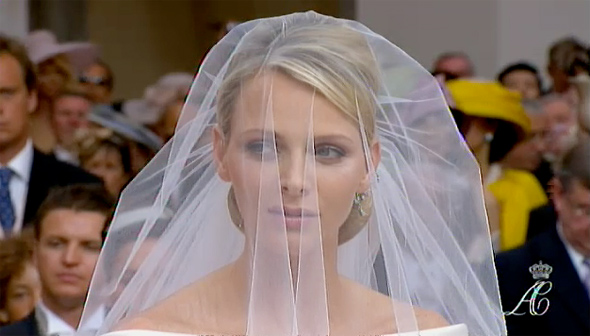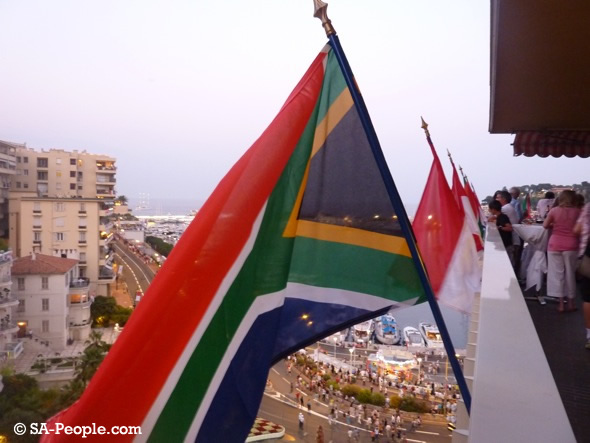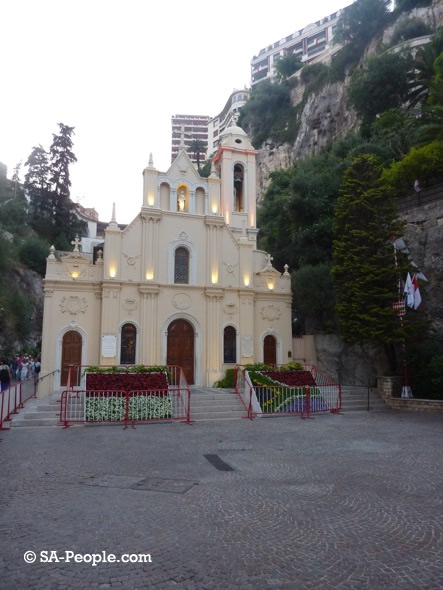 Update: See photos of Charlene overcome with emotion inside this chapel a few hours after this photo was taken.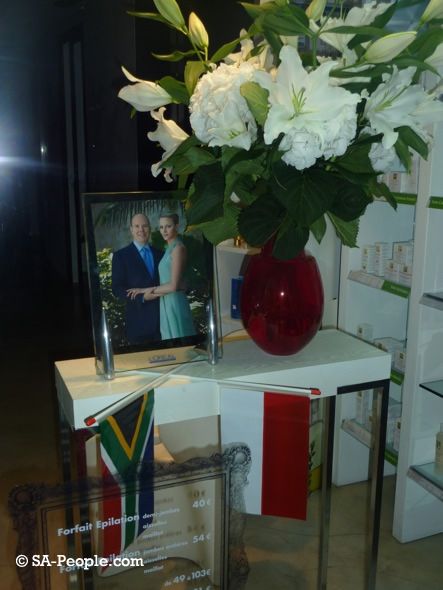 And at the dinner tonight, after the religious ceremony, South African wines will be served in tribute to Charlene's (former) homeland. Everything else at the dinner – served up by celebrity French chef Alain Ducasse – has been sourced from within a 10km radius of Monaco in order to be as fresh and ecologically-friendly as possible.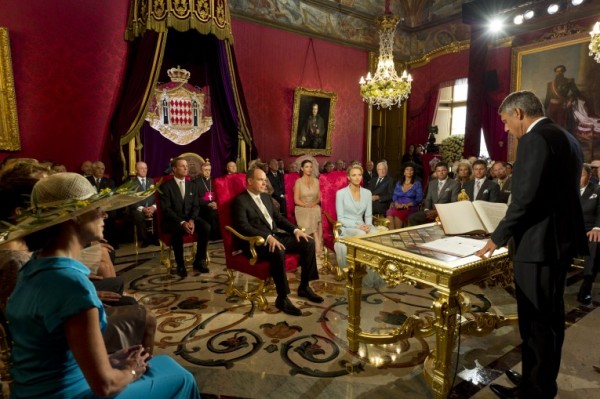 IF YOU'RE NOT ON THE INVITATION LIST, YOU CAN WATCH THE WEDDING LIVE HERE:
http://www.palais.mc/monaco/palais-princier/english/royal-wedding/religious-ceremony-live-broadcast.2270.html
There are a string of well-known South Africans who have been invited to the  wedding and lavish dinner.
These include: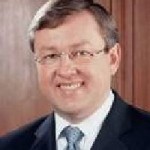 Marthinus Van Schalkwyk, representing the President of South Africa.
Marthinus van Schalkwyk is the Minister of Tourism in the Cabinet of South Africa.
He is representing H.E. Mr Jacob Zuma, the President of South Africa.
Jeffrey Radebe, second representative of H.E. the President of South Africa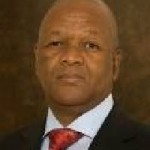 Jeffrey Radebe is South Africa's Minister of Justice andConstitutional Development.
He is the second representative of H.E. Mr Jacob Zuma, President of South Africa.
Johann Rupert
Johann Rupert is a South African businessman and chairman of the Swiss-based luxury-goods company Richemont as well as of the South Africa-based companies VenFin and Remgro.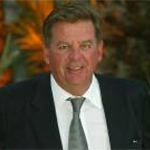 He founded the Laureus Sport for Good Foundation in 1990. Laureus funds 65 projects globally, with the goal of using sport to tackle social issues, having a particular emphasis on underprivileged children.
He co-founded the Sports Science Institute with his friends Morne du Plessis and Tim Noakes.
Pumeza Matshikiza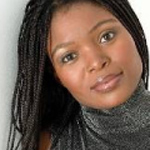 Pumeza Matshikiza is a South African lyrical soprano and studied at the University of Cape Town College ofMusic.
She made her Royal Opera, Covent Garden (London) debut as a Flower maiden in Parsifal.
Her cover roles there have included Conçeption/L'heure Espagnol, Donna Elvira/Don Giovanni, Adina/L'elisir d'amore and Antonia/Les Contes d'Hoffman.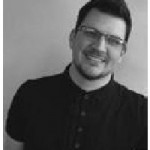 Terrence Bray
Terrence Bray is a South African fashion designer. He graduated from Durban University of Technology FashionDepartment in 1995. His label, Terrence Bray, has featured in a number of international magazines.
In 2009, he presented a collection at the 5th anniversary gala dinner of the Ladies' Lunch Monte Carlo charity organisation, of which Miss Charlene Wittstock is the Honorary President.

Graham Hill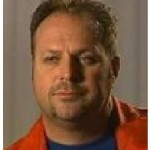 Graham Hill is a South African swimming coach and former competitive swimmer. He is currently the head coach of Seagulls swimming club in Durban and has been Head Coach for the Olympic Swimming team, World Cup Team and World Youth Teams on many occasions.
Ian McIntosh
Ian McIntosh is a Zimbabwean-South African rugby union coach. He served as head coach for the South African national rugby team, Springboks from 1993 to 1994.
Elana Meyer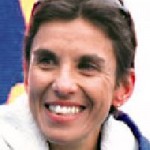 Elana Meyer is a former long-distance runner from SouthAfrica, who won the silver medal at the 1992 Summer Olympics in the 10,000 meter event.
Ryk Neethling
Ryk Neethling is a South African swimmer. He won an Olympic gold medal in the 4×100 m freestyle relay at the 2004 Summer Olympics.
He is the former joint owner of the 4×100 m freestyle relay world record and holds several South African records. He also is the first South African to take part in four successive Olympic Games.
Terence Parkin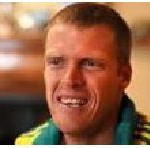 Terence Parkin is a deaf swimmer from South Africa, who won the silver medal at the 2000 Summer Olympics in the 200 meters breaststroke.
He also competed in the 2004 SummerOlympics, as well as the 2005 Deaflympics in which he took home two gold medals.
François Pienaar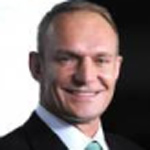 Francois Pienaar is a former rugby player who captained and played flanker for the South African Springboks national rugby union team from June 26th 1993 until August 10th 1996.
He won 29 Test caps, all of them as captain, and led the Springboks to victory in the 1995 Rugby World Cup.
He was portrayed by Matt Damon in the 2009 Clint Eastwood film Invictus.
Sarah Poewe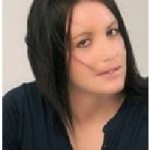 Sarah Poewe is a South African born German professional swimmer.
When she was 17, she competed for the South African swimming team in three events at the 2000 Sydney Olympic Games, and finished in fourth place.
In 2001, she won the South African National Championships in the 100-meter breaststroke. She represented Germany in the 2004 Athens Games.
Wayne Riddin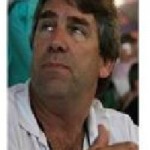 Wayne Riddin is a South African swimming coach and former competitive swimmer. He was the head coach of South African Swimming from 1999 to 2001, and Olympic Games Swimming Team Manager and Head Coach in Sydney in 2000.
In addition to his coaching, he is also the race director of the Halfway Telkom Midmar Mile event, which last took place in February 2011 in the presence of Miss Charlene Wittstock.
Roland Schoeman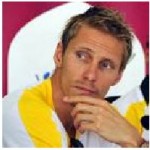 Roland Mark Schoeman is a South African swimmer and a member of the 2004 Olympic Games swimming team for SouthAfrica. He is the current World record holder in the short course50 meters freestyle, with a time of 20.30 seconds.
He notably won a gold medal at the 2004 Summer Olympics in Athens in the 4 × 100 m freestyle, a silver medal in the 100 m freestyle event and a bronze in the 50 m freestyle.
H.M. King Letsie III of Lesotho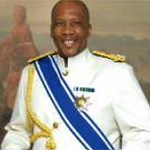 H.M. King Letsie III is the reigning king of Lesotho. He succeeded his father, Moshoeshoe II, when the latter was forced into exile in 1990. His father was briefly restored in 1995 but Letsie III became king again upon his death in 1996.