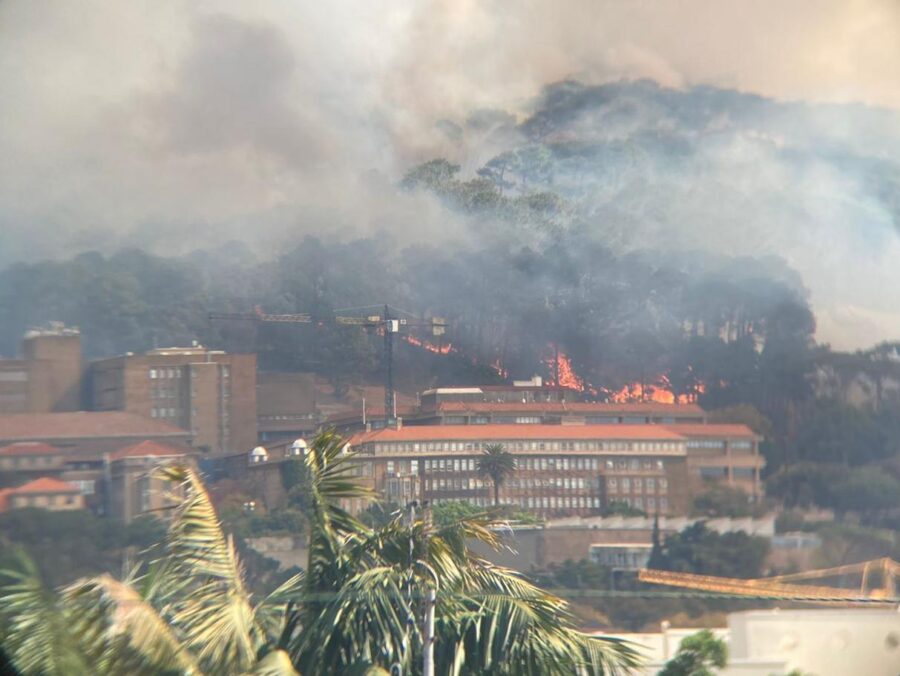 Huge Table Mountain Fire Edging Towards UCT
The huge fire on Table Mountain in South Africa, which is believed to have begun at around 09h00 on Sunday morning, appears to be heading towards the University of Cape Town. SANParks earlier called for hikers in the area to evacuate. Update: Videos below show UCT students being evacuated. UCT Sports Centre in flames A […]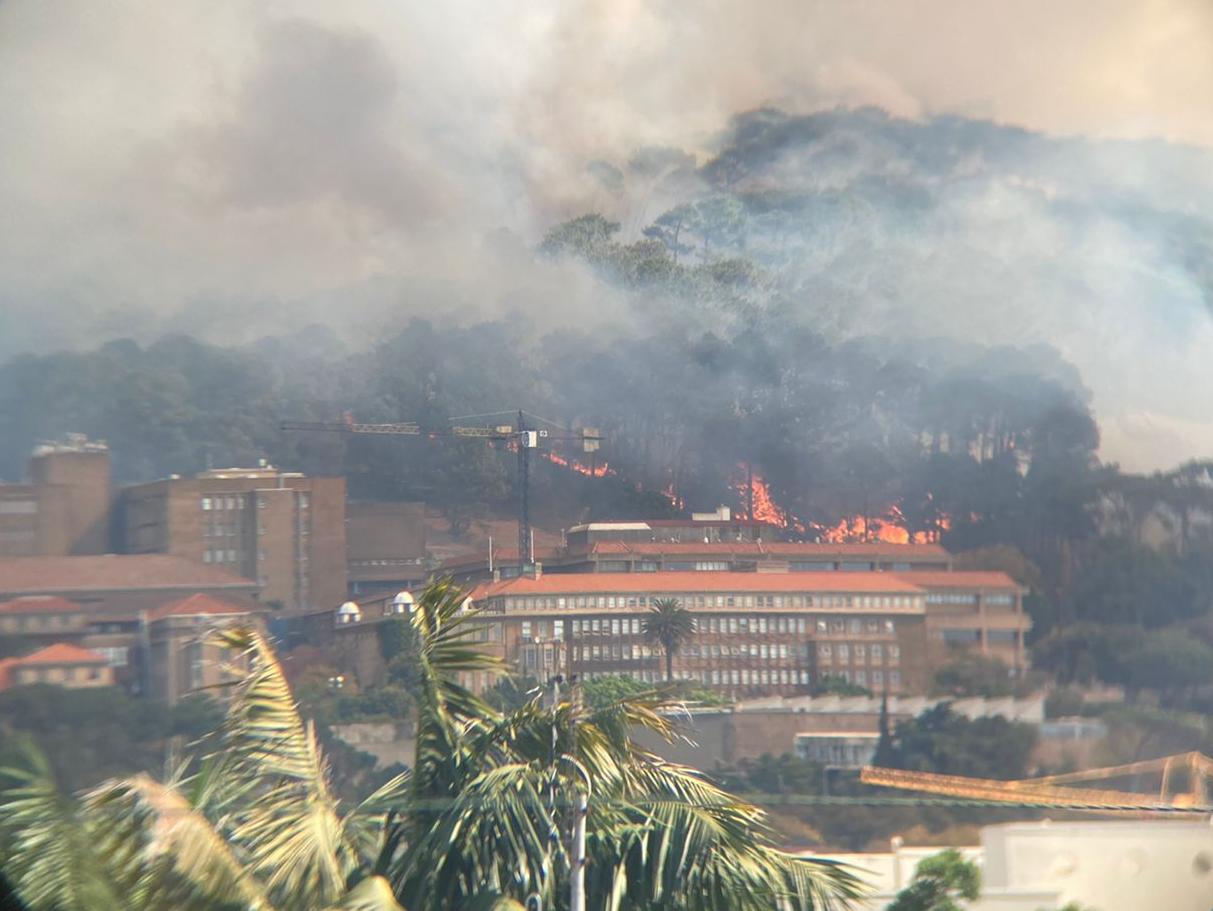 The huge fire on Table Mountain in South Africa, which is believed to have begun at around 09h00 on Sunday morning, appears to be heading towards the University of Cape Town. SANParks earlier called for hikers in the area to evacuate. Update: Videos below show UCT students being evacuated.
UCT Sports Centre in flames
A witness told SAPeople: "The Table Mountain fire looks out of control and is edging towards UCT. Rhodes Memorial has burnt down."
UCT's sports centre is apparently already "ablaze", and firefighters are trying to protect the rest of the university grounds. The public is urged to hold the firefighters in your thoughts as they battle this treacherous fire.
In a voice note, a Cape Town resident, Juliette, says: "My boyfriend is a fire investigator. He's up at the scene. He said it's absolutely horrific. Rhodes Memorial is gone. The sports centre at UCT is ablaze. They've lost all of their equipment. They're trying to control it to not get into UCT itself. But with this wind, it's just running. So please hold the fire workers – whether they're fighting or co-ordinating – pls hold them in your prayers because this is a biggie and it is dangerous, and with this wind it's just hectic. Thanks."
The fire reportedly began on De Waal Drive and has been driven by a north westerly wind.
At least three helicopters have been deployed, and have been attempting to put the fire out.
WATCH Explosion at Rhodes Memorial Restaurant
Video footage from Rob Beezy shows the devastating moment that Rhodes Memorial Restaurant exploded. The explosion was reportedly caused when flames ignited the restaurant's gas bottles. A section of the restaurant's tearoom has been destroyed.
Cape Town – Fire on the mountain (Update): Rhodes Memorial Restaurant pic.twitter.com/KR0nyogRAn

— TrafficSA (@TrafficSA) April 18, 2021
According to WhatsApp messages that have been widely circulated, the Biochemical (micro biology) building at UCT is also on fire. It's believed to have lots of gas canisters.
The fire is reported to have jumped the M3 and is moving towards the lower campus, approaching Newlands Forest. Some reports say that Josephine Mill is also damaged. Working on Fire reported at around an hour ago, at 14h30 that "Update: The wind direction has changed and the fire has moved towards the M3. Please show caution if you are in the Rondebosch/Newlands area."
Saw the news of the fire on Table Mountain. It's just horrible. Rhodes Memorial restaurant has burned down and the fire is now heading toward the University of Cape Town. Hoping and praying for everyone's safety and that the fire will be stopped soon. pic.twitter.com/g9Fb9xCb3C

— Jo V. Lande (On hiatus) (@JoVLande) April 18, 2021
https://twitter.com/PinkGinGirl/status/1383754329752969221
WOF Aerial resources have been deployed. https://t.co/IjOdUm1xWH pic.twitter.com/OeJaCRwuhY

— Working on Fire (@wo_fire) April 18, 2021
UPDATE: Students being evacuated from UCT
#capetownfire Evacuation UCT students… our thoughts and prayers are with the firefighters, students and all residents in the area. pic.twitter.com/q8FYxDPoHA

— South Africa People – SAPeople.com (@sapeople) April 18, 2021
Video of fire from students at UCT Middle Campus:
Stay in touch with news from South Africans around the world by subscribing to SAPeople's weekly podcast.