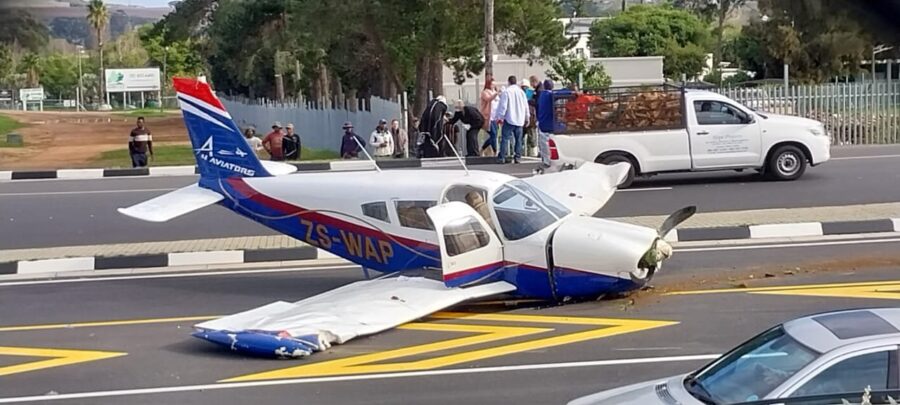 Light Aircraft Makes Daring Emergency Landing on Cape Winelands Road
A light aircraft had to make a daring emergency landing on the R44, close to Winery Road, between Stellenbosch and Somerset West, on Wednesday. The two pilots have been praised for their skill in landing the plane without causing any fatalities, avoiding cars and pedestrians. Both pilots were treated for minor injuries at the scene, […]
A light aircraft had to make a daring emergency landing on the R44, close to Winery Road, between Stellenbosch and Somerset West, on Wednesday.
The two pilots have been praised for their skill in landing the plane without causing any fatalities, avoiding cars and pedestrians. Both pilots were treated for minor injuries at the scene, before being taken to hospital, according to Stellenbosch Municipality.
The plane incident did cause major traffic delays as vehicles were diverted at the Annandale intersection. "Caused me a lot of travel time and I came home late," said one resident. "Glad though that the pilots can fly another day."
Another resident said she'd been wondering what all the commotion and sirens were about.
Many aviation experts scolded newspapers with headlines about a plane 'crash', pointing out this was a "well controlled emergency landing".
One South African social media user said: "Absolute brilliant flying skills; every emergency is different and the psychological pressure and multitasking and multiple decision making that the pilot would have been subjected to would have been immense, (media articles) should have said 'exceptional flying skill and cool-headed decision-making under extreme pressure averted a far more serious tragedy'. The pilot is owed a lot more recognition…"