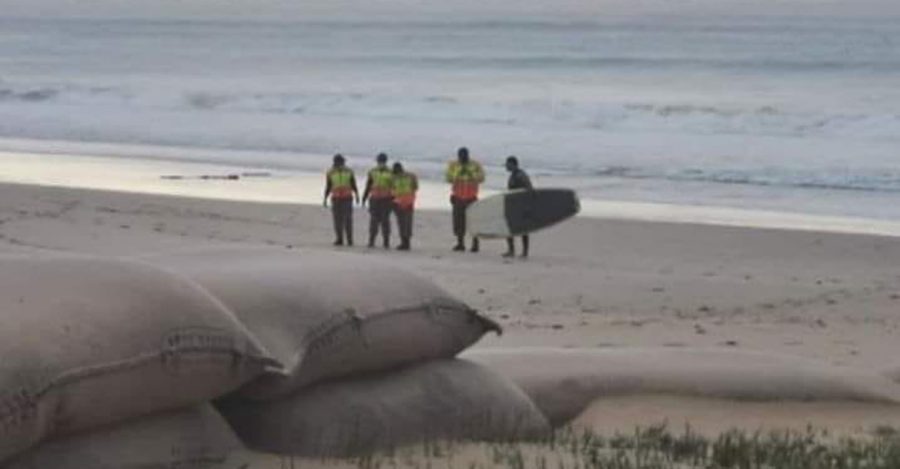 Surfer Meme Captures South Africa's Frustration with 'Double Standards'
The frustration in South Africa with ministers and police appearing to be more focussed on minor crimes – based on rules created during Lockdown – than on helping guide the public on social distancing measures that are safe and that prevent the spread of the coronavirus, has been highlighted by a meme which went viral […]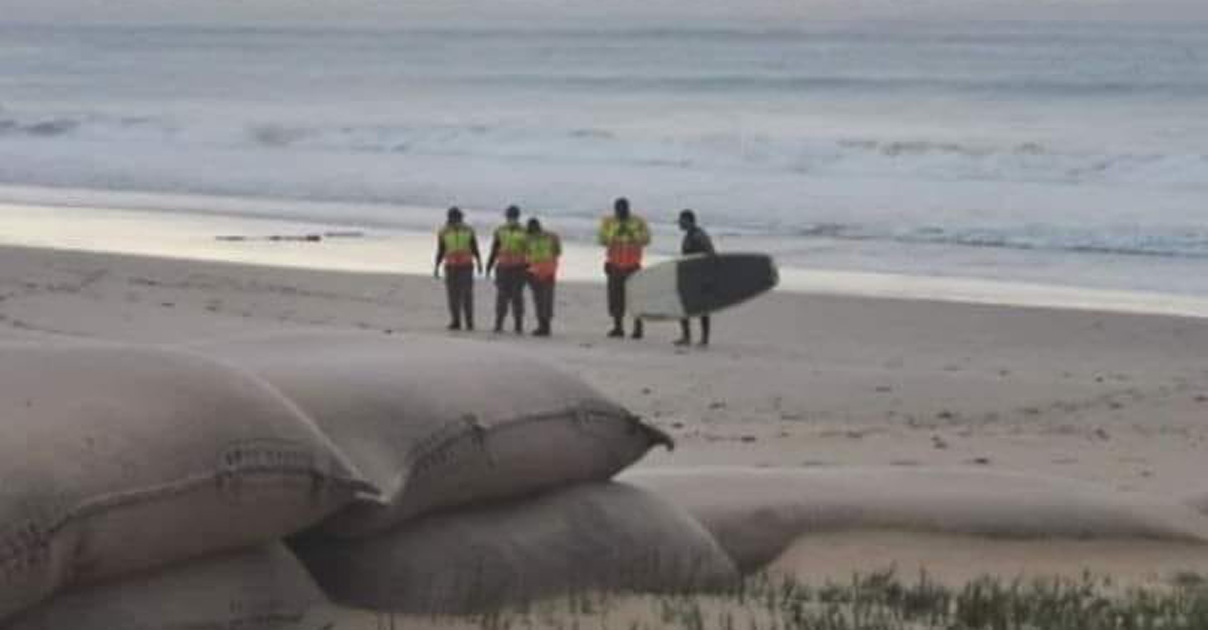 The frustration in South Africa with ministers and police appearing to be more focussed on minor crimes – based on rules created during Lockdown – than on helping guide the public on social distancing measures that are safe and that prevent the spread of the coronavirus, has been highlighted by a meme which went viral today.
The meme shows four police officers attending to a solo surfer, apparently in the Eastern Cape, whilst meanwhile – in the picture below it – there's barely an officer in sight to help as a desperate crowd of people are pushed up extremely close to one another.
Well known South African musician Don Clarke re-posted the meme this morning, and said: "The double standards being practised by our government right now are mind blowing!… Everything visible on stage is badly delivered, while behind the curtains the reality is absolute chaos."
Don said: "My greatest fear is that the ANC is handling this lockdown like they handled Eskom, the SABC, South African Airways and other SOEs, and the net result will be that the entire country gets broken."
While it was pointed out (by Facebook user Rose-Lee Smith, and others) that the difference in the two photos is that those gathering are desperate – either for food parcels or social grants, "whereas that poephol thought he was better than everyone and above the law and could go for a surf for fun while thousands of other surfers continue to obey the rules and stay at home."
She added that "the one picture shows people out of absolute necessity for the sake of their own livelihood in a place where they are allowed to be for sustenance, the other shows someone taking a leisurely surf in a place he's not allowed to be. The comparison of these two pictures is illogical. Necessity vs risk."
Don responded that he agreed, "but I still maintain that the policing in BOTH these photographs is a disgrace, and suggests no clear control whatsoever…"
It's not certain where the bottom photo was taken, but there were chaotic scenes across the country yesterday as people queued and crowded for hours at Labour Department offices which did not open. (See Chaos at Labour Department in South Africa – photos.)
The point of the meme was not that those people in the crowd should be arrested, but that police should be focused on monitoring the gathering of people to prevent crowds and encourage social distancing.
This morning in Muizenberg a handful of protesting #BackintheWater surfers were arrested (whilst one made a get-away on a bicycle) when they didn't keep moving in accordance with the regulation that South Africans are allowed to exercise between 6am and 9am.
According to some reports, research shows that the virus could be easily discharged into the air by sea spray or foam.
Meanwhile a Muizenberg father, Liam Bulgen, described to Cape Talk how he and his partner were put into a police van after their 21-month-old toddler ran onto the beach and he went to grab her, whilst they were walking on the promenade.
https://t.co/PGmAniqjudhttps://t.co/PGmAniqjud

— MURRAY WILLIAMS (@NoSurrenderRSA) May 5, 2020