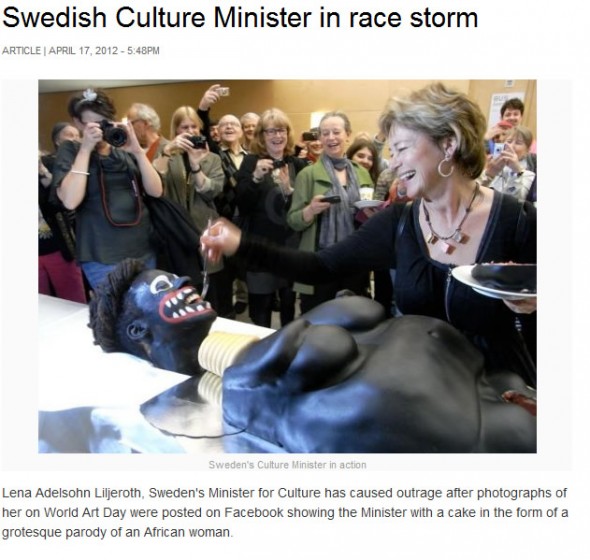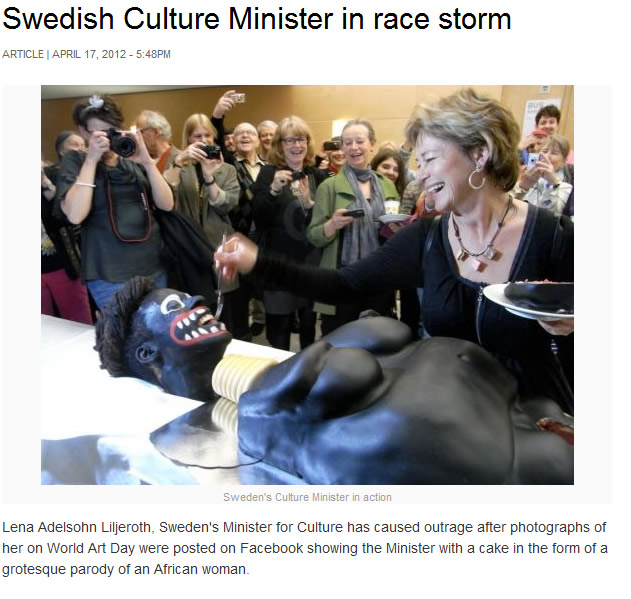 Mutilation Cake Cries and Causes Racist Storm in Sweden
The Swedish Culture Minister has become embroiled in a racist storm after she posed and interacted laughingly with a controversial piece of performance art. The object in question was a 'genital mutilation cake', designed by artist Makode Aj Linde. (Scroll down for VIDEO.) Lena Adelsohn Liljeroth, Sweden's Minister for Culture, is seen performing a 'clitoridectomy' […]

The Swedish Culture Minister has become embroiled in a racist storm after she posed and interacted laughingly with a controversial piece of performance art. The object in question was a 'genital mutilation cake', designed by artist Makode Aj Linde. (Scroll down for VIDEO.)
Lena Adelsohn Liljeroth, Sweden's Minister for Culture, is seen performing a 'clitoridectomy' on the cake, as she was requested to do at an event at the Moderna Museet gallery in Stockholm on World Art Day, 15th April.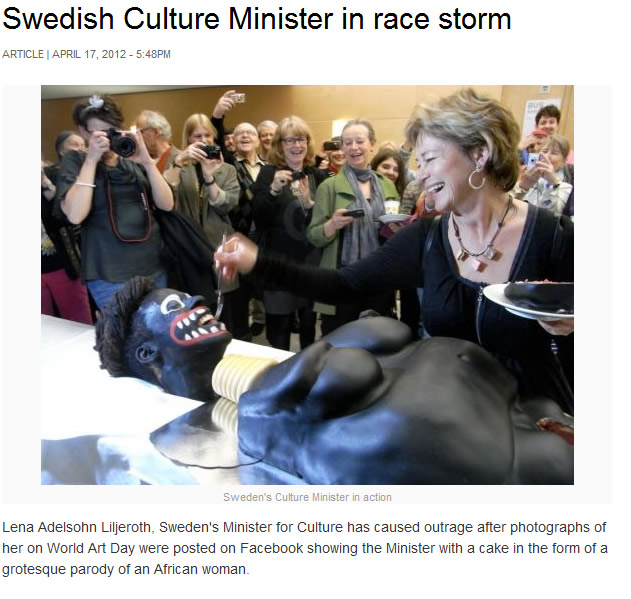 The cake screamed and cried as it was being cut – which, as seen in pictures posted on Facebook, illicited laughter and giggling from the Minister and the gathered crowd.
Kitimbwa Sabuni, a representative of the National Afro-Swedish Association said "In our view, this simply adds to the mockery of racism in Sweden. This was a racist spectacle."
The Association has called on the Minister to resign, saying "her participation as she laughs, drinks and easts cake, merely adds to the insult against people who suffer from racist taunts and against women affected by circumcision."
Moderna Museet have claimed the point of the display was to raise the issue of genital mutiliation.
The Minister has responded, telling a news agency that "I understand quite well that this is provocative and that it was a rather bizarre situation. I was invited to speak at World Art Day about art's freedom and the right to provoke. And then they wanted me to cut the cake."
She says that Makode explained to her that the artwork "challenges a romanticised and exoticised view from the west about something that is really about violence and racism."
News media around the world are clamouring to interview the artist about his intentions (even posting messages to his friends on Facebook) .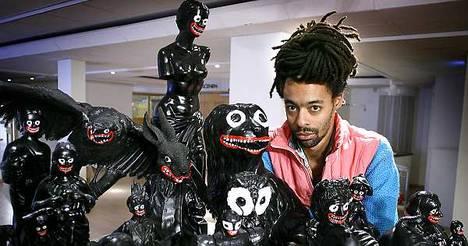 Makode certainly has gained attention – both for himself, and for genital mutiliation – but is it the 'right' attention? Has this created more racism within a country that prides itself on black and white living in harmony, or has it created necessary awareness about genital mutiliation?
Opinions are divided, as you can see from some of the comments being posted on Facebook:
As an artist, I understand the message he is trying to convey and having the work be consumed, literally, by the people that are responsible for the exploitation can very well be part of that message.
As art you can like it or not. Eileen Carson
Isn't it actually very much in keeping with his point about western indifference that the audience finds this whole event amusing? If the artist's intention is to bring awareness to the awful reality of female genital mutilation, and (presumably) the western world's indifference toward the practice, then isn't his statement made most effectively through the vapid pleasure that his white audience expresses while eating pieces of a woman's body? What I find most disturbing about this video are the grinning faces eating cake – and it seems most posting here would agree that the pleasure of the audience is the true horror. Am I alone in thinking that exposing this stupidity and callousness may be what Mr. Aj Linde is after? Eric Nyland
The artist dehumanized and objectified the experiences of victims of FGM for the sake of notoriety. This was a sick joke and in no way justifiable. Art whose main purpose is shock value does nothing to further a cause. Kayan Clarke
What do you think?
WATCH THE VIDEO OF THE INSTALLATION: