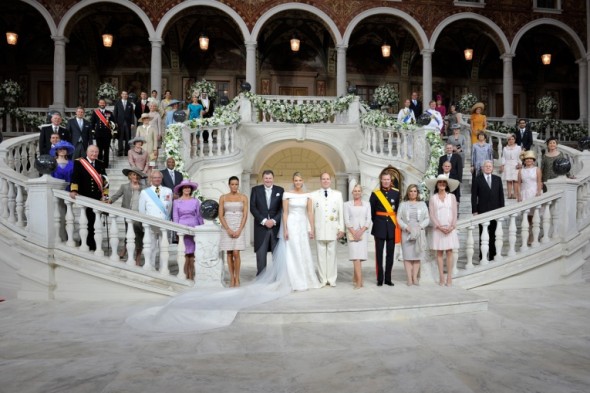 Newlywed Prince Albert of Monaco Faces Paternity Tests
New reports in local French magazines suggest that the Monaco rumours of the past week may have more truth to them than the palace let on, as it emerges that Prince Albert II – who married South Africa's Charlene Wittstock this week – may have to face more paternity tests for at least one child, […]

New reports in local French magazines suggest that the Monaco rumours of the past week may have more truth to them than the palace let on, as it emerges that Prince Albert II – who married South Africa's Charlene Wittstock this week – may have to face more paternity tests for at least one child, allegedly fathered with an Italian woman.
It was alleged that Charlene tried to flee home to South Africa a week ago to escape her wedding to Prince Albert II, and that police confiscated her passport at Nice airport as she attempted to run away from her fiance on a way-way ticket back home to SA.
The South African's alleged failed getaway was rumoured to have been triggered by new scandals surrounding Prince Albert II's private life.
The Palace denied the rumours and the wedding went ahead, but if truth be told, Charlene didn't look incredibly elated on her wedding day. It could have been bridal nerves, or that she was uncomfortable with the massive media attention. Or it could have been that she knew the Prince has to take another paternity test within the next few days.
French officials announced, on their wedding day, that the Prince will have to take a paternity test for what could be his third illegitimate child. He already has a son Alexandre (6) and a daughter (19) Jasmin. Neither were present at the wedding.
The magazines are reporting that Alexandre's mother, Nicole Coste (40), could have borne the prince another child. She lives nearby to Monaco.
But the child at the centre of this rumour is said to be another one – an 18-month-old son of a woman from Italy. French magazine 'Public' claims that this lady is about to reveal all about her affair with the Prince. If this does turn out to be true, their affair would have taken place whilst the Prince was dating Charlene.
Even if none of the rumours are true, the gossip surrounding them is enough to make it an incredibly sad and lonely time for Charlene at a moment in her life which should be her happiest.
Last night she radiated as she stood beside her new husband and cut their cake, which must surely be one of the tallest ever seen. And of course, in her continuing tribute to South Africa, the cake was decorated with South Africa's national flower – Proteas.
The royal couple are due to fly to Durban for their honeymoon, where they will relax at the Oyster Box in Umhlanga Rocks, and attend a Winter Olympics meeting on the 6th July. It's not yet known if any of these arrangements will be altered by this latest revelation.