South African Woman Arrested Trying to Save Whales
A South African woman, Rosie Kunneke, is being hailed as a hero in the Danish Faroe Islands where she has been trying to prevent the traditional slaughter of a pod of pilot whales. Together with Christophe Bondue of Belgium she was arrested at the Bøur slaughter for her actions. Rosie is Land Team Leader of Sea […]
A South African woman, Rosie Kunneke, is being hailed as a hero in the Danish Faroe Islands where she has been trying to prevent the traditional slaughter of a pod of pilot whales.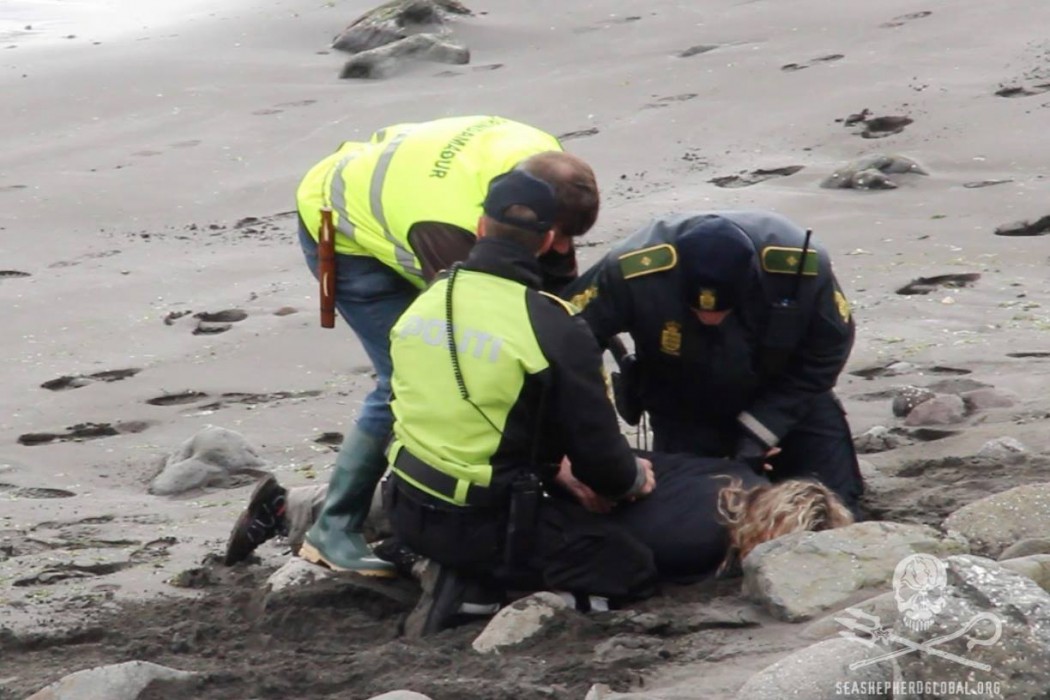 Together with Christophe Bondue of Belgium she was arrested at the Bøur slaughter for her actions.
Rosie is Land Team Leader of Sea Shepherd Conservation Society (SSCS) – an international non-profit, marine wildlife conservation organisation – in the Faroe Islands.
"It took three Faroese policemen to tackle and stop one South African woman from trying to stop the brutal murder of a pod of pilot whales. All of us in Sea Shepherd around the planet salute you Rosie Kunneke," Sea Shepherd's Captain Paul Watson wrote on his facebook page.
In a statement on their website today, Sea Shepherd said Rosie and Christophe were tackled to the ground after they ran onto the beach, as the pod was being driven to the shore.
According to Sea Shepherd, Rosie was held facedown in the sand and rocks as crowds stormed the beach to get to the pilot whales.
[quote_center]"It took three Faroese policemen to tackle and stop one South African woman" – Capt Paul Watson[/quote_center]
Sea Shepherd volunteers managed to capture graphic photographs and video footage of the arrests and the slaughter that followed (see below).
"Anyone who knows Rosie knows how passionately she cares for animals. Seeing Rosie and Christophe thrown to the ground today for defending these whales, and then dragged away as the carnage began, was an absolutely heart-wrenching sight," said CEO of Sea Shepherd Global, Captain Alex Cornelissen.
In an update today, Sea Shepherd announced that all five of their crew members who were detained overnight have been arrested. The other three hail from Luxembourg, Italy and France.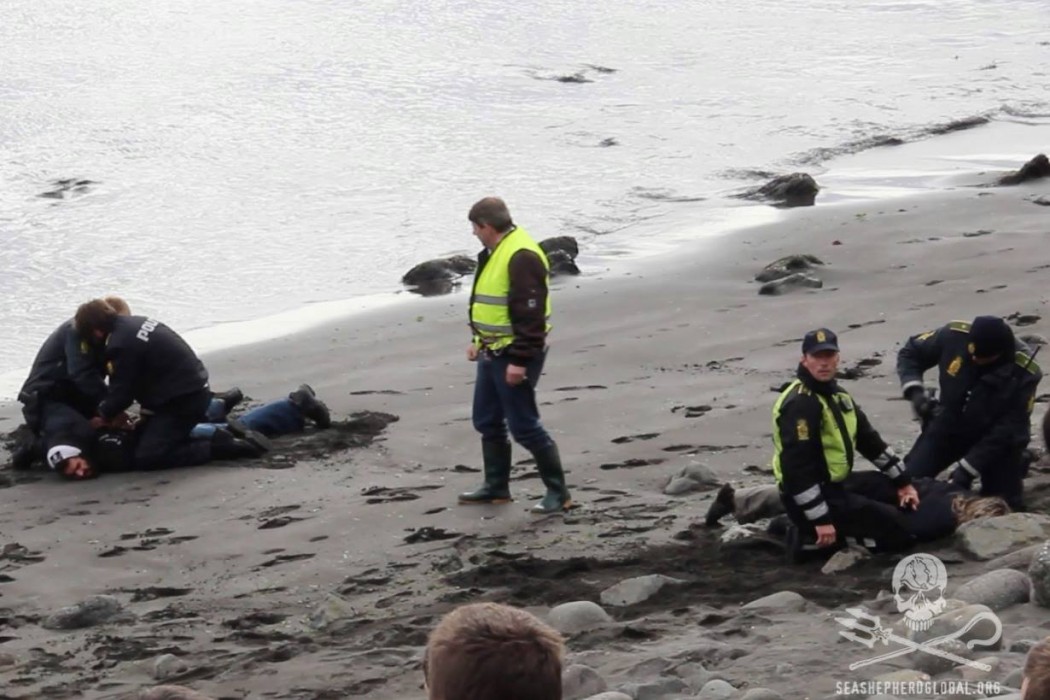 They claim that approximately 250 pilot whales were killed yesterday – 111 at Bøur and 130-150 killed at Tórshavn making it the "single bloodiest day in the archipelago this year". This tradition of slaughtering the whales is known by the Faroese term grindadráp.
The tradition has long caused controversy with one side calling it cruel, while its defenders say it's the same as the chickens, cows and lambs that are killed daily for consumption in other parts of the world. And they argue that while those animals are farm-raised, often under inhumane conditions, the whales have enjoyed a free life in the wild until the moment they are killed. Many Danish social media commenters have been quick to point out that this is not a practice that is condoned by all Danish people.
A legal representative has been brought-in to act on behalf of the arrested and detained Sea Shepherd volunteers.
Sea Shepherd is currently in the Faroe Islands for the organization's sixth Pilot Whale Defense Campaign, Operation Sleppid Grindini. Sea Shephere was established in 1977 with the mission "to end the destruction of habitat and slaughter of wildlife in the world's oceans in order to conserve and protect ecosystems and species. "
Watch Video – Mass Slaughter Of Pilot Whales In The Faroe Islands. WARNING. GRAPHIC.
The video below was taken yesterday, 23 July 2015, and includes footage of the 'grindadráp' at Bøur and Tórshavn, as well as the arrests of Sea Shepherd crew.
More Info
www.seashepherdglobal.org