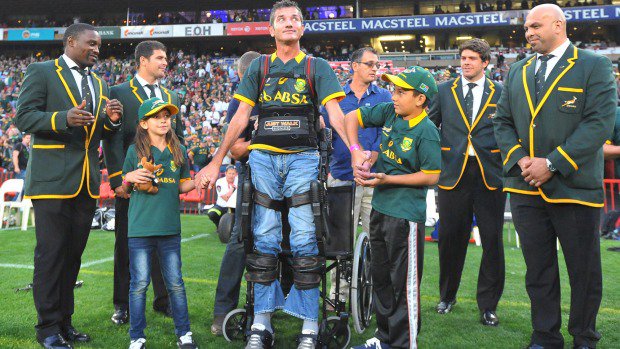 Tweet from Joost van der Westhuizen Account: "I'm NOT placed on oxygen. I'm fine and still going strong!"
South African rugby legend Joost van der Westhuizen – or somebody administering his Twitter account – Friday denied reports that he was in critical condition in hospital, as had been widely reported in South African media and around the world. [UPDATE 6 Feb: Joost van der Westhuizen has sadly passed away at the age of 45.] "Thank […]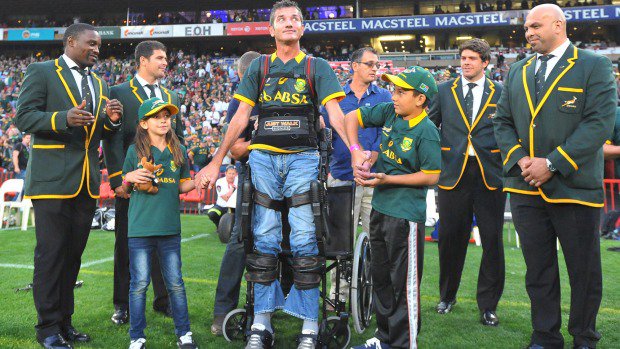 South African rugby legend Joost van der Westhuizen – or somebody administering his Twitter account – Friday denied reports that he was in critical condition in hospital, as had been widely reported in South African media and around the world. [

UPDATE 6 Feb

: Joost van der Westhuizen has sadly passed away at the age of 45.]
"Thank you everyone for caring," he – or an admin – tweeted. "I just want to make something clear. I'm NOT placed on oxygen. I'm fine and still going strong!!!"
Later, on Friday evening, he/his admin tweeted: "All the glory to Jesus!!!"
Earlier in the day YOU magazine (and Huisgenoot) had reported that friends and family were devastated that the star, who was diagnosed with motor neurone disease in May 2011, was now totally dependent on oxygen.
The reports claimed that he has been on oxygen for a while but had kept the news from the media to protect his and Amor Vittone's two children. (Just two days ago the singer/presenter was rushed to hospital from son Jordan's 13th birthday party after she apparently broke her foot in a freak trampoline accident.)
The rumours began Thursday with public messages of support from his former friends in the rugby and celebrity world.
South African singer Arno Jordaan tweeted on Thursday night: "Dink aan die yster en sy familie vanaand! dit gaan nou bitter bitter sleg met joost! jyt lank baklei yster, byt nog bietjie vas toe!"
Sports editor Morgan Piek said: "Please spare a thought for the @Springboks great Joost van der Westhuizen. It's said that he has been placed on oxygen #Rugby #Joost"
Joost's J9 Foundation (supporting those with MND) clarified Friday night: "Joost is still fighting strong, he uses oxygen as a support occasionally and is by no means reliant on it. What happens with MND is that the respiratory muscles become weak (as do all muscles) and due to this, patients sometimes need oxygen support as the breaths are smaller thus less oxygen going through the body. Oxygen support then just helps bring the levels up again when they feel they need it."
The Foundation reminded readers that many media stories are written by those who do not know the person they're writing about, and are just written to "cause a stir or a sale".
"Joost is still fighting this fight with everything in him he is an incredibly strong willed man and we continue to fight MND with him. He is grateful for all your continued support."
Thank you everyone for caring. I just want to make something clear. I'm NOT placed on oxygen. I'm fine and still going strong!!!

— Joostvdwesthuizen (@9Joost) January 20, 2017
All the glory to Jesus!!!

— Joostvdwesthuizen (@9Joost) January 20, 2017
Dink aan die yster en sy familie vanaand!dit gaan nou bitter bitter sleg met joost!jyt lank baklei yster,byt nog bietjie vas toe!???????? pic.twitter.com/pimK2d2OrV

— Arno jordaan (@Arnojordaan) January 19, 2017
Please spare a thought for the @Springboks great Joost van der Westhuizen. It's said that he has been placed on oxygen #Rugby #Joost pic.twitter.com/qtwGeLGxSh

— Morgan Piek (@MorganPiek) January 19, 2017