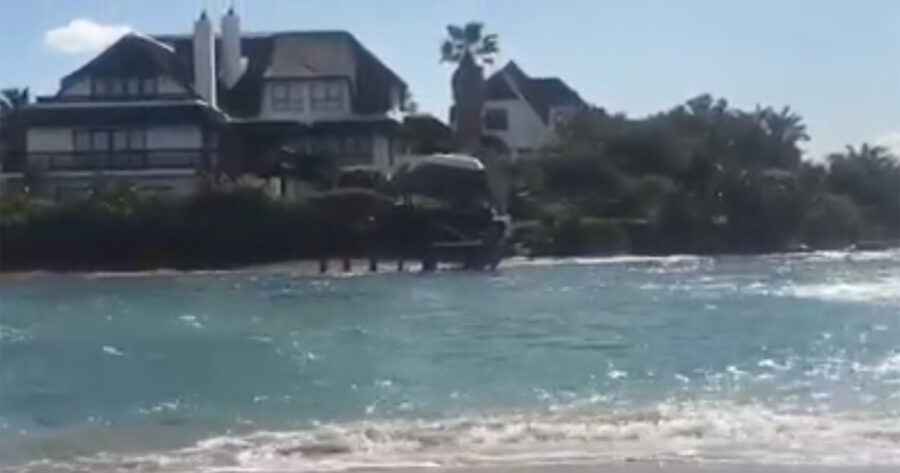 WATCH Sea Breaks Through Sand Barriers in St Francis Bay
Residents in St Francis Bay in the Eastern Cape, South Africa, have expressed concern for homes along the canals as the sea has this weekend broken through the sand barriers, and the mouth of the Kromme River has apparently turned and opened onto the properties on the 'frontline' of the canals… as can be seen […]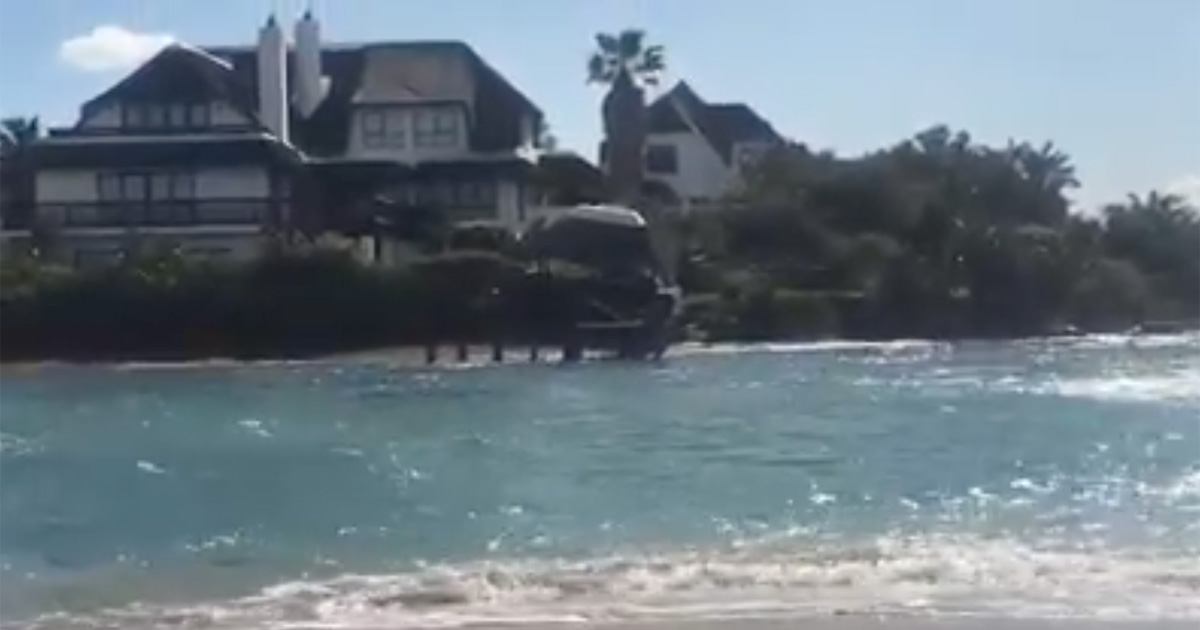 Residents in St Francis Bay in the Eastern Cape, South Africa, have expressed concern for homes along the canals as the sea has this weekend broken through the sand barriers, and the mouth of the Kromme River has apparently turned and opened onto the properties on the 'frontline' of the canals… as can be seen in the video footage below, posted to St Francis Bay official Facebook group.
Fortunately this afternoon a westerly wind flattened the swell, said witnesses, however water is still moving through the canals faster than usual, and there are fears more damage is yet to come as Equinox tide is due on Tuesday 22 September. The waves in the past 48 hours were caused by the Spring high tide.
Photos from Google Earth, comparing the estuary over the last few years, seems to show that thick vegetation, which protected the spit for the previous 13 years, disappeared in 2018.
Some say the precarious situation this weekend was predicted over 10 years ago, and that no drastic action was yet taken. It's been recommended that dolose should be put in place.
WATCH St Francis Bay (pls wait for video to load)
https://www.facebook.com/100009487800251/videos/2767819763544257/
Several people have made suggestions on the group as to how to solve the problem. Louis Burger says: "The only short term and quick action to take is to block the sea water flowing into the Ski Canal. If all trucks available in the area can tomorrow queue with loads of sand at the end of Shore road and dump sand load after load from the pump house to the end of the spit, it would block the water flowing into the canal and stop damage to the houses. Then this can be widened afterwards towards the river mouth and slowly make the breach in the spit smaller. It is impossible at this stage to block the sea coming through the breach in the spit, but possible to stop it flowing directly into the canal."
Local photographer Christopher Scott said: "Who would have thought less than a year ago we would be sitting with this now? There was a strong spit, and barely a worry. Many must have thought, not in the forseeable future. How quickly nature can turn the tables and remind us how vulnerable we can be… this new 'canal' I think is a permanent feature; my thought would be the little island of sand between the old canal outlet and the river – if that goes, well, we will soon see the 'short' future…"
Elzabe Boshoff said it's hard to find the words to describe what is happening. "Monday and Tuesday have very big winds predicted, salvaging this is going to need a miracle and truckloads of money…"
WATCH MORE VIDEO FOOTAGE – St Francis Bay, September 2020
(Please Note: It may take a moment for Facebook to load the videos…)
https://www.facebook.com/amica.vandermerwe/videos/pcb.10157717046309010/10157736845337379/?type=3&theater&ifg=1
https://www.facebook.com/amica.vandermerwe/videos/10157736844892379/?tn-str=*F&fref=gs&dti=100056429009&hc_location=group_dialog
https://www.facebook.com/amica.vandermerwe/videos/pcb.10157717046309010/10157736845497379/?type=3&theater&ifg=1
https://www.facebook.com/amica.vandermerwe/videos/pcb.10157717046309010/10157736845347379/?type=3&theater&ifg=1