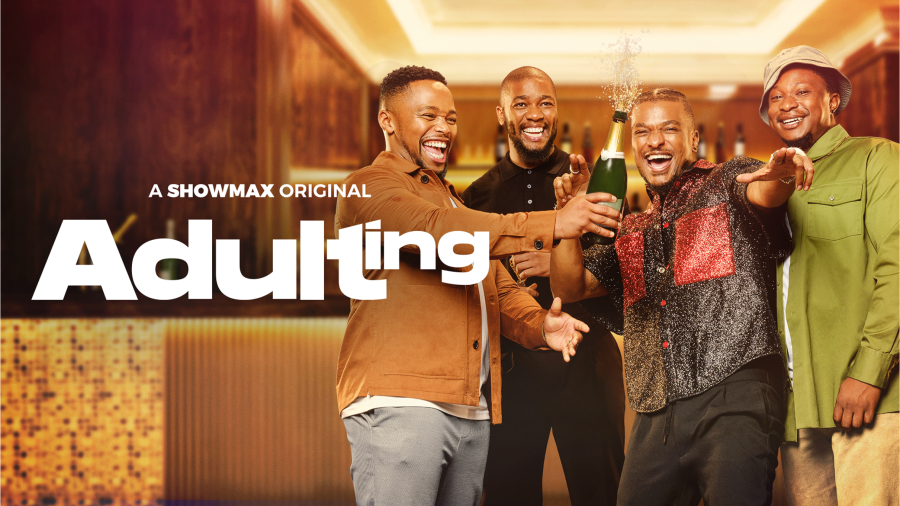 SA 'Bromance of the decade' Adulting is now streaming in SA and Abroad on Showmax
Billed as the 'bromance of the decade', Adulting is now streaming on Showmax, with new episodes every Monday… and the good news is that it's available for South African subscribers abroad too! The eight-part 18SN drama follows four varsity friends, whose strong bond has held them together even as their journeys in life have taken […]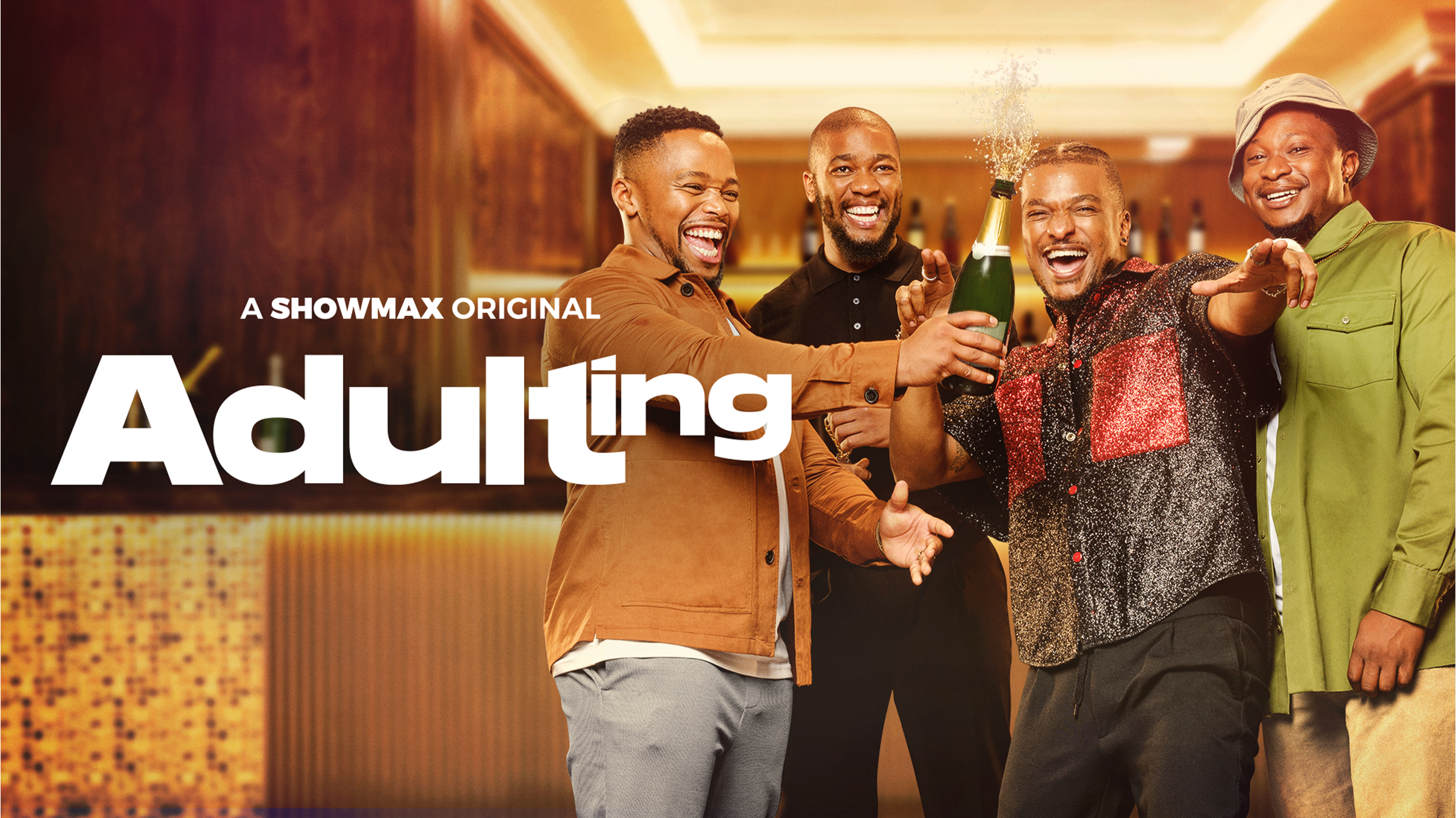 Billed as the 'bromance of the decade', Adulting is now streaming on Showmax, with new episodes every Monday… and the good news is that it's available for South African subscribers abroad too!
The eight-part 18SN drama follows four varsity friends, whose strong bond has held them together even as their journeys in life have taken them in very different directions. As they try to find love and success in Johannesburg after university, they turn to each other for support.
Early reviews are glowing. Citizen's Kay Selisho says, "The first episode is brilliant"; in City Press, Nompumelelo Magagula calls the show "exciting fun"; Sowetan's Masego Seemela hails it as "raw", "real" and "risque"; and DRUM's Keamogetswe Matlala says, "It's a bromance like you've never seen before… that is going to take everyone by storm."
Thembinkosi Mthembu (Mabutho in The River, Junior in The Republic, and King Dingiswayo in the upcoming epic Shaka iLembe) stars as Bonga, the overachiever in the friendship group. "He's a guy who goes after what he wants in life, who likes his friends, family and girls, although he doesn't believe in love," says Thembinkosi. "He's at a stage in his life where things are changing for him, as he's bidding on an R80m contract."
In contrast, Luthando BU Mthembu (Big Brother Mzansi, Ayeye: Stripped, Redemption) is Vuyani, a toy boy reliant on his sugar mamma, Beth (SAFTA nominee Winnie Ntshaba (The Herd, House of Zwide, Generations). "He's a slay king; his face is his business," says BU. "He's not too serious; he might take something that's very serious and make it light. I think people will relate to his playfulness; I feel like everybody at some point was fun and not too deep."
Nhlanhla Kunene (Lavish, Muvhango) is hot-headed bad-boy Eric, trying to be a good father with limited access to his daughter, while Thabiso Rammusi (The Suit) is Mpho, a family man having an affair.
"You know after varsity, life divides you, as you get different jobs and move in different directions," says Thabiso. "But because of the bromance these guys have, they've still there for each other. The connection these brothers have isn't common in society these days."
"It was a beautiful bromance on set," says Nhlanhla. "We have a lot of fun together so that comes across on screen. At the same time, every character is going through something. And the only way they find comfort is when they come together and share their experiences. No matter what happens, we have each other's back, we hear each other, and we'll tell each other straight. So that's also where that bromance comes in."
Jumping from amapiano clubs to G-Wagon showrooms and from bedrooms to boardrooms, this season also features Sikelelwa Vuyeleni (Hope, House of Zwide) as Eric's baby mamma; Lungile Duma (The River, Durban Gen) as Mpho's wife; and newcomer Londeka Shishi as Bonga's love interest. Also look out for the likes of Buhle Samuels (Kings of Jo'burg, One Night KwaMxolisi); Dr Fezile Mkhize, former Mr World South Africa; 2022 DSTV Mzansi Viewers' Choice Best Actress nominee Dele Malinga (Umkhokha); SAFTA nominee Lindani Nkosi (Housekeepers); and Comics' Choice nominee Isaac Gampu, as well as cameos from 2022 BET Best International Act nominee Major League DJz, 2022 Basadi Amapiano Artist of the Year Boohle, Mohale Motaung and photographer Austin Malema.
Adulting is the first Showmax Original from Tshedza Pictures, the production company behind the International Emmy-nominated telenovela The River and the SAFTA Best TV Drama winner The Republic. Tshedza Pictures' co-founders Phathu Makwarela and Gwydion Beynon have won five Best Scriptwriting SAFTA awards in the last four years.
Thembinkosi praises Adulting's scripts. "Every scene is funny and well-written, the pace is quick, and the scripts don't sugarcoat anything; there's no filter," he says.
As BU says, "Adulting is gonna feel like a night out with the gents in Jozi."
Adulting is the first of two Showmax Originals from Tshedza this year. The second, Outlaws, is a cross-cultural love story of epic proportions, which plays out in the dangerous world of cattle theft syndicates, in the lawless land on the border between Lesotho and KwaZulu-Natal. Outlaws is expected to premiere first on Showmax towards the end of 2023.
Watch the Adulting trailer:
Add Adulting to your Showmax watchlist:
https://www.showmax.com/eng/tvseries/g3h6nfpu-adulting
Join the social media conversation:
#adultingshowmax
P.S. Great news! Until the end of March 2023, subscribers who pay for one month of Showmax will receive a second month at no extra cost. Watch Adulting, HBO's The Last of Us and Succession, The Real Housewives of Durban, and more. This deal applies to Showmax and Showmax Mobile plans and is available to new and returning Showmax subscribers. The Showmax 2-for-1 deal is available at www.showmax.com.