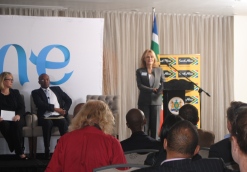 Joburg ready for young world leaders
Johannesburg is ready to host 1 500 youth leaders from around the world who will attend the One Young World (OYW) Summit in 2013. This was announced at a press conference held in Rosebank, Johannesburg, on Tuesday 18 September by the City of Johannesburg. Mayor Parks Tau was in attendance, alongside OYW ambassadors as well as representatives from […]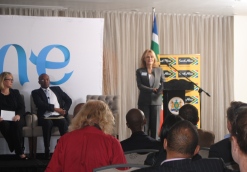 Johannesburg is ready to host 1 500 youth leaders from around the world who will attend the One Young World (OYW) Summit in 2013.
This was announced at a press conference held in Rosebank, Johannesburg, on Tuesday 18 September by the City of Johannesburg. Mayor Parks Tau was in attendance, alongside OYW ambassadors as well as representatives from the corporate world.
Opportunity for Africa
OYW, founded in 2009, is a London-based non-profit organisation that brings together young people from around the world and provides a platform for them to engage world leaders on social issues in an effort to create positive change.
Director of stakeholder relations at Brand South Africa, Iggy Sathekge, said the South Africa should use this opportunity to help brand Africa and not see the event as just being for young people.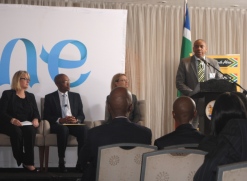 "South Africa cannot be successful if the rest of Africa is not, because South Africa is Africa," he said.
Brand South Africa has partnered with OYW and played a crucial role in Johannesburg winning the host city bid. CEO Miller Matola will be a member of the advisory board during the course of the summit.
OYW co-founder Kate Robertson said Johannesburg exhibits the passion and conviction to inspire and motivate young leaders, and to welcome the world.
"As a South African, it's amazing to see the summit coming to Africa, where there is a great need to develop young leaders to address pressing socio-economic issues."
Tau said the City of Johannesburg is proud to be associated with a dynamic global organisation such as OYW which, in its short existence, has become a tremendous force for good and a great catalyst to communicate the aspirations of the younger generation to international leaders.
"We must focus on that which brings us together rather than that which divides us," he said.
The young ambassadors who will converge on Johannesburg will attempt to find solutions to local, regional and global challenges. They will be mentored by world-famous counsellors such as Archbishop Desmond Tutu, performing artist and political activist Sir Bob Geldof, former UN chief Kofi Anan, Nobel prize laureate Muhammad Yunus and celebrity chef Jamie Oliver, who have already inspired them to begin projects that drive positive change and improve lives.
"One Young World really is a brilliant network of extraordinary shared accountability, a rare and unique platform to engage the world's youth on what matters now, and what will matter the most, tomorrow," said Catherine Peter, Africa director for the organisation.
While Johannesburg's planning for the event gets underway, OYW is getting closer to the start of the 2012 event in the US city of Pittsburgh in October. Over 40 South African delegates are expected to attend, while counsellors will include media mogul Arianna Huffington, former US president Bill Clinton, singer Joss Stone, Twitter founder Jack Dorsey, cricketer-turned-politician Imran Khan. Geldof is included in the Pittsburgh lineup as well.
"The combination of inspired and passionate youth, a city committed to developing them and addressing their concerns, and sponsors committed to promoting change will all contribute to making OYW 2013 a spectacular event with the power to bring about real change in the world," Robertson said.
At the closing ceremony of the Johannesburg summit – the dates for which are still to be decided – delegates will graduate as OYW ambassadors, joining a global network of young leaders who are creating positive change around the world.
By: Cadine Pillay
Source: www.mediaclubsouthafrica.com