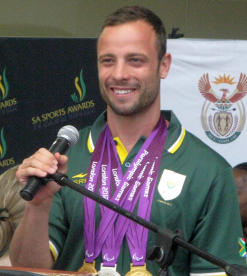 Paralympic heroes back in SA
"The very last anthem played at the 2012 London Paralympics was South Africa's," said sports minister Fikile Mbalula. "It was a fitting end to the games, and a tribute to our sportsmen and women." Mbalula was speaking at OR Tambo International Airport, where a noisy, enthusiastic crowd of hundreds of people gathered to welcome South […]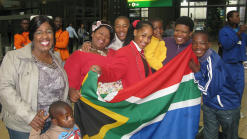 "The very last anthem played at the 2012 London Paralympics was South Africa's," said sports minister Fikile Mbalula. "It was a fitting end to the games, and a tribute to our sportsmen and women."
Mbalula was speaking at OR Tambo International Airport, where a noisy, enthusiastic crowd of hundreds of people gathered to welcome South Africa's Paralympic team home after a successful campaign in London.
Team South Africa finished 18th overall with 29 medals – eight gold, 12 silver and nine bronze.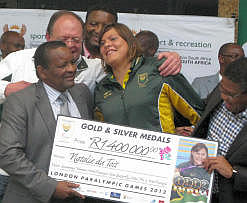 Mbalula was referring to the 2012 Paralympic Games' final event, the T44 400m, won by Oscar "Blade Runner" Pistorius. The last day of competition saw five medals added to the South African tally, including silver for Dyan Buis (T38 200-metre), Kevin Paul (S9 100m breaststroke) and Anruné Liebenberg (T46 400m) and gold for Pistorius and Fanie van der Merwe (T12 100m).
"It's time now to look forward to 2016 and Rio," said Sascoc CEO Tubby Reddy, speaking at the same event.
Warm welcome
The homecoming was organised by social activism initiative Lead SA, in conjunction with Airports Company South Africa, the Department of Sports and Recreation and the South African Sports Confederation and Olympic Committee (Sascoc). Children skipped classes and workers took a bit of time off work to be there. Many disabled people, some of whom were athletes themselves, were also in the crowd.
"Welcome back our heroes", "You made us proud", and "We love you Natalie" were just a few of the slogans seen on placards all over the arrivals hall, while flags, vuvuzelas and ululations added to the festive atmosphere.
A delayed touchdown and a longer wait were eased by a tireless group of drummers who entertained the crowd and kept their spirits high.
Chukuru the rhino, Team South Africa's mascot in all multi-coded sporting events, was also spotted mingling with supporters.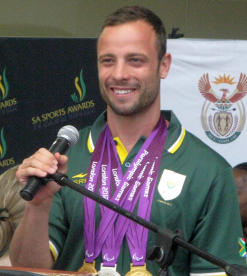 Rewarded for their hard work
The fiery politician is also credited with a big role in the decision by Sascoc to award Paralympic medallists the same bonuses as their able-bodied counterparts.
Initially Paralympic athletes were offered R100 000 (US$12 200) for a gold medal, R75 000 ($9 100) for a silver medal, and R40 000 ($4 900) for bronze, whereas Olympic medallists got R400 000 ($49 000), R200 000 ($24 400) and R80 000 ($9 800) for gold, silver and bronze respectively.
"But anything less would be discrimination," said Mbalula, making the announcement at the official closing in London of Team South Africa's Olympic and Paralympic base, e-Khaya, on 8 September.
And true to his word, Mbalula, his deputy Gert Oosthuizen, Reddy and Sascoc president Gideon Sam presented the winners with dummy cheques right there in front of the cheering crowd at OR Tambo. The amounts ranged from R80 000 to a whopping R1.4-million ($170 660) for superstar Natalie du Toit, whose glittering swimming career is now over, as she has announced her retirement.
The medallists' coaching and other support staff also deservedly received a bonus.
"I couldn't have done it without my coach," said triple medal winner Pistorius, adding that he hadn't expected such a warm welcome, and that he was "humbled".
By: MediaClubSouthAfrica.com reporter
Source: www.mediaclubsouthafrica.com