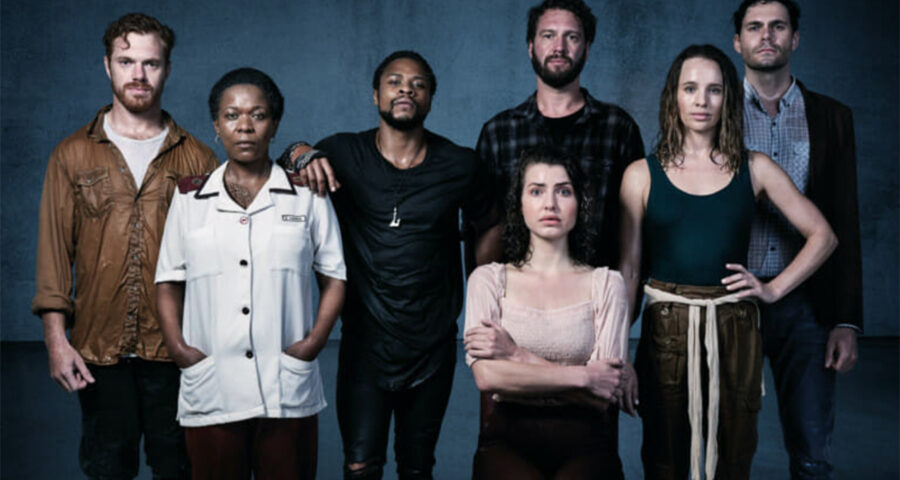 5 SAFTA Nominees to Stream Now, from Dam to Tali's Baby Diary to The Wife
Halala! Content on Showmax is up for a whopping 158 South African Film and Television Awards (SAFTAs) – the most by far of any streaming service available in South Africa. Showmax Originals alone are nominated for 52 SAFTAs, including the key categories of Best Telenovela (The Wife), TV Drama (DAM), TV Comedy (Tali's Baby Diary), […]
Halala! Content on Showmax is up for a whopping 158 South African Film and Television Awards (SAFTAs) – the most by far of any streaming service available in South Africa.
Showmax Originals alone are nominated for 52 SAFTAs, including the key categories of Best Telenovela (The Wife), TV Drama (DAM), TV Comedy (Tali's Baby Diary), Feature Film (Glasshouse), Made For TV Documentary (Devilsdorp), and Made For TV Movie (Boxing Day).
Here are five nominees to start with, from each of the key categories:
1. DAM is the most nominated drama at the SAFTAs
With 11 nominations, including Best TV Drama, the Showmax Original DAM is the most nominated drama at this year's SAFTAs, where it's also in joint second place overall.
Lea Vivier is up for her first SAFTA, for Best Actress, as Yola, who returns from Chile to bury her estranged father. To her surprise, and her sister's irritation, he's left his farm to her, but this may be more of a curse than a blessing, as the house seems to be trying to tell her something. But with her mother institutionalised, and her own meds running out, Yola has to wonder if the spirits are real or just in her head?
Natasha Loring also earned her first SAFTA nomination, for Best Supporting Actress, as Yola's sister, Sienna, while two-time winner Pallance Dladla is also up for Best Actor as Themba, a biker on the run. Hollywood success story Neil Sandilands (Sweet Tooth, The Flash, The 100, The Americans, Hap and Leonard) also cracked his first SAFTA nomination, where he's up against another first-time acting nominee in DAM co-star Siv Ngesi.
Produced by Picture Tree, DAM is also up for Directing (four-time SAFTA winner Alex Yazbek), Art Direction (SAFTA winner Sue Steele), Music (two-time SAFTA winner Brendan Jury), Sound (David Oosthuizen), and Makeup and Hairstyling (Mpho Ledwaba and SAFTA winner Smartie Rosina Olifant).
Sunday Times calls the psychological thriller "chilling… well-acted, eerily realised and intriguing"; Fortress of Solitude says "it rivals any international production… a must-watch show that promises to fester in your mind long after the credits roll"; and Watkykjy hails it as the "best South African series I've seen to date."
In the SAFTAs16 Best TV Drama category, DAM is up against kykNET's 4 Mure and Slot, which are both available to binge on Showmax, and M-Net's Reyka, which is coming to Showmax on 1 August 2022.
Stream DAM here (for South Africans abroad too, in most countries!)
2. Tali's Baby Diary is the second most nominated series overall at the SAFTAs
With 11 nominations, including Best TV Comedy, the Showmax Original Tali's Baby Diary is joint second in the overall rankings at the 2022 SAFTAs.
Tali's Baby Diary is the sequel to the first-ever Showmax Original, Tali's Wedding Diary, which set a (then) record for the most first-day views on Showmax and was the most awarded comedy at the 2019 SAFTAs, taking home five prizes, including Best Comedy.
In Tali's Baby Diary, an unexpected pregnancy forces Tali into a desperate pivot from Insta-influencer to wholesome momfluencer.
As Tali, Julia Anastasopoulos (aka SuzelleDIY) is nominated again for Best Actress, with the series also up for Directing (Ari Kruger and Daniel Zimbler), Cinematography (James Adey), and Editing (Richard Starkey and Gordon Midgley) – all categories the show won in 2019.
As her long-suffering husband Darren, Anton Taylor cracks his first SAFTA nomination, for Best Actor, as does comedian Kate Pinchuck (Taryn), in the Best Supporting Actress category, where she's competing against co-star Kate Normington (Tali's mom, Michelle).
Produced by Sketchbook Studios, Tali's Baby Diary is also nominated for Scriptwriting (Anastasopoulos, Kruger, Zimbler and Gilli Apter), Art Direction (Adi van Zyl), and Sound (Chris Querido).
In their five star review, Channel24 hailed Tali's Baby Diary as "the best South African television of 2021 so far… 100% guaranteed to make you literally laugh out loud."
In the SAFTAs16 Best TV Comedy category, Tali's Baby Diary is up against kykNET's airport mockumentary G.I.L, which is also available to binge on Showmax, and How To Ruin Christmas: The Funeral.
Stream Tali's Baby Diary here (South Africans abroad too)
3. The Wife is up for 10 SAFTAs, including Best Telenovela and Best Actor for Bonko Khoza
Having set viewing records on Showmax, topped Twitter, and taken home DStv Mzansi Viewers' Choice Awards for Favourite Actor for Abdul Khoza and Rising Star for Kwenzo Ngcobo, The Wife is now up for 10 SAFTAs, including Best Telenovela, Directing, Cinematography, and Editing.
Produced by Stained Glass, the first Showmax Original telenovela is inspired by Dudu Busani-Dube's bestselling novels Hlomu The Wife (Season 1) and Zandile the Resolute (Season 2), about the women who fall in love with the Zulu brothers, not realising that when you marry a man, you marry his secrets.
Bonko Khoza (Mqhele Zulu) earned his first SAFTA nomination, for Best Actor, while Abdul Khoza (Nqoba) and Zikhona Sodlaka (Mandisa) are nominated for Supporting Actor and Actress respectively. The Wife is also up for Makeup and Music, as well as the coveted Most Popular Soap/Telenovela award this year. The public voting lines open on 1 August 2022.
As IOL put it, "Honestly, I can't sing the praises enough of this homegrown offering… The actors share incredible chemistry, and their respective performances are unparalleled."
In the SAFTAs16 Best Telenovela category, The Wife is up against The River, which airs on Showmax daily, express from 1Magic, and Mzansi Magic's DiepCity.
Stream The Wife here (South Africans abroad too)
4. Glasshouse is up for six SAFTAs, including Best Film
Glasshouse is set after an airborne dementia known as The Shred has left humanity roaming like lost and dangerous animals, unable to remember who they are. Confined to their airtight glasshouse, a family does what they must to survive – until the sisters are seduced by a stranger who upsets the family's rituals, unearthing a past they have tried to bury.
Produced by Local Motion Pictures, in association with Crave Pictures, Glasshouse is up for
Production Design (Kerry Von Lillienfeld), Cinematography (Justus de Jager), Editing (Rowan Jackson) and Makeup and Hairstyling (Annie Butler).
Before coming to Showmax, Glasshouse had its world premiere at North America's top genre film festival, Fantasia, in Montreal, Canada in August 2021 – and also screened at Fantastic Fest, the largest genre film festival in the USA, earning multiple five-star reviews and an 87% critics' rating on Rotten Tomatoes.
Film Threat's Lorry Kitka singled out Glasshouse as her "favourite film of the year so far"; Exclaim proclaimed, "Kelsey Egan is a filmmaker to keep an eye on"; and Comicon.com called the film "a folk horror movie that could become a modern classic."
In the SAFTAs16 Best Feature Film category, Glasshouse is up against another internationally acclaimed South African sci-fi, Fried Barry, which is also on Showmax, and I Am All Girls.
5. Devilsdorp is the most nominated documentary at the 2022 SAFTAs
With five nominations, including Best Made for TV Documentary, the Showmax Original Devilsdorp is the most nominated documentary at the 2022 SAFTAs.
In 2016, a spate of brutal Appointment Murders gripped the town of Krugersdorp, leaving salespeople and consultants terrified to book meetings in case they were the serial killer's next victims. The investigation led detectives to a series of unsolved cold cases, the so-called Satanic Murders, and to links between 11 Krugersdorp killings between 2012 and 2016. They discovered these were the work of the Electus per Deus (Chosen by God) cult.
"The result of an 18-month research process, Devilsdorp shows again that truth is stranger than fiction, especially in South Africa," says David Enright, who is up for a Directing SAFTA. "This is the story of the events that rocked an entire community and forever changed the lives of those involved, especially the families of the victims. What started as a group of devout Christians trying to help a former satanist escape the satanic church ended in a murderous spree involving a killer mom, her two children, and a cult with more victims than members. It may all sound too far-fetched to be believed, except it really happened – just down the road from us."
Produced by IdeaCandy, Devilsdorp is also up for SAFTAs for Cinematography (Charl Fraser), Editing (Dr Nikki Comninos and Christiaan Scheepers), and Sound (Pressure Cooker Studios).
Alongside extraordinary footage of exorcisms, church meetings, and trial testimonies and judgments, Devilsdorp features first-hand accounts from the likes of Captain Ben Booysen, the senior investigating officer; deputy director of Public Prosecutions Gerrit Roberts; Discovery claims specialist Shane Chatzkelowitz; and journalist Marizka Coetzer. The family of the victims also share their stories, as do church members who knew the perpetrators. Netwerk24 journalist Jana Marx, author of The Krugersdorp Cult Killings: Inside Cecilia Steyn's Reign of Terror, narrates the series.
In the Made for TV Documentary category at SAFTAs16, Devilsdorp is up against Rachel's Angels: Inspirasie Stories, which is also available on Showmax, and Mapungubwe: Echoes in the Valley.
Stream Devilsdorp here (South Africans abroad too)
30+ more SAFTA nominees to explore on Showmax
All of these are available to stream on Showmax here. 
Other Showmax Originals nominated in the TV Comedy category include Infinity Films' Troukoors, which is up for four awards, including Best Actress for Ilse-Lee van Niekerk as Jessica, and Rous House's Black Tax, a Showmax co-production with BET Africa, which is up for Best Actor for Motlatsi Mafatshe as Nkanyiso. Nagvlug's  Skemerdans  is also nominated for Best Actor in the TV Drama category for Brendon Daniels' performance as Trevor.
Showmax is also the streaming home for kykNET's Suidooster, the most nominated TV Soap with 10 nominations, and has all the nominees in Best Structured Reality Show (Mzansi Magic's Pastor Wants A Wife and uThando Nes'thembu, BET Africa's The Unexpected: DJ Zinhle), Best Lifestyle Programme (VIA's Jan, kykNET's Elders: Namibië and Die Broer Toer) and Best Made for TV Movie (the Showmax film Boxing Day, kykNET's Mike en Mavis and Swirl).
Other nominees on Showmax include the drama series Die Boekklub, eHostela, Nêrens, Noord-Kaap, Nqobile and Umkhokha; the soap operas Arendsvlei, Binnelanders, Getroud Met Rugby and Legacy; the telenovela Gomora; and the films Barakat, Freedom, Love, Lies and Hybrids, Mr Johnson, New Material, and Sons of the Sea; the documentaries Strangers You Know and Zero to Zero; and the reality series Abandoned, Survivor South Africa: Immunity Island, and Unefa.
Even more SAFTA nominees are coming to Showmax soon, with Best Factual Programme nominee Die Staat Teen scheduled for August 2022 and Best Documentary Feature nominee I Am Here and Best Short Film nominee #wearedyinghere due in September 2022.
SAFTAs16 will take place on 2 and 3 September 2022 as a simulcast on Mzansi Magic and S3 (SABC 3).
Stream your favourite shows on Showmax.