Taxi trip 3 years ago helped PE 'man with a plan' make his dream come true today
Samantha Jacobs is fast becoming one of South Africa's favourite social media columnists. Here's her latest column about a chance meeting at the height of Covid… A plane, a pandemic and a man with a plan – by Samantha Jacobs In the height of COVID I flew in to Port Elizabeth (Gqeberha) for business. Armed […]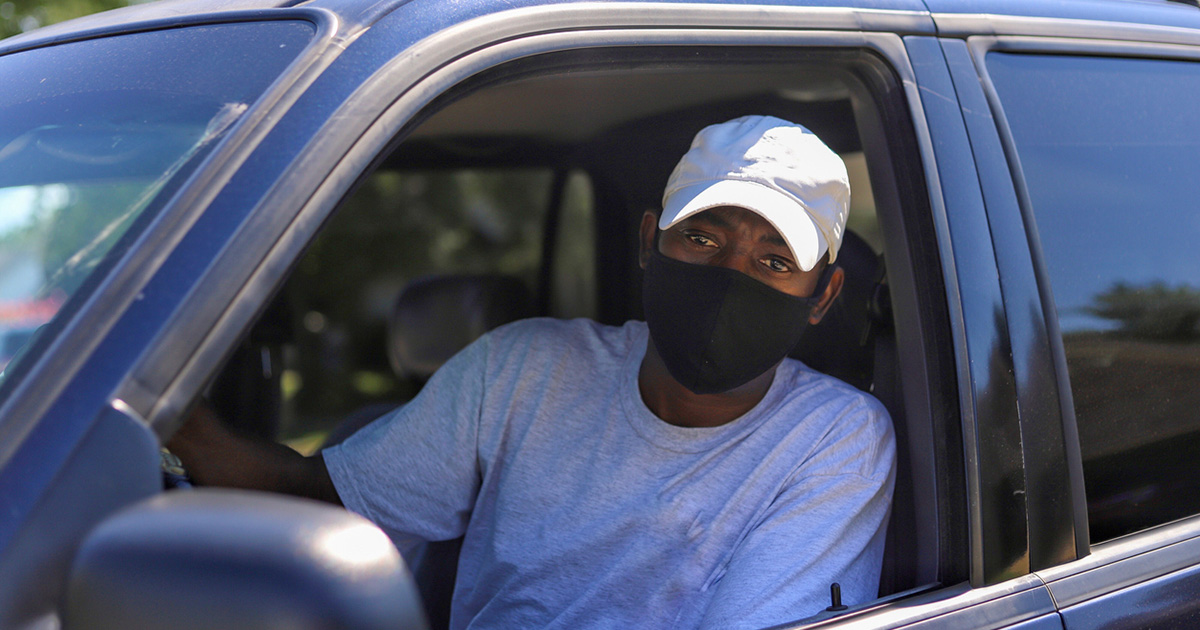 Samantha Jacobs is fast becoming one of South Africa's favourite social media columnists. Here's her latest column about a chance meeting at the height of Covid…
A plane, a pandemic and a man with a plan –
by Samantha Jacobs
In the height of COVID I flew in to Port Elizabeth (Gqeberha) for business.
Armed with a double mask and enough flammable alcohol hand sanitizer to start a massive fire, I went to the windy city for business.
Carrying a 4 page document, with a CIPC permit, stamped and then checked by the army when I left OR Thambo for good measure.
I was frazzled as I stepped forward for my turn in front of the thermal camera at the airport. Boarded the plane in silence and created my very own sauna scene as I fogged up my glasses each time I exhaled.
After our meetings were concluded a local cab driver took me back to the airport to return to Jozie.
Between my scarf, newly applied N95 duck-shaped mask and running mascara (because of the 95% dodgy alcohol sanitizer that did smell like deep heat) the driver saw only my eyes.
"Hello," he said through his three-layer material mask.
"Hi!" I shouted to penetrate through my N95.
"There is traffic from the rain, but I have a plan," he said slowly to avoid the muffling of the roses. Printed on his mask.
"Ok thank you, I fly soon and can't get stuck," I said whilst tasting the fibres in my mask.
"Don't worry I have a plan," he repeated.
The driver introduced himself as Themba.
"M'am I have a favour to ask, you are flying to Jo'burg?"
"Great," I thought, "just great" it's a pandemic, I don't even know this guy and he probably wants money over and above the R350 fee.
"Yes, how can I help you?" I said whilst tapping my wrist on the ledge of the car window.
"I missed the courier today, I need these tender documents to get to Johannesburg today. The tender closes tomorrow morning in Pretoria. Please can you take them to Joburg. My friend will meet you at arrivals" he said calmly whilst holding up a giant brown Manila envelope.
Manila. What is that colour even. Yellow – brown. A double colour. Why can't we be simple beings?
Looking nervously at the envelope between my watering eyes, extra tight duck mask, my spectacles and scarf, the 2cm visible gap allowed me to establish if this package was safe apparently.
Themba navigated the most incredible yet strangest back roads and I saw parts of PE that I had never seen before.
Looking at the package again I concluded it was too thin to be a bomb and I accepted, provided my telephone number and agreed to help Themba deliver his tender documents.
We arrived at the airport in time thanks to Themba's many plans and back roads.
"Thank you, we made it in time," I chirped.
"M'am I told you I have a plan!" he confirmed once more.
Themba handed me my laptop and his envelope, and I crinkled my eyes so he knew I was smiling. Those crows feet certainly did arrive in COVID thanks to my mask action smile I developed.
As I walked away he shouted "Thank you M'am!" And I turned and waved.
Surrounded by people now disinfecting the newly reopened airport in hazmat suits, the world as I knew it has certainly changed.
When I arrived at the counter, the airline asked that I confirm I was traveling with my own luggage, had not allowed others to pack it, was not carrying anything for anyone else and my heart started to race.
I had never noticed airlines asking me this before. Was Themba framing me? Was he part of some bigger scheme.
Was I carrying COVID? In an envelope.
Before walking to my boarding gate I recalled how he stated he had lost his job as a restaurant manager and wasn't really a cab driver.
He was doing this to survive during the pandemic. Just as my neighbour was who had made the dodgy hand sanitizer that was now smelling less like deep heat and more like a wet dog.
I opened the package, inspected the two inner envelopes and reassured myself that this was just paper.
I flew, without social distancing, because remember the plane ate the virus? And we had a quick uneventful flight.
Whilst trying to de-steam my glasses that were now tangled in the extra tight elastic of my mask, a man presented himself at the airport whispering "I am here for the tender documents". Since people were not allowed inside the airports we exchanged the envelopes just like drug dealers.
He disappeared into the distance. The tender documents were gone. I swallowed hard.
Life has changed so much since then. I surprisingly don't have cheek indents from those masks, my hands have stopped peeling from the dodgy hand sanitizer and my neighbour who made it was rehired.
Life has raced away from me since then. And I don't know if this new normal will ever be what it was.
This morning at 6:05am my phone rang, and because it was early I did have some concern.
Not recognizing the number I was even more worried. "Hello, M'am we got the tender."
"Ok…. great? But who is this?"
"It's your airport driver M'am – Themba." Almost three years later.
Thinking quickly as to who Themba may be, since I have a few constant Thembas in my life I paused.
"I'm so sorry Themba, I can't place you – just remind me."
"Remember, you took my tender documents. Yesterday we got the tender and I wanted to tell you, we will be opening up the coffee shop and I will be running it as my own business."
My mind quickly found the memory in my head of a neat masked gentlemen, humbled without a job, driving a temporary "boss's" car, who was driving to provide food by earning R100 a day.
I recalled how both Themba and his wife in the hospitality and tourism industry were both without work, and like my neighbour – and so many others I knew – were doing everything that they could to stay afloat.
And now Themba's own coffee shop would be realised.
"Themba, I'm so glad for you, well done. And congratulations!"
"Ma'm, I owe you so much, please come see us. If you never trusted me to take my documents that day we would never have made it."
Themba would have always made it. He was and surely is a man with a plan.
BY SAMANTHA JACOBS