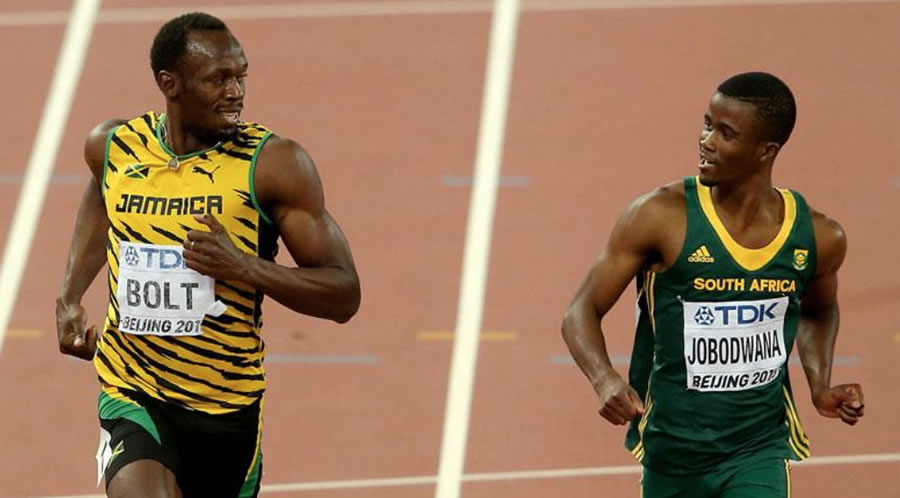 Anaso Jobodwana Takes Bronze! But #Beijing2015 is Over for Semenya…
South Africa's Anaso Jobodwana has won a brilliant bronze medal in the men's 200 metre athletics in Beijing, China. It's the second medal for South Africa at the 2015 IAAF World Championships after Wayde van Niekerk's sensational gold win in the 400m yesterday that made all kinds of new records. (See here for more.) The double […]

South Africa's Anaso Jobodwana has won a brilliant bronze medal in the men's 200 metre athletics in Beijing, China.
It's the second medal for South Africa at the 2015 IAAF World Championships after Wayde van Niekerk's sensational gold win in the 400m yesterday that made all kinds of new records. (See here for more.)
The double sprint today was won by legendary Jamaican Usain Bolt with American Justin Gatlin in second place.
Anaso ran the race in a new South African record – 19.87 seconds. The 23-year-old from the Eastern Cape told reporters afterwards that "it was all just a blur."
[quote_center]"…we are truly a winning nation" – Minister of Sport[/quote_center]
After yesterday's phenomenal 400m win in under 44 seconds by Wayde, Minister of Sport and Recreation Fikile Mbalula told South African press: "Despite the challenges we face as a country, South Africa has many men and women who continue to imbue us with a sense of determination and will to do more, Wayde van Niekerk is one of those people. I congratulate and thank him for reminding us that we are truly a winning nation. Well done, thank you for making South Africa proud."
Caster Semenya out of #Beijing2015
Sadly Caster Semenya, who has suffered much controversy in her career, failed to qualify for the 800m finals after coming last in the semi-final. Many of the tweets were scathing – saying she looked "disinterested", "was trotting", "slower than the South African post" and that she deliberately "ran like a girl".
But some were thankfully supportive, wondering what great heights she may have achieved had she not been subjected to gender testing after winning gold in the 800m at the 2009 World Championships. Zanele ka Madiba tweeted "Caster Semenya is proof that words are weapons. Her running has never been the same since that 2009 mess."
Congratulations to Anaso Jobodwana on winning the bronze medal in the men's 200 metres athletics. pic.twitter.com/tmymxwU9RZ

— Sowetan LIVE (@SowetanLIVE) August 27, 2015