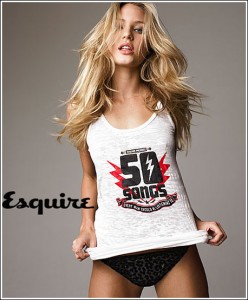 SA Supermodel Sizzles for Esquire
Check out South African supermodel – and one of the Angels from Victoria's Secret – Candice Swanepoel  sizzling in this short video below for the April issue of Esquire magazine. The promotion, aimed at males (obviously!), is hinged on the question "how do you get a Victoria's Secret Angel to dance for you?". The answer, […]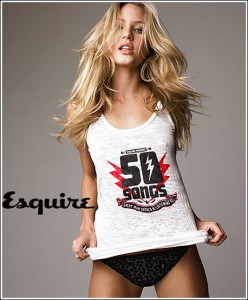 Check out South African supermodel – and one of the Angels from Victoria's Secret – Candice Swanepoel  sizzling in this short video below for the April issue of Esquire magazine.
The promotion, aimed at males (obviously!), is hinged on the question "how do you get a Victoria's Secret Angel to dance for you?". The answer, apparently, is to buy the latest issue of Esquire and play one of their 50 Songs Every Man Should Be Listening To!
In the video 21-year-old Candice dances, laughs, pouts and plays for the camera – all in her knickers and a bra-less top – while lip-synching to some of said 50 songs. (The lip-synching's not that great but we don't think anyone will notice.)
Candice, who was discovered at the age of 15 by a talent scout in a Durban flea market, is the first South African to have been chosen as an Angel for Victoria's Secret. She now lives in New York.
For more stunning photos of the girl from Mooi River, you could get the latest issue of Esquire (American version) – packed with pics of her in the start of their Sexiest Woman Alive Madness tournament.
And for old time's sake – here's some video footage of Candice with FAB South African photographer Kevin MacIntosh back in 2007:
httpvh://www.youtube.com/watch?v=ldmChSAFEdU
And if you still haven't seen enough of Candice, here's a bonus three more pics from Esquire!