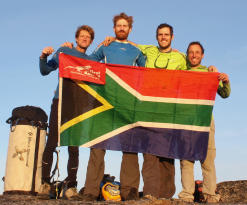 Extreme adventurers do SA proud
With a populace diverse enough to be called the Rainbow Nation, it's no surprise that 'Proudly South African' means different things to different folk. Rather than tangling up in arguments that mix vuvuzelas, braaivleis and Table Mountain, one could simply sit back and take pride in being a South African – and our local adventurers […]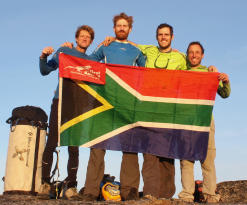 With a populace diverse enough to be called the Rainbow Nation, it's no surprise that 'Proudly South African' means different things to different folk. Rather than tangling up in arguments that mix vuvuzelas, braaivleis and Table Mountain, one could simply sit back and take pride in being a South African – and our local adventurers provided plenty of reason to be proud over the course of the last year.
Online destination guide Nightjar Travel has selected the following nine expeditions as contenders for its Nightjar Adventurer 2013.
With listings ranging from tourist attractions, game and nature reserves, towns and cities, and a host of outdoor activities, Nightjar Travel covers almost 1 800 things to do and places to go to in South Africa – encouraging locals and visitors alike to get out there and explore the country.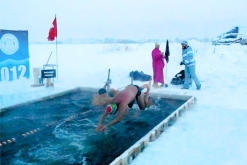 Chilling achievements
Picture the scene. It is -33 degrees Celsius outside, and the 25m pool of water that has been cut in the frozen lake is barely above freezing point. The previous swimmer did not wear goggles, and her eyelashes froze together, so that she had to be dragged from the pool to the sauna to thaw them and restore her vision. You look down at your speedo and your flip flops – the only items of clothing on your body – and brace yourself as you step out to swim a kilometre in the icy water. Ram Barkai, Ryan Stramroodand Kieron Palframan, who were specially invited to the Russian Winter Swimming Championship, did exactly that and then went on to take all three podium positions for the endurance swim.
Speaking of cold, the South Pole Challenge in honour of the race to the geographic pole, is considered the toughest race on the planet. One of the six teams consisted of Peter van Kets and Braam Malherbe. They endured the planet's most extreme weather for 25 days, and despite being pushed to the limit, spent the last week helping to carry the gear of another competitor who'd fractured his arm.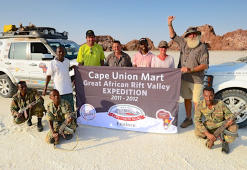 Aiming high
Then there were the four climbers, Clinton Martinengo, Dave Glass, Andrew Porter and Steve Bradshaw, who felt that taking on the treacherous waters of the Arctic Circle was not sufficiently adventurous in itself. They sailed more than 11 000km over four months, braving icebergs and polar bears, with the goal of finding and developing new big wall climbing routes.
Kai Fitchen, still in his teens, decided to climb Mount Kenya, but wanted to remain carbon neutral. Thus, he hauled himself and all his gear on public transport and on foot, for the 14 000km round trip. Fortunately, this gave him time to engage with over 600 pupils along the way on the topic of environmental impact and preservation.
Kingsley Holgate and his team covered 30 000km over terrain that tested their vehicles to the limit. They traversed the full length of the Great African Rift Valley, with frequent stops to distribute malaria nets, water purification and eyeglasses, and to hold educational sessions for malaria prevention.
Alex Harris, Marco Broccardo and David Joyce dragged a 350km sled with all their provisions across the Empty Quarter, or Rub' al Khali, in the Arabian Peninsula. This endless expanse of soft desert sand is one of the driest in the world, and is virtually uninhabited. Their unsupported 1 180km walk took them 40 days, and yet they kept their spirits high enough to appreciate the sunrise over the dunes in the mornings.
No limits to local adventuring
Not all of our adventurers ventured abroad for their extreme shenanigans. Chris Bertish decided to paddle his stand-up paddleboard from Cape Town to Lamberts Bay, situated up the west coast, north of the Mother City. Our coastline unleashed Neptune's fury upon him, and he paddled most of the 323km into a headwind. Compared to this, going sunblind was a minor inconvenience.
Neptune had plenty of fury to spare for Richard Kohler who wanted to put a 3 300km "smile" on the map, by paddling our coastline from border to border. Within days of setting off, he'd been bulldozed by a shark that took the rudder right off his surfski. Soon after, angry surf snapped his spare surfski in half, and even angrier surf packed him off to the physio. After all his expedition gear was stolen, he had to start from scratch, but this did not dissuade him. His second attempt went all the way, but not without its own close calls.
Inspiringly for the normal people among us, not all adventurers are lifelong hardcore athletes. "Two fairly average guys in their mid-thirties" (their words) set out to satisfy an urge, a thirst for adventure, and were simply hoping to throw themselves fully into doing what they loved. In the process, Zack Buchan and Ross Walters found themselves at the forefront of adventure kiting, when they kitesurfed all the way from Ponta d'Ouro in the south of Mozambique to Durban in KwaZulu-Natal.
These expeditions all had enormous support, from patient relatives to sponsors who went the extra mile, and several managed to raise impressive funds for a variety of local charities. Simply put, their impact went far beyond mere footprints in the sand.
Knowing what they have all achieved, it follows easily to feel inspired, motivated and proud. If this feeling is "Proudly South African", then I like it.
By: Erik Brits, courtesy of Nightjar Travel
Source: www.mediaclubsouthafrica.com