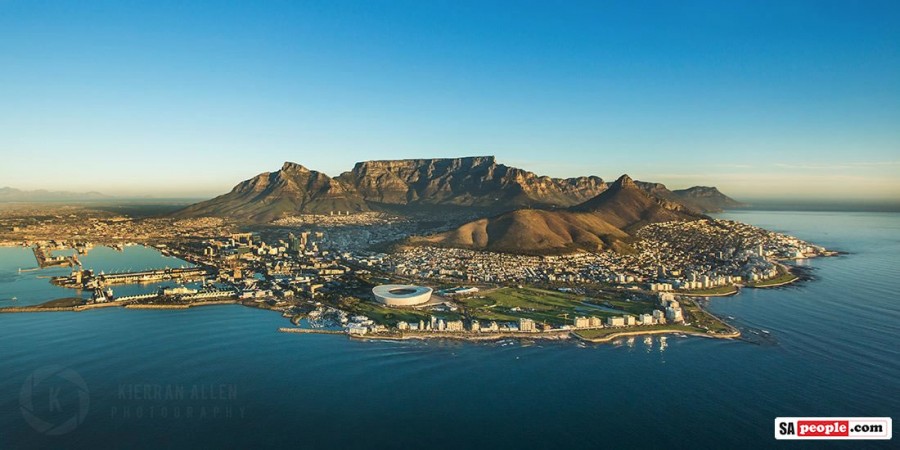 The Other 21 Facts A South African Expat Wants You To Know About His Home Country
Here's the remaining 21 of 42 interesting tidbits about South Africa to enrich your understanding and save you several lifetimes trying to truly experience all SA has to offer. With a buffet of landscapes from mountain ranges to sprawling savannahs, forests to white sandy beaches – it's a feast for the hungry tourist (and yes, I am biased)… […]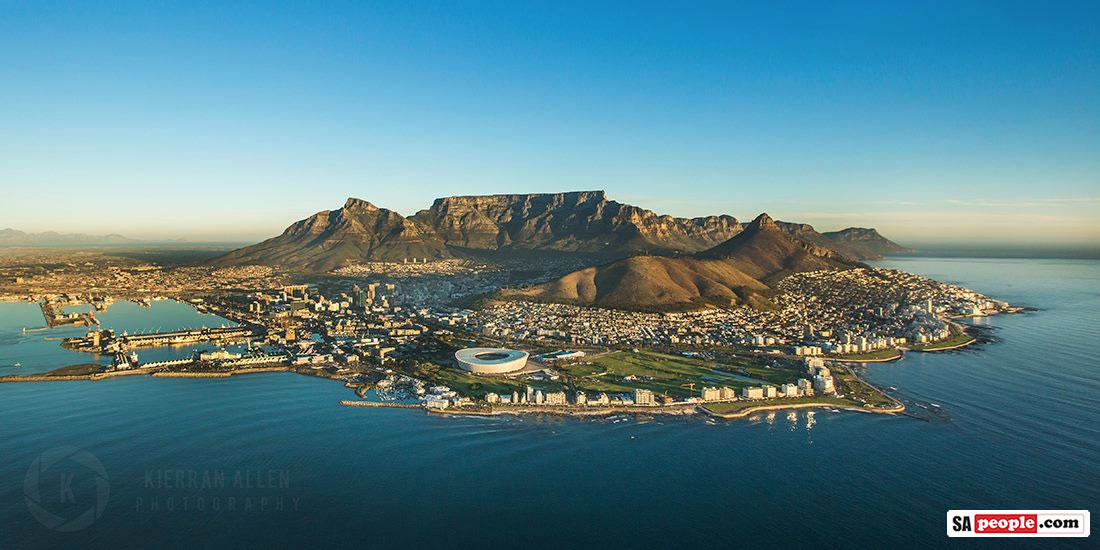 Here's the remaining 21 of 42 interesting tidbits about South Africa to enrich your understanding and save you several lifetimes trying to truly experience all SA has to offer.
With a buffet of landscapes from mountain ranges to sprawling savannahs, forests to white sandy beaches – it's a feast for the hungry tourist (and yes, I am biased)…
22. The Western Cape Has Some of the Best Spots in the World for Viewing Marine Life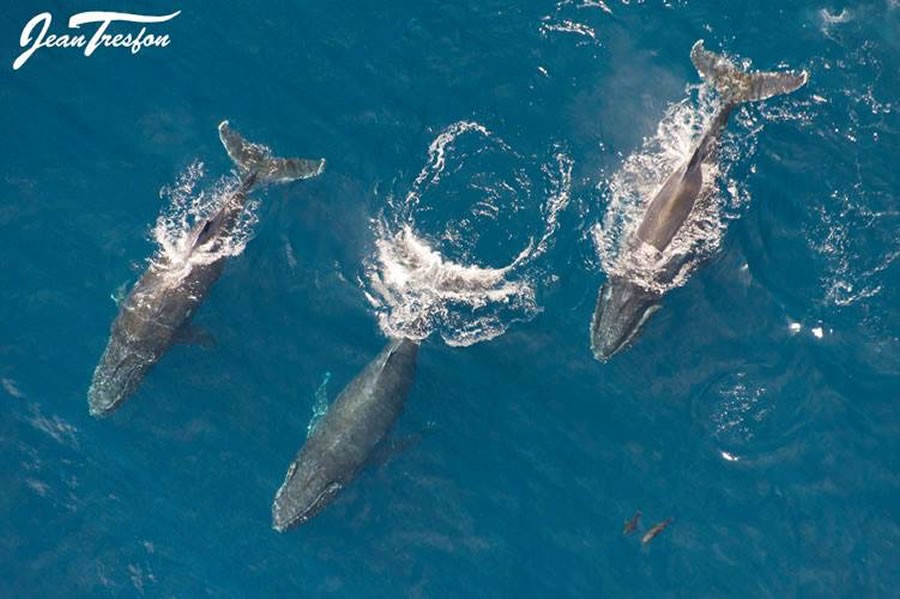 In the summer months, between June and November each year, thousands flock to the small Western Cape town of Hermanus to view whales. Hermanus is rated by the World Wildlife Fund as one of the twelve best whale watching locations in the world, which is largely thanks to the proximity of the town to the migratory route taken by all the whales of the world.
And for the more thrill-seeking inclined, forget Shark Week, Cape Town's seal island boasts the only location in the world where it's possible to see Great White Sharks breach the water's surface.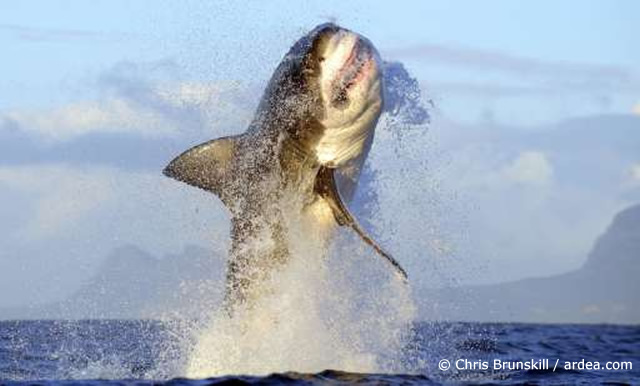 23. South Africa is Sadly the World Leader of People Living with HIV/Aids
It is estimated that over 6.8 million people in South Africa have the HIV/Aids Virus. Over double the amount of people in Nigeria who come in second. Almost 19% of the South African population has the virus, which is the 4th highest prevalence rate in the world. The three countries with a higher prevalence rate than South Africa, all border or are landlocked within South Africa; Swaziland, Botswana and Lesotho. (CIA Factbook)
24. South Africa has the Highest Bungee Jump from a Manmade Structure in the World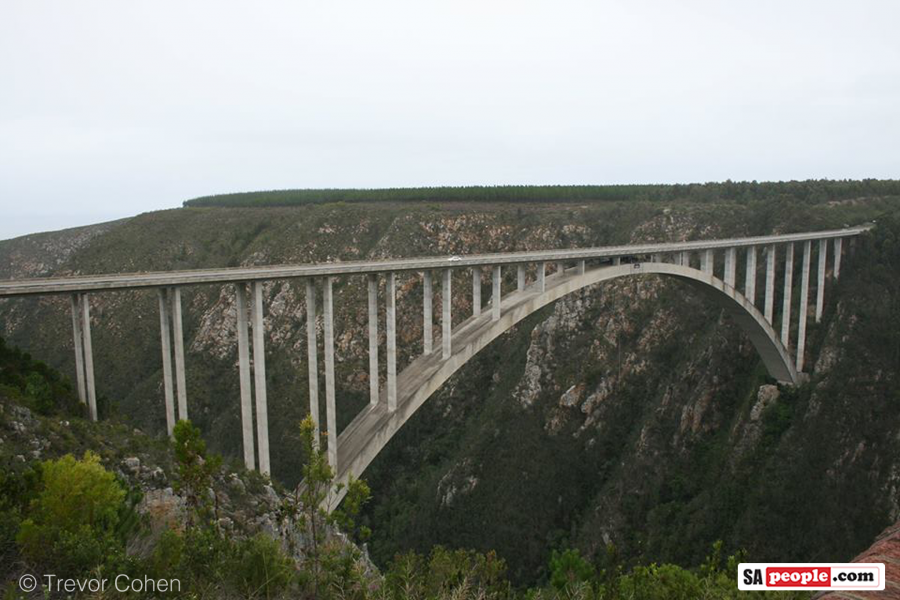 Bloukrans Bridge is sort of the Mecca for bungee enthusiasts. If trusting your life to tightly packed strings of elastic chord is your idea of fun, you'll bask in all 710 feet on offer as you steadily descend towards the Bloukrans River.
Table Mountain's famed cable car used to feature bungee jumps, but no longer does. Instead you could just ride the cable car and appreciate the majestic views of one of Nature's 7 Wonders of the World without being upside down!
Check out the view from a cable car ride up Table Mountain:
25. South Africa is also home to the world's longest underground cave sequence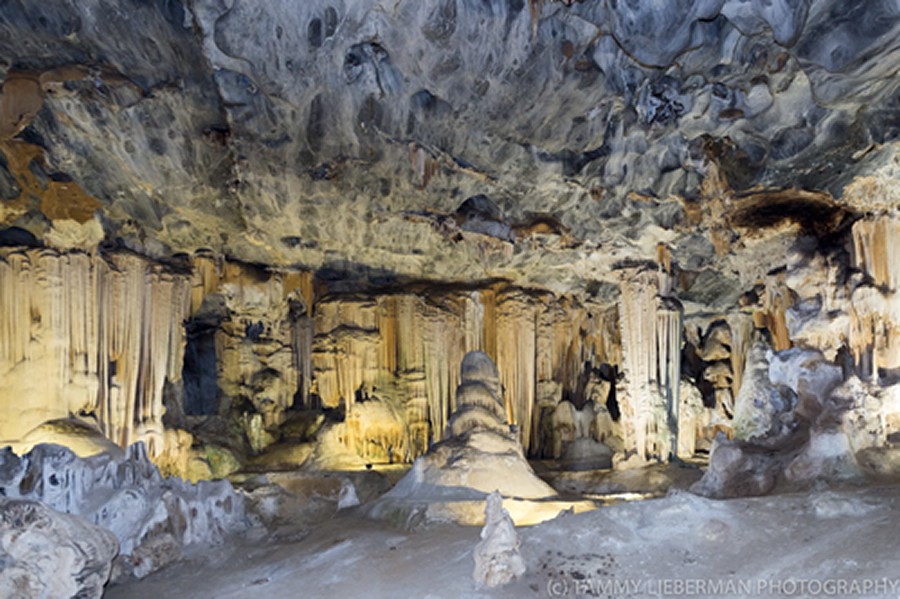 The Cango Caves, located near the town of Oudtshoorn in the Western Cape, were said to have been found back in 1780 by a local farmer named Jacobus Van Zyl. Although there are no written records of anybody by this name, to this day the first of the caves which measures roughly the size of a football field, is named Van Zyl's Hall. The first historically recognized tour guide of the caves though, was a man named Johnny Van Wassenaar, who earned his position by walking 29 hours to find the end of the cave system in 1898.
26. South Africa has the Second Oldest Film Industry in the World
The earliest film projector was a Kinetescope that was invented by Thomas Edison and first brought to South Africa as far back as 1895. Several years later, in 1899, one of Edison's former employees named Dickson created the first fully functioning motion picture camera. Given the Kinetescope's popularity years earlier, Dickson decided to set off for South Africa to test his new device. Dickson would arrive just in time to witness the historic Anglo-Boer War, fought between the British and Afrikaans, recording it on film and in that moment inventing the use of film as a propaganda medium.
27. Some Weird Foods You Can Eat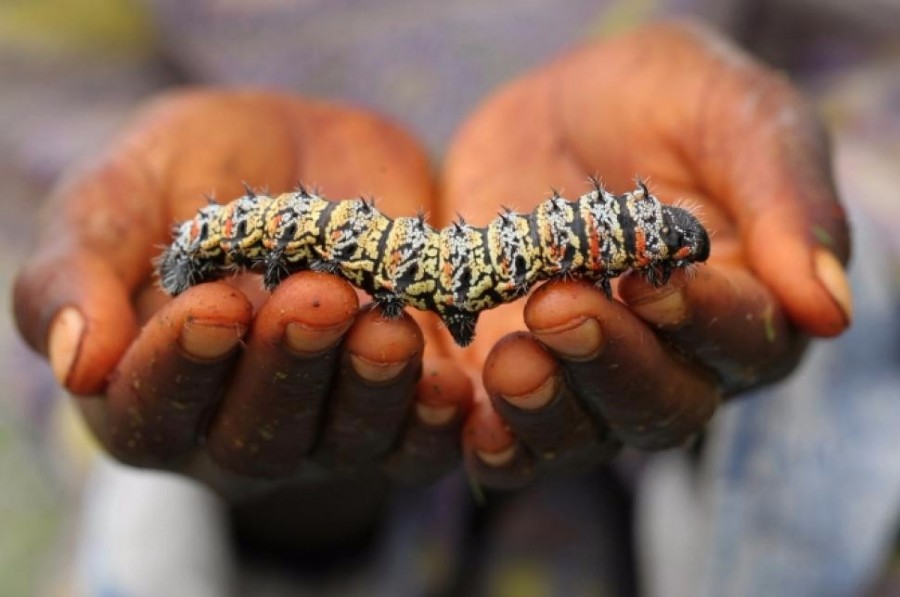 For all its delectable delicacies, South Africa has its fair share of more acquired tastes. Whether you like them fried, fresh, or with butter and garlic, there's no escaping the fact that yes, the Mopani worm is in fact a worm and in no way resembles any other meat. That being said, if you're into crunchy critters, there's no better treat. Hey Hakuna Matata.
No less weird, although a maybe more familiar taste are 'smileys'. Essentially, 'Smileys' are parboiled, then barbecued sheep heads, so named for the manner in which the lips of the animal shrink under heat, exposing a sinister smile worthy of a Tim Burton Film. And finally, winning the award for obscure edible parts of the anatomy are Walkie Talkies (the "walkie" being chicken's feet and the "talkie", the direction they're intended for consumption.)
But even some of South Africa's more 'normal' snacks can be weird for Americans. Watch below:
28. For all it's Political Freedoms, South Africa is Still One of the Most Economically Unequal Countries in the World
Despite what many might call the end of Apartheid in 1994, for the majority of impoverished black South Africans, not much has changed in their standards of living since South Africa became a politically free country. South Africa is globally ranked as having the fourth highest rate of income inequality, according to the Gini index (an international measuring standard). Structurally, there are many factors which contribute to this state of affairs. One of the more prominent that stands out is a lack of employment opportunities, with between 25 – 35% of the population unable to find work.
29. The Krugerrand is a Truly Golden Currency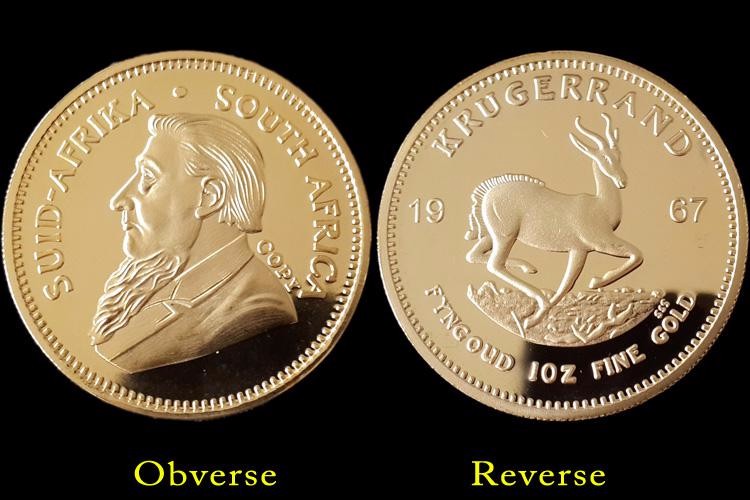 The Krugerrand is a gold bullion coin created in 1967 and was the first of its kind in the world that could be exchanged as legal tender, according to the market value of its gold content. Before the Krugerrand was minted in South Africa, gold was usually held in bullion, and with the US dollar moving away from a gold standard, starting in 1933, the Krugerrand become one of the few ways gold could be bought and sold as a currency that had been minted by a government.
Originally created as a means for encouraging the private ownership of gold, Krugerrand's can now mostly be found in coin collections, investment portfolios, shady business deals, and every so often a Salvation Army kettle.
It should also be noted, that while South Africa used to be the largest producer of gold in the world, this is no longer the case. Production in other countries has greatly increased, while many South African gold mines have been emptied, or are no longer economically viable for extraction. South Africa now comes in at number 5 in the list of worlds largest gold producers. China is the world's largest producer of gold.
30. South African Trade with the United States 
In 2015 South Africa exported 7.3 billion dollars worth of goods to the United States, primarily diamonds, platinum, other metals, vehicles and machinery. In return South Africa imported 5.4 billion dollars worth of goods from the United States, primarily gold, agricultural goods and machinery, vehicles and medical instruments. The US is South Africa's second largest export market and 4th largest import partner.
31. South Africa is by far the World's Largest Producer of Platinum, a Vital Mineral for Technology
The world produced 161,000 Kilograms (354,944 LBS) of platinum in 2014, a massive 110,000 Kilograms (242,508 LBS) of that, almost 70% was produced in South Africa. While you might think of platinum as just a fancy material for very expensive watches, in reality it is a primarily used as a catalyst in chemical reactions, for vehicle emission control, laboratory equipment, electrical contacts and electrodes, platinum resistance thermometers and dentistry equipment.
32. The Cape of Good Hope is a literal "Graveyard of Ships"
The section of coastline spanning 1800 miles that is known to most as the Cape of Good Hope, is perhaps a tad ironically named. In the centuries of seafaring vessels that have passed its shores, the Cape of Good Hope has claimed an estimated 3,000 ships to its craggy coast.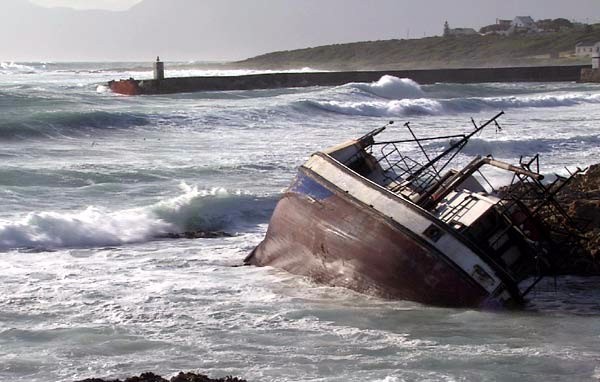 To this day, a number of the wrecks can still be spotted along the sea's length, best viewed at low tide along several of Cape Town's beaches. The majority of these wrecks happened before the Suez canal in Egypt was built. Prior to the canal, ships would have to sail around the entire continent of Africa, the cape of good hope was a sailor's nightmare.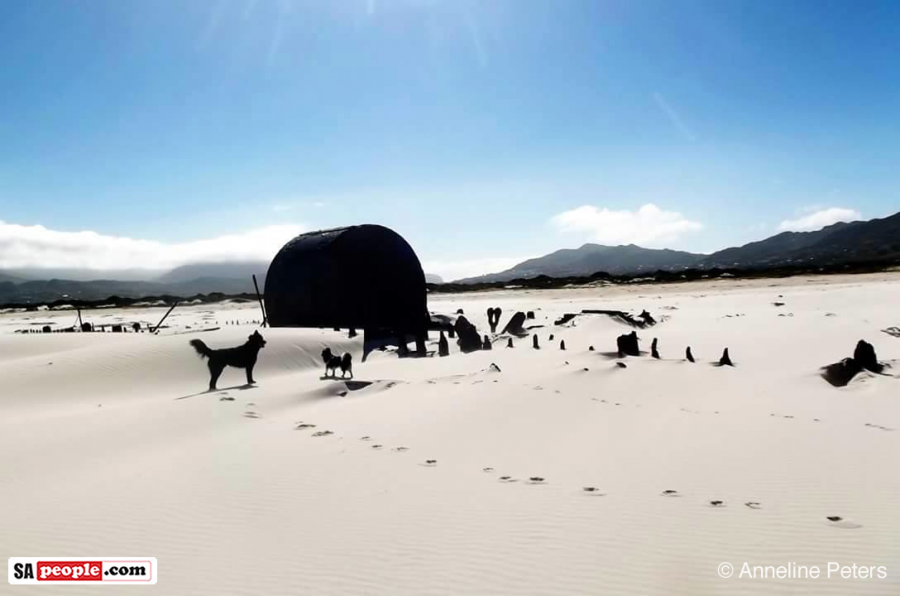 33. Apartheid was a State Sanctioned Legal Framework of Racial Oppression
There's no way to understand and appreciate South Africa for all its beauty and problems without acknowledging its history of racial oppression. Following several centuries of colonialism, first by the Dutch and later the British, in 1948 South Africa fell under a system of governance that would come to be known as Apartheid.
The Apartheid government—through a series of laws, rules and regulations—effectively created a form of totalitarian rule that entrenched inequality based on the color of your skin. People often forget that it was not just a black and white issue, but all people of colour were oppressed at different levels. The effects of this system are still present to this day as South Africa still faces a long road towards a society of peace and justice.
34. The Apartheid Museum: A Must See for Anyone Interested in South Africa's History
History cannot be contained in a vacuum and while many of the problems from Apartheid persist, understanding this past is crucial to contextualizing the present. The Apartheid Museum was opened in 2001 with this exact purpose in mind. Through it's 22 individual exhibition areas, the museum attempts to achieve the ambitious task of telling the story of Apartheid, doing so in a highly emotive and powerful manner.
35. What Is The Racial Demographic Break Up Of South Africa?
The census of the "Rainbow Nation" includes a self-identifying section on race. "Black Africans" make up just over 80% of the country, the "coloured" population makes up 8.8% of South Africa, "White" South Africans make up 8.4% of the country, and the "Indian/Asian" population comes in at 2.5% of the South African population. It should be noted that in South Africa both officially and causally the term "coloured" is a specific designation for "Mixed Race" unlike in the United States where it is considered a racial slur.
Trevor Noah Explains this well in one of his most famous stand up bits. (I was born A Crime):
36. South Africa is Host to Two World Renowned and Strenuous Marathons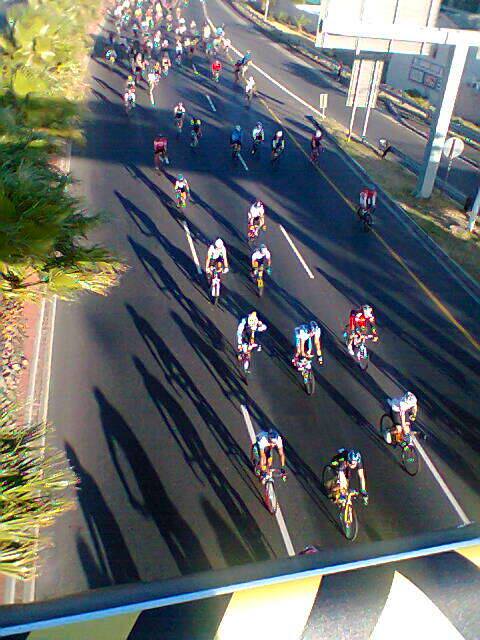 While most tourists come to South Africa to lay in the lap of leisure, there are many who seek out more adventurous pursuits. In particular there are two events held annually that attract athletes from all around the globe: the Cape Argus cycle race and the Comrades marathon.
The Cape Argus attracts an average 35,000 cyclists each year, who come to bask in the spectacular peninsula views along the 68 mile-length course – the largest individually-timed race of its kind in the world.
For the true fitness freaks though, the Comrades is top prize. Coming in at 56 miles, the Comrades is the world's largest ultra-marathon, which typically sees only about half the initial runners actually finish the race.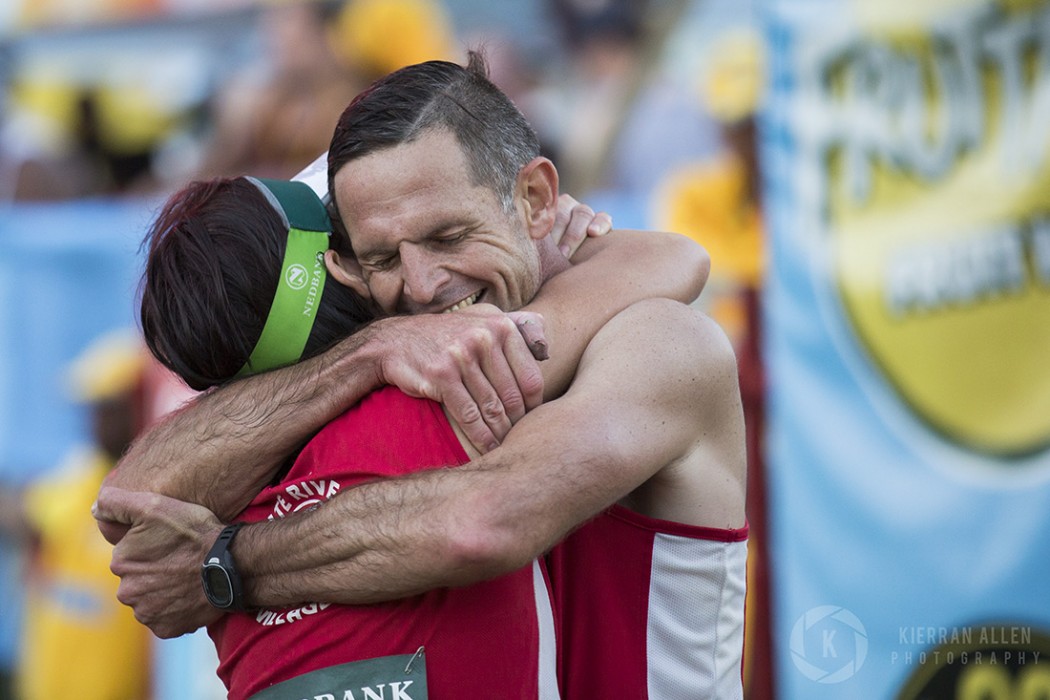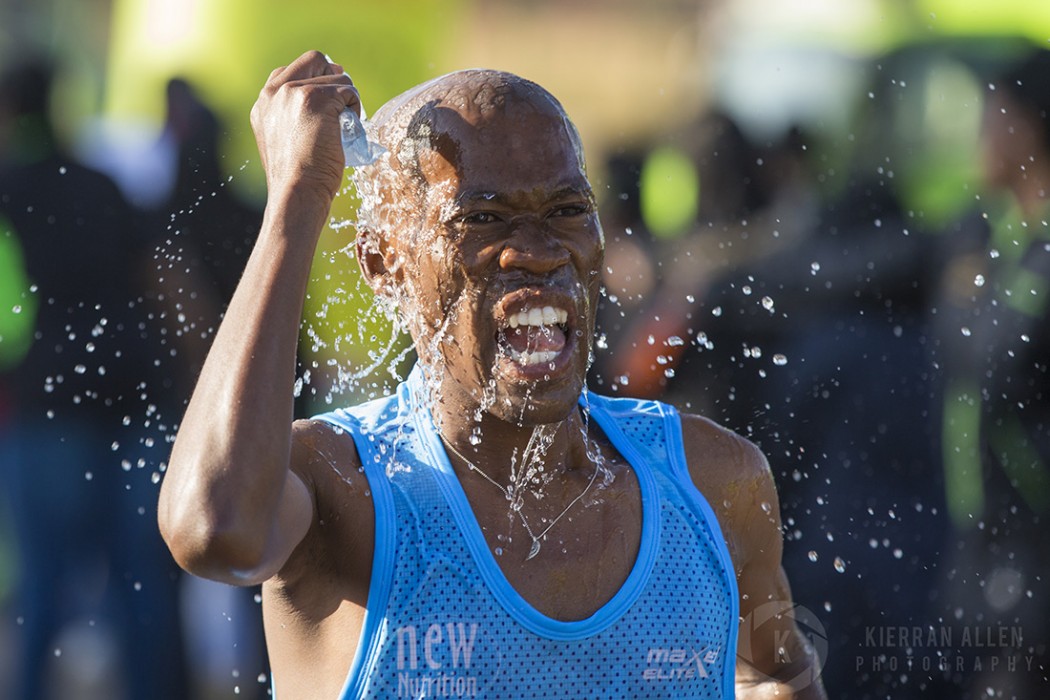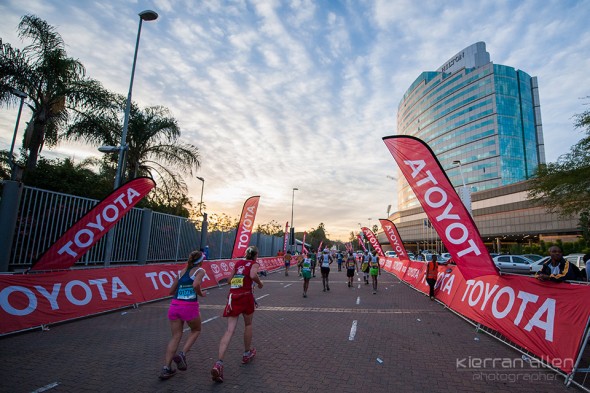 37. Gun Related Deaths in South Africa Are Second Only To The United States
A sad statistic to which Americans will relate is that gun crime in South Africa is very high – in 2013 gun deaths per 100,000 people was 9.4 people. In 2012 the US had a rate of 10.2 per 100,000 people. The next highest rate was Switzerland with 3.84 deaths per 100,000 people. Perhaps most surprising is that the high gun death figure in South Africa is not followed up with a particulary high rate of gun ownership, with 12.7 guns per 100 people. South Africa ranks in at 16th in the world rankings of gun ownership per person. The study was conducted by the World Health Organization. President Zuma announced recently that South Africa is participating in the African Union Peace and Security Council to ensure that guns are silenced in the continent by the year 2020.
38. Eleven Official Languages Makes for a Lot of Slang
As mentioned in Part One, South Africa is defined by its immigrants. Over time, the various languages have fused in interesting ways. In some cases this has led to a new language such as Afrikaans (officially the youngest language in the world!). One might say there's an even more subtle original dialect that fits between the cracks of the official languages, forming its own unique verbal code. Below are a couple of common phrases to get you started speaking 'South African':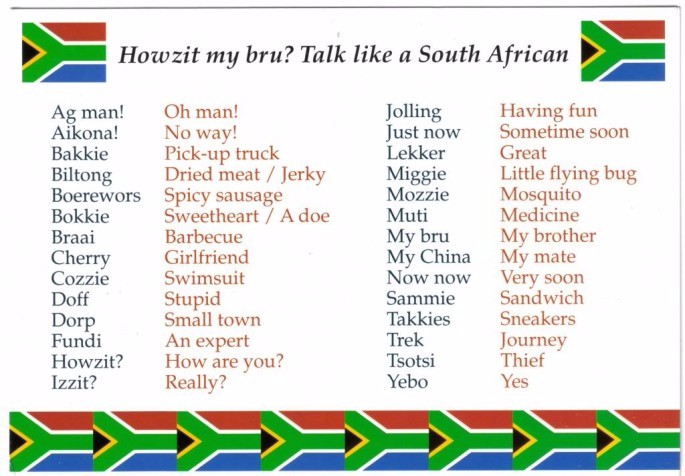 39. Purple Jacarandas Trees Grow in Abundance in South Africa's Capital
Pretoria is one of South Africa's three capital cities (confusing, I know) but perhaps more notably, it's home to an estimated 40-70 000 Jacaranda trees that lend the place its nickname – Jacaranda City.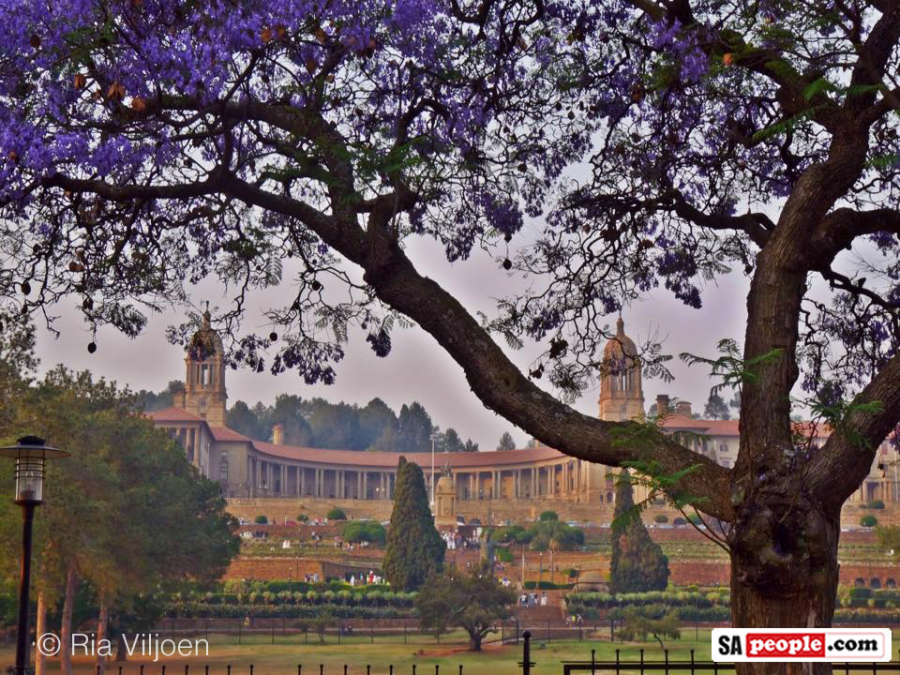 The Jacaranda is indigenous to South America and was first brought over to Pretoria in the 1880s from Argentina. As soon as the tree bloomed it's purple tree petals, it's popularity grew and today, between the months of October and November, the trees can be seen spread far and wide throughout both Pretoria and Johannesburg.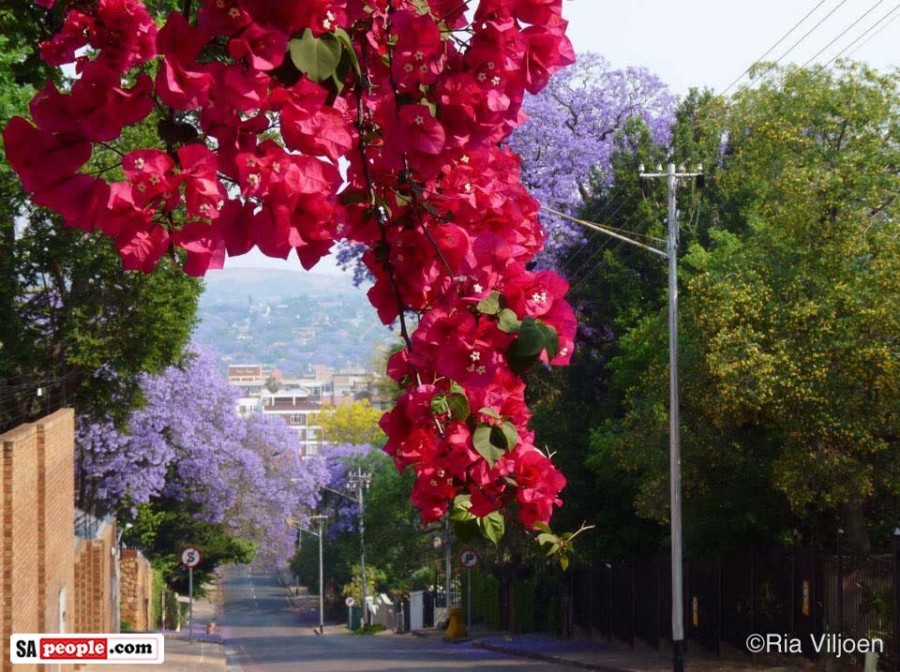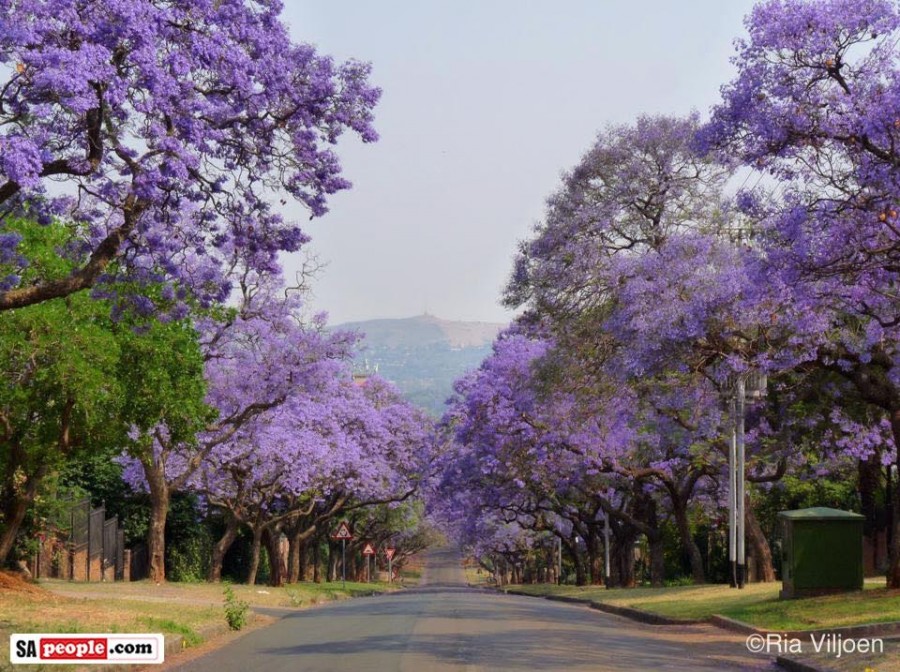 40. South Africa is the Largest Producer of Macadamia Nuts in the World
Chances are high that one of those devilishly tasty treats you last ate came from South Africa. South Africa provides 48,000 tonnes of the world's total production of macadamia nuts, accounting for almost a third of the world's supply, making the country the world's official number one supplier, which was agreed upon at last year's international Nut and Dry Fruits Congress in Australia (yes, they have a congress for that.)
41. A Sardine Run on the East Coast of South Africa might be the Largest Movement of Biomass in the World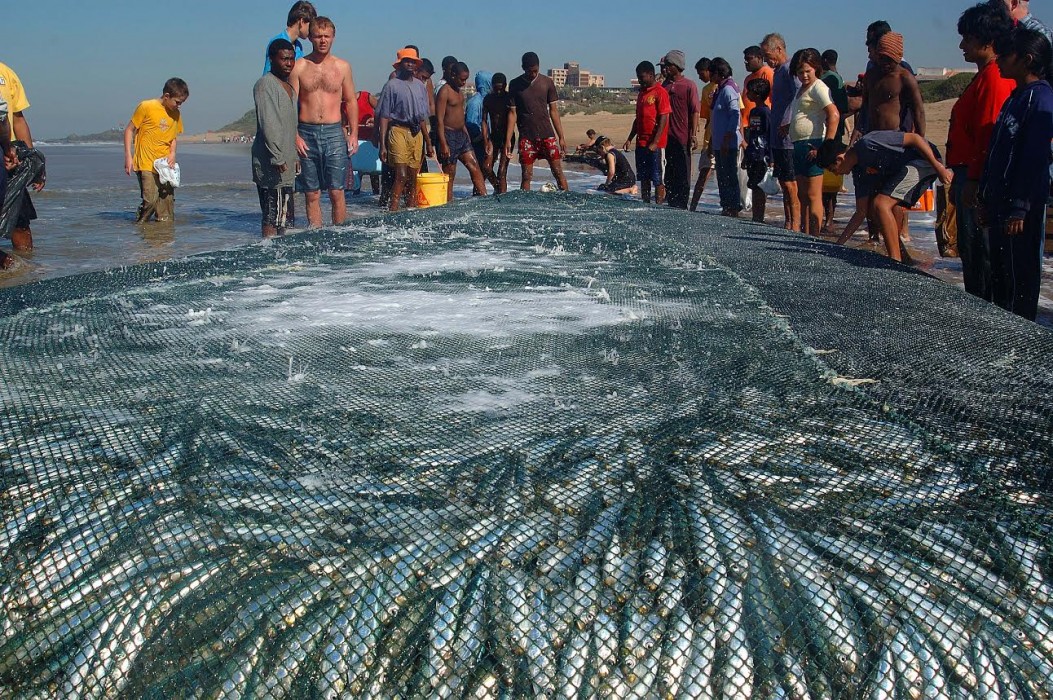 During South Africa's winter, between May and July when the ocean temperature drops below 21°C, billions of sardines swim north, causing one of the biggest feeding frenzies in the world. It is thought that the combined biomass of the sardines and their predators come in at a higher weight than the great wilder-beast migration across East Africa. It is quite a sight to see, and the mass swells caused by the sardines trying to escape predators can clearly be seen from spotter planes. In some locations locals will wait for the big move and scoop thousands of sardines out of the sea with nets or simply the clothes they happen to be wearing when the moment comes.
42. Trevor Noah got his First Break "stumbling onto the set" of a Local Soap Opera
Long before Trevor Noah took his seat behind the Daily Show desk, he enjoyed a brief role as a gangster on local South African soap opera Isidingo. Noah recalls how back in 2002, he accidentally found himself on the set of the show and was soon cast in the cameo role he'd come to play for several episodes. Noah went on to host a radio show called Noah's Ark for two years. Following that, one thing lead to another and, well, you know the rest.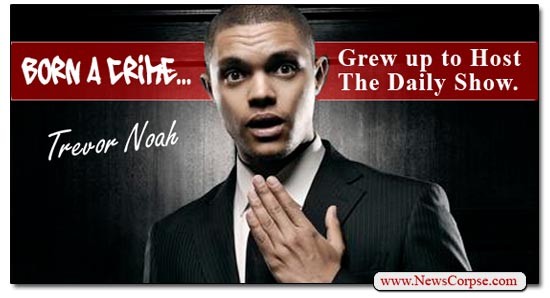 And if, after reading these 42 points, you're planning a trip to visit South Africa's beautiful shores, here's Trevor's guide to the first South Africans you'll encounter in the country – the airport announcers…
A version of this article first appeared on Xpatnation (and is republished with kind permission) – view the original here.
ROBIN SCHER is a New York-based South African writer and recent graduate of the Cultural Reporting and Criticism program at NYU, interested in challenging perceptions as they relate to all things prefix-African. Like any good/broke immigrant, Robin enjoys the East Village's cheap Ukrainian Bars, Queen's affordable Greek food, and "paying what you want" at the MET.
XPATNATION is a news/culture and lifestyle website, with the voice of people from around the world who have chosen to make America their home. Focusing on global events and culture, as well as offering a unique insight and perspective into American issues.
[php snippet=3]