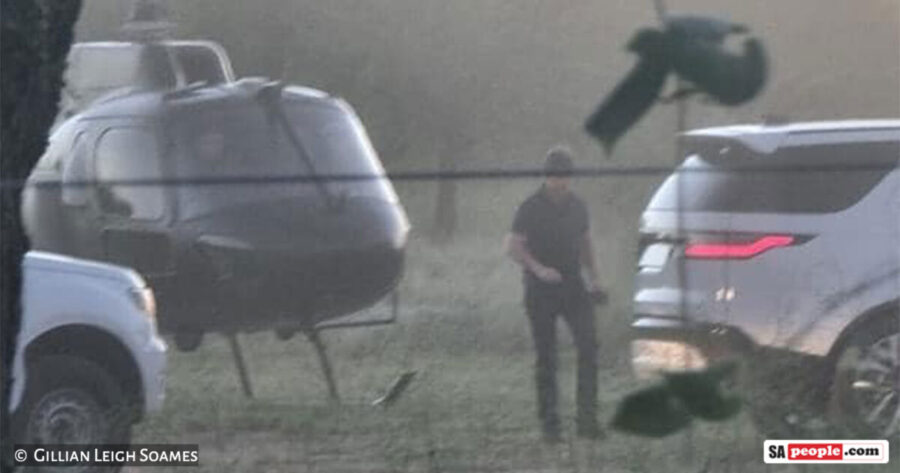 From Hollywood to Hoedspruit! Tom Cruise Arrives in South Africa to Film Mission Impossible 8
Hollywood star Tom Cruise has arrived in South Africa to film Mission Impossible 8… and he's already been treated to a little SA hospitality and humour! UPDATE 16 FEB: See Gillian Leigh Soame's latest spectacular photos of Tom Cruise in South Africa! Hoedspruit resident Gillian Leigh Soames, who's renowned for spotting leopards in the bush, […]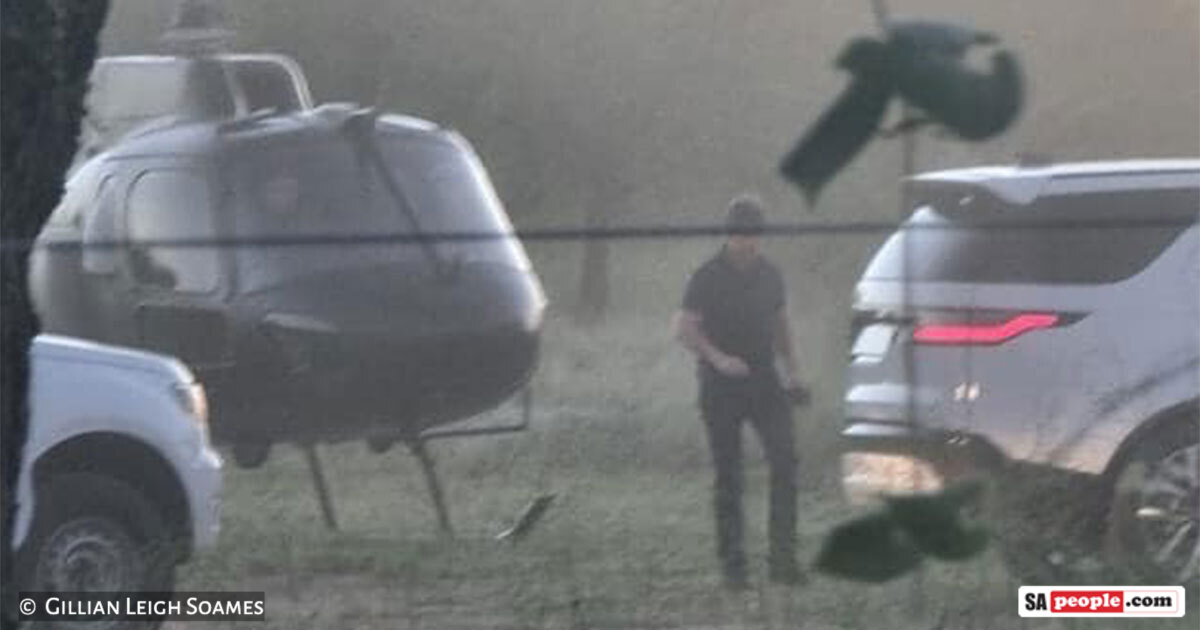 Hollywood star Tom Cruise has arrived in South Africa to film Mission Impossible 8… and he's already been treated to a little SA hospitality and humour! UPDATE 16 FEB: See Gillian Leigh Soame's latest spectacular photos of Tom Cruise in South Africa!
Hoedspruit resident Gillian Leigh Soames, who's renowned for spotting leopards in the bush, spotted the American celebrity flying over her home in a helicopter on Thursday. Posting a pic to Facebook, Gillian said:
"And there he is, Mr. Tom Cruise, in all his glory, in Hoedspruit! His chopper flew directly over our deck and yes… I flashed him! ?"
And Tom saw! "I flashed him, and the chopper flashed me back ?" she told SAPeople. "I know the chopper (it flies over my house every single morning at 6am and every night at 6pm). Last night it was early at 5pm."
She says the helicopter was "LOW, about 40 meters only above our deck and hovering! I'm sure it's because our garden is the ONLY green garden around here for miles and we have a big property! He was 100% looking at our garden ?"
The news of Tom Cruise filming MI8 in SA was first broken by Variety magazine last month, with local sources in SA revealing that he would be shooting around Durban and Cape Town.
Yesterday footage was posted to Twitter, allegedly of Tom flying over Oribi Gorge in KwaZulu-Natal (KZN) "to check out the area" for filming.
#TomCruise Tom's already in South Africa!

"Tom Cruise flying his own chopper over Oribi Gorge. He is here for a few days to check out the area. They want to shoot Mission Impossible 8 here."#TomCruise#MissionImpossible8#TomCruisenews pic.twitter.com/WTlylYgj0P

— Tom Cruise Fan #follow me (@Tomcruisetopp) February 10, 2022
In another tweet, photos were shown of the planes that have arrived in Hoedspruit to be used for a big stunt in the film.
The planes for the big stunt arrived in Hoedspruit, South Africa…#MissionImpossible8#TomCruise pic.twitter.com/GzzFdTrS5c

— Tom Cruise News (@TCNews62) February 8, 2022
Gillian says Tom and the crew are expected to be in Hoedspruit (Limpopo) for two months where they'll apparently be filming Mission Impossible 8 over the Blyde River Canyon which is only an hour away, in Mpumalanga.
"As I sit here, he is living exactly 2.4kms from my house!" says Gillian, who lives on the beautiful Hoedspruit Wildlife Estate. "His helipad is right next to our house."
Gillian says it's a great time to be filming at Blyde River Canyon. "It's perfect right now as it is SOOO lush and green and all the waterfalls are flowing," she says.
Celebrity sightings in Hoedspruit are becoming as common as wildlife sightings. This week it's Tom Cruise, last week it was YouTuber Logan Paul, and the week before it was another YouTuber David Dobrik.
South Africans have posted messages welcoming Tom to their beautiful country, and expressing hope that the Hollywood blockbuster, featuring spectacular SA landscapes, will boost tourism to the country. And of course, there's been more humour…
Follow @GillianSoamesLeopardQueen on Instagram! 
To use any text or photos, please contact admin@sapeople.com
If you love movies and TV series, get your fix of local and international films and TV shows from Showmax! 
UPDATE on Tom Cruise in South Africa, Sat 12 Feb, from Gillian:
View this post on Instagram