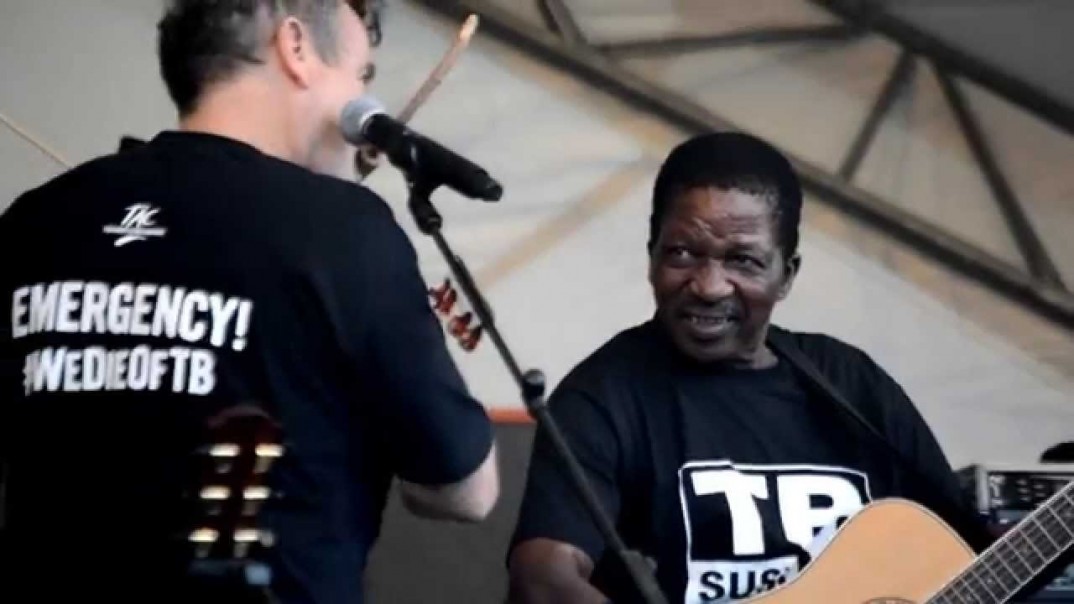 Johnny Clegg Video…including Reunion with Juluka's Sipho Mchunu
Check out the compilation (above or below) of photos and video of Johnny Clegg performing at two recent concerts…including footage where he's joined on stage by his old Juluka partner Sipho Mchunu. Earlier this month Clegg reminisced about the old Juluka days when "our music was banned or restricted on national radio, as well as shows being […]

Check out the compilation (above or below) of photos and video of Johnny Clegg performing at two recent concerts…including footage where he's joined on stage by his old Juluka partner Sipho Mchunu.
Earlier this month Clegg reminisced about the old Juluka days when "our music was banned or restricted on national radio, as well as shows being closed down from time to time by apartheid's security police; we were faced with many obstacles that we had to contend with."
His comments came after the British-born South African singer was honoured by Queen Elizabeth II with the Officer of the Order of the British Empire (OBE).
[quote_center]"Your music and Sipho's smile moved my heart and mind." – Mike Gray[/quote_center]
The 62-year-old, who was nicknamed the 'White Zulu' early in his career, said: "It has been a long journey of more than 30 years, from when I first began to experiment with truly South African cross-over music, and at the same time becoming a cultural activist in the struggle against apartheid."
In congratulating Johnny for the OBE, one fan – Mike Gray – summed up the influence he, and Sipho, had on so many South Africans when he wrote:  "Well done Johnny! A long road from the John and Sipho days at the Loft in Germiston 1970s. Your music and Sipho's smile moved my heart and mind. Well deserved recognition for your efforts towards a non-racial democratic South Africa."
A former fellow University of the Witwatersrand student Nigel D'Arcy said: "Congrats Johnny – a long road since we used to chat sitting on the wall outside the Wits refectory in the early 70s BA years. Who would have thought such fame and recognition would come your way over the years, but you were so unassuming and definitely the 'white Zulu' from an early stage!"
The video on this page is compiled by photographer (and fan) Marguerite Nokuthula de Villiers…who has also created beautiful photo essays of local South African artists at the Kirstenbosch Summer Concerts.
Watch Video – Johnny Clegg and Sipho Mchunu
Marguerite: "A fan video of photographs and video clips taken at two of Johnny Clegg's recent shows."