South African References in International Movies and TV Series
2018 has been a good year for South African movie-goers' pride with the release of the highly (and deservedly so) acclaimed Black Panther movie and specifically the decision to use Xhosa as the language of Wakanda. But there are actually plenty more obscure references to South Africa, particularly in some of our favourite shows growing […]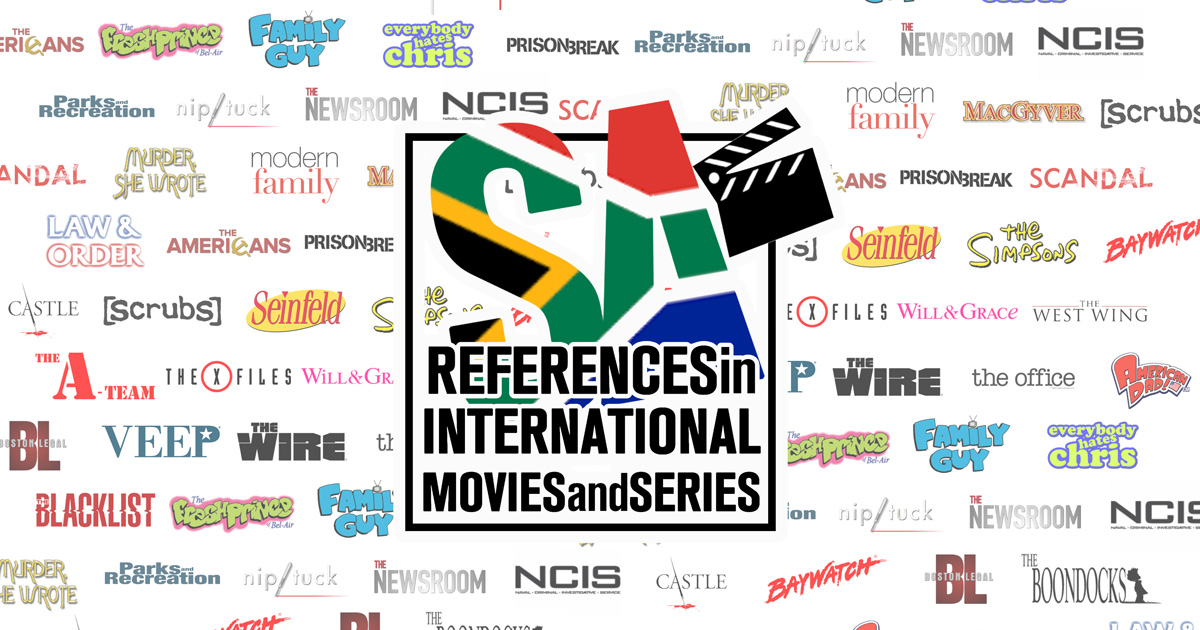 2018 has been a good year for South African movie-goers' pride with the release of the highly (and deservedly so) acclaimed Black Panther movie and specifically the decision to use Xhosa as the language of Wakanda.
But there are actually plenty more obscure references to South Africa, particularly in some of our favourite shows growing up, such as:
According to the official backstory of Scrooge McDuck, the world's richest duck spent a part of his youth in South Africa in search of riches, and his life-long arch-nemesis, Flintheart Goldglum, is actually a Boer from Limpopo!
There is a spaceship in Star Trek Deep Space 9 called the SS Xhosa
The full name of Nelson Muntz, the school bully from The Simpsons, is actually Nelson Mandela Muntz.
Besides the obscure referential gems hidden deep in the lore of old cartoons and sci-fi shows, there are also numerous other off-hand references to South Africa littered throughout some of the most popular movies and series of recent times.
In fact South Africa is actually the 29th most referenced country in the world and the second biggest most-mentioned African country after Egypt.
As most South African expats know, there's nothing more exciting than watching a movie or your favourite show like Suits or Grey's Anatomy… and hearing a reference to South Africa.
A recent article by Safro.info compiled and analysed 250 of the references to South Africa in international cinema and found that besides plenty of major Hollywood movies, many of the most popular series since the 80s also contain off-hand references to the country.
These popular series include: Law & Order, The Office, 30 Rock, Parks and Recreation, Baywatch, Boston Legal, Beverly Hills 91210, Dr. Who, CSI, Family Guy, The Simpsons, Grey's Anatomy, House MD, West Wing, MacGyver, NCIS, Prison Break, Scrubs, Shameless, Suits, the A-Team, the Fresh Prince of Bel-air, Twin Peaks and more.
While many of the references are neutral, there are also plenty of positive references – normally limited to Nelson Mandela and the scenic beauty of South Africa – and unfortunately yes, there are negative references too – usually the villainous trifecta of apartheid, international crime and an exotic birthplace-of-bad-guys…
But the real referential beauties are those quotes that are so cynical – or so ignorant – that they are utterly laughable…
For example, who knew Zulu and Spanish were such similar languages:
Or that our large and diverse country is known for only two things:
Although I'm sure every South African not privileged enough to be born at the foot of Table Mountain can agree with this last one:
The full article goes into deeper analysis of the entire archive of references including:
Which stereotypes Hollywood like to attribute to Xhosa, Zulu, and Afrikaner cultures
Which South Africa cities are the most popular cinematic destinations and for what reasons
What type of shows are more likely to have numerous South African references
What are the 8 craziest, absurd and laughable onscreen lines that have ever been said about South Africa
Compiled by Niel Ramsay Louw, the article concludes:
"Now we know that according to Hollywood, South Africa is a country renowned for its racism as much as for its really expensive rocks; as famous for its historical system of segregation as it is for producing the great man who defeated it; where warlocks and witchcraft co-exist with international mini-golf tournaments and snooty accents; and South Africa is home to the most villainous of international criminals as well as the most secretive of international spooks.
"Truly it must come across as a fascinating and contradictory country for the average foreign viewer."
To read the full article on South African References in International Movies and Series, as well as to access the complete 250 reference archive, please click here