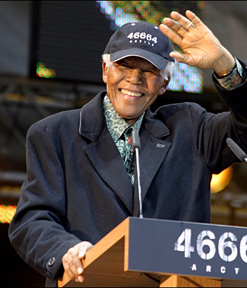 Mandela Day now a Global Event
by Bongani Nkosi It also recognises Mandela's "leading role in and support for Africa's struggle for liberation and unity, and his outstanding contribution to the creation of a non-racial, non-sexist democratic South Africa". The UN invited all member states, its organisations and other international organisations, as well as civil society, including non-governmental organisations and individuals, […]

by Bongani Nkosi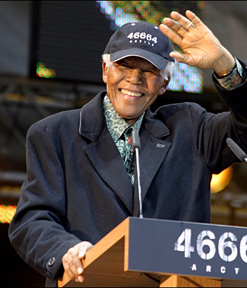 It also recognises Mandela's "leading role in and support for Africa's struggle for liberation and unity, and his outstanding contribution to the creation of a non-racial, non-sexist democratic South Africa".
The UN invited all member states, its organisations and other international organisations, as well as civil society, including non-governmental organisations and individuals, "to observe Nelson Mandela International Day in an appropriate manner".
Mandela Day in SA
The idea of Mandela Day was first introduced by South African president Jacob Zuma in 2009. It became a nationwide campaign to get the public involved in charitable activities, also for 67 minutes on 18 July – the day Mandela turned 91.
The number of minutes was significant because it represented the 67 years since the former president first started fighting for human rights and the abolition of apartheid.
Although Mandela Day began as a South African initiative, the international community was involved with a launch at a glittering music concert in New York, where musicians such as Alicia Keys, Stevie Wonder, Wycleaf Jean and French first lady Carla Bruni Sarkozy performed.
At this launch, via video streaming, UN secretary-general Ban Ki-moon and US president Barack Obama endorsed the idea to make it a worldwide event.
"Mandela is a living embodiment of the highest values of the United Nations," Ban said. "His commitment to a democratic, multi-racial South Africa; his steadfast pursuit of justice; his willingness to reconcile with those who persecuted him most – these are just some of the hallmarks of a remarkable man."
Back home, South Africans came out in numbers to support Mandela Day. Some started street clean-up campaigns, while others helped out at orphanages and old-age homes.
Jeffsville – an informal settlement outside one of the country's capital cities, Pretoria – marked the day by hosting a reconciliation event. Both South Africans and foreigners living there committed to forgive the xenophobic attacks of 2008 waged against foreign residents, which left scores dead and thousands homeless.
"On 18 July 2009 millions of people across the globe came together to give 67 minutes or more of their time in community service, their actions inspired by the life's work of Nelson Mandela," said Sangqu in a statement.
"In turn, the actions of these millions of people – men, women and youth across the globe and from all sectors of society, including heads of state, governments, NGOs and civil society – have inspired us to introduce this draft resolution to the General Assembly," he added.
The Non-Aligned Movement, an international body of states not formally aligned with any major power bloc, has been one of the strongest supporters of the campaign. During its summit in Egypt in July, the organisation passed a special declaration to lobby the UN to give Mandela Day international status.
Support for resolution
Canada commended the adoption of the resolution. The country's Foreign Affairs Minister Lawrence Cannon said the day would help disseminate ideals that Mandela stands for. "This day will remind us of the importance of fighting injustice, upholding freedom and democracy and promoting a culture of peace throughout the world.
"Nelson Mandela truly exemplifies commitment to a people, moral fortitude and service to humanity. He has also shown us how it is possible to be both a leading statesman and an exceptional human being. His work on conflict resolution and the protection of children's rights only adds to his legacy," Cannon added.
Madiba, as Mandela is affectionately known, is also the recipient of a Companion of the Order of Canada and is an honorary Canadian citizen. "[He] is an inspiration to us all," Cannon said.
The Nelson Mandela Foundation has also welcomed the resolution. "The Nelson Mandela Foundation and its sister charities are pleased with the declaration of July 18, Nelson Mandela's birthday, as 'Nelson Mandela International Day' – an international day of activism," it said in a statement.
The foundation was set up after Mandela's retirement in 1999 and works to create a legacy of his life and work.
More about Madiba
Mandela became South Africa's first democratically elected president in 1994 after working tirelessly to unite black and white South Africans when the country was living through violent and troubled times.
He was awarded the Nobel Peace Prize in 1993, with then South African president FW de Klerk, for his efforts in finding a peaceful resolution to the country's deep-rooted conflicts.
Before his presidency Mandela was heavily involved in anti-apartheid activities led by the then-banned African National Congress and was convicted on charges of sabotage. He served 27 years in prison, many of which were spent with other sentenced freedom fighters on the desolate Robben Island, 12km off the coast of Cape Town.
As a champion of reconciliation, Mandela was also instrumental in the Truth and Reconciliation Commission, which was set up by South Africa's Government of National Unity to help deal with the atrocities of apartheid.
Although he has officially retired, he continues to voice his opinion on topical humanitarian issues and campaigns globally for peace, children and the fight against HIV/Aids.