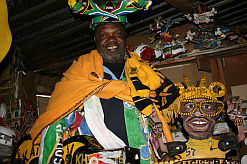 The master of the makarapa
photos and text by Bongani Nkosi Scan the crowds at any major football match in South Africa and what will immediately stand out are the elaborately carved and colourfully decorated plastic hard hats settled on fans' heads. Known as the makarapa – isiXhosa for the migrant workers who wore hard hats on the mines – […]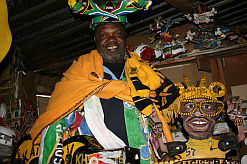 photos and text by Bongani Nkosi
Scan the crowds at any major football match in South Africa and what will immediately stand out are the elaborately carved and colourfully decorated plastic hard hats settled on fans' heads.
Known as the makarapa – isiXhosa for the migrant workers who wore hard hats on the mines – this iconic adornment is, with the noisy vuvuzela trumpet, an important part of the local football matches' festival atmosphere. But it is not a fly-by-night commercial gimmick; it's the brainchild of a highly talented artist who invented it not just for show, but for safety.
The idea came to Alfred Baloyi, now 51, in 1979 at a local derby in Soweto, South Africa's largest township, in the southwest of Johannesburg. Soweto derbies, traditionally played by top local teams Kaizer Chiefs, Moroka Swallows and Orlando Pirates, are tense affairs, and crowds can become unruly. At this particular match Baloyi saw a bottle flying through the air about to hit another fan's head. At that moment, the idea for the makarapa hit Baloyi.
"We used to go to the stadium without wearing anything on our heads and it was dangerous," he said. "I realised that these hard hats could protect me."
Baloyi, an ardent supporter of Kaizer Chiefs, known locally as Amakhosi, started collecting plastic helmets, painting them in his team's yellow and black colours and adding its emblem. Initially, these were only for himself.
With only primary school education, Baloyi was employed as a municipal bus cleaner in Pretoria at the time, but soon became totally focused on his new-found art. His work didn't stop at hats either: he began painting workmen's overalls in the Amakhosi colours, transforming them into vivid and gaudy fan gear.Other football fans started to notice, and asked him to sell his makarapas on the spot, and gave him their overalls to paint.
Makarapas mean business
"Supporters taught me business. They used to say, 'This is beautiful. Sell it to me'," Baloyi said.
By the 1980s Baloyi was starting to make money from his makarapas, which he sold for R7 apiece. But he never stopped thinking up ways to craft a better product.
I caught up with Baloyi at his small shack in an informal settlement in Primrose, east of Johannesburg. The shack is like most in the area: there's little light inside and barely enough space to do any sort of work.
But this is where Baloyi, known as "Magistrate" or "Professor" to his fans and friends because of his impressive skills, creates the beautiful helmets.
In his work room, which reeks of paint, there is a display of finished and unfinished products, and his personal archive of newspaper clippings and photos. One article, written by Don Makatile and published by Drum magazine in 1999, is prominently placed.
It was in 1990 that Baloyi started carving pieces out of the plastic hard hats and manipulating them so they stood upright, changing the headgear's traditional shape. As he recalls, it was at the request of his friend and fellow football trendsetter, Saddam Maake.
Now one of the defining features of the makarapa is its many intricate protrusions, which make the hat appear far larger and taller than it really is. The outward pieces are sometimes fashioned into horns, emblems of local or international sports teams, or expertly cut into the shape of football players dribbling a ball.
Baloyi started out by selling his makarapas at stadiums and taxi ranks, but business has taken off, so he now takes orders. Some of these come from large South African companies such as Absa and Vodacom, who buy the headgear for their staff to wear at matches.
"I am having more and more companies putting in orders," Baloyi said. "Individuals are also ordering."
Baloyi's work is sold through Makarapa Integrated Marketing, a company he founded with sports marketing expert Grant Nicholls, and his production rights are protected under the trademark "Baloyi Makarapa".
The current makarapa price ranges between R300 ($47) and R500 ($67), depending on the accessories Baloyi adds – some customers have special requests. He's now able to create at least two a day.
His makarapa earnings have allowed Baloyi, a father of five, to build a "big and fine" house for his family in Kgabyane village in Limpopo province, as well as to send his 20-year-old daughter, Calphina, to college to study graphic design.
"My dad's art is special," Calphina said. "He did not learn it in school, but he's making interesting things. I would like to take over from him one day."
For Baloyi, it's all about family. "I want to give my family a better life," he says. "I have to grow it [the makarapa brand] and leave a legacy for my children."
World Cup fever
Nicholls and Baloyi plan to build a factory that will employ young artists to produce thousands of makarapas in a month – this has always been Baloyi's dream.
Other companies and individuals are picking up the makarapa craze and beginning to make their own, but Baloyi isn't worried. "I'm not scared by the competition I now have. My makarapas are different because I use my hands to make them and I paint them very well."
Baloyi is a busy man and his phone hardly stops ringing, with old and new customers placing orders.
While I was there two calls came through, one from a Golden Lions rugby supporter, and the other from a Coca Cola employee – identified only as Lerato. She was making plans to fly him to Cape Town on 4 December, apparently for the 2010 Fifa World Cup draw.
Baloyi is expecting business to boom in the months leading up to the tournament, which kicks off on 11 June 2010. "I know most orders will come next year before the World Cup," he said. "I will have to work very hard.
"When people come to South Africa next year they must come to Primrose to see the father of makarapa. Going back to their countries with a makarapa would be the only way to show that they were indeed in South Africa."
Celebrity football fans

Most of the regular, well-known football fans in South Africa – especially in Gauteng province – proudly wear Baloyi's makarapas. Their headgear, together with their impressive dance moves, singing and vuvuzela-blowing, always attract television cameras and help to get the crowd going.
These regulars try to attend as many matches as possible and often pool money so they can travel across the country to work their magic.
World Cup visitors are likely to hear some of their names and nicknames, including Baloyi himself, Saddam, Masilo Machaka, Mdokies, Mzioni Mofokeng, Gladys Bailey and uNtshebe. These fans will be seated in the front row of 2010 matches to stir up the atmosphere and drum up support for South Africa's national squad, Bafana Bafana.
Machaka, also a staunch Chiefs fan, says he has never worn and never will wear a makarapa made by anyone other than Baloyi. "Baloyi's makarapas are different, and that's why we call him Professor," he said.
"This is the best man for the job. When people want makarapas, especially international supporters coming to South Africa next year, they must go to him."