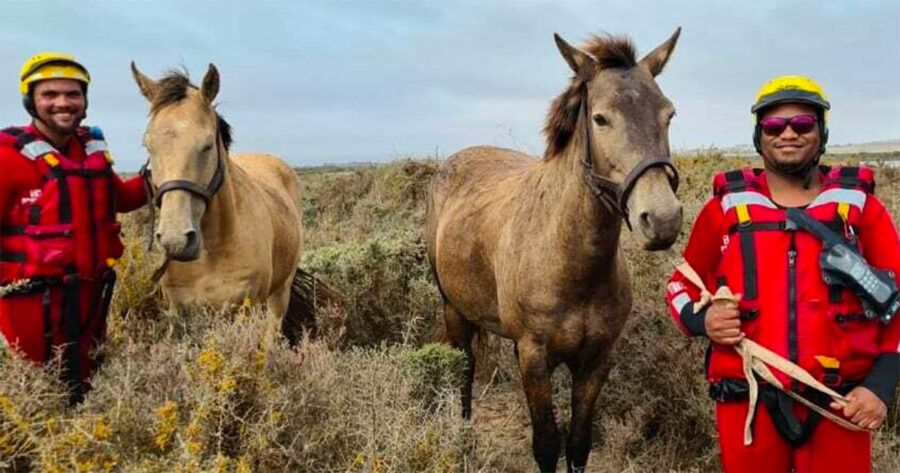 NSRI Helps Horses to Safety Through Flooded Orange River
Some horses, trapped on a tiny disappearing island, in the flooded Orange River in Namaqualand, South Africa, were helped to safety by brave volunteers from the NSRI Port Nolloth crew. The incident took place just after midday on Thursday when the horses' owner requested assistance for his trapped horses in the Richtersveld, near to Alexander […]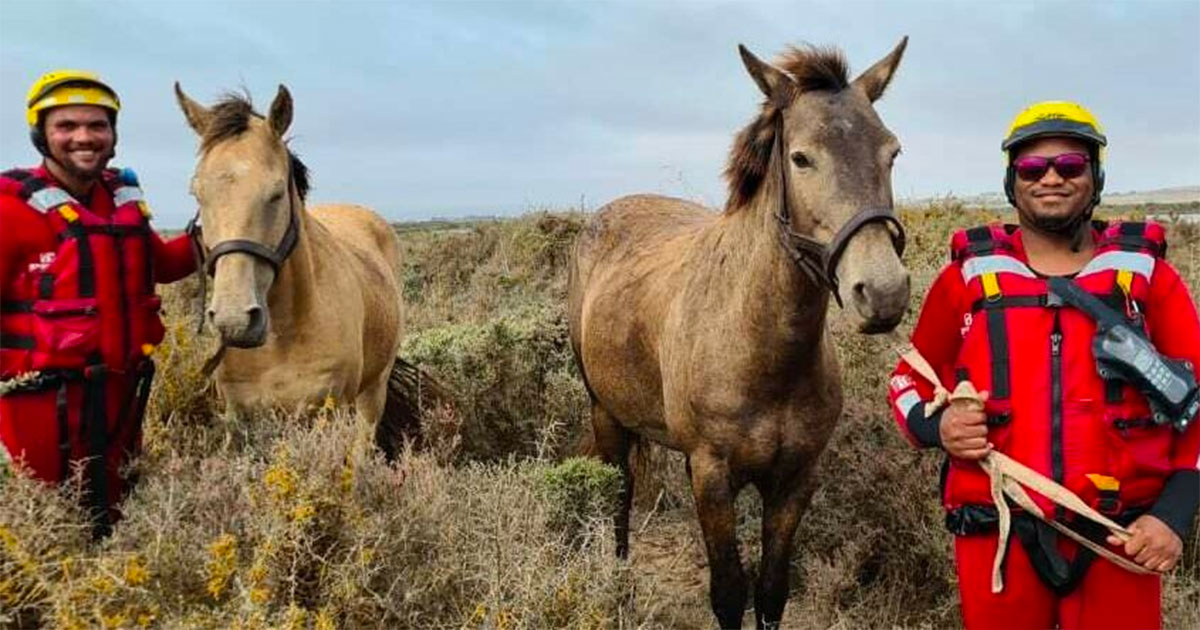 Some horses, trapped on a tiny disappearing island, in the flooded Orange River in Namaqualand, South Africa, were helped to safety by brave volunteers from the NSRI Port Nolloth crew.
The incident took place just after midday on Thursday when the horses' owner requested assistance for his trapped horses in the Richtersveld, near to Alexander Bay.
Hugo Foot, NSRI Port Nolloth station commander, said: "The river, swollen from heavy rainfall was rising by the minute. Of greatest concern was that one of the horses was tethered and would not be able to break free from the tether if the flood waters submerged the island."
The Port Nolloth crew was dispatched, and the sea rescue craft (Vodacom Rescuer 2) was towed to the scene… about 80 km from Port Nolloth.
The rescue craft was then launched onto the swollen river, with the concerned owner of the horses on board too.
Foot said: "We reached the small island where NSRI rescue swimmers, the owner and bystanders waded the horses through the fast flowing water, between 1 meter and 1.5 meters in depth, moving from one island to the next with the aim to reach a larger island.
"The distance between the last of the smaller islands to the larger island was 600 meters. The rescue swimmers encouraged the horses through the swift flowing water and finally reached the larger island."
On this island, there were already other livestock, cattle and horses.
There were several helpful bystanders who the NSRI commended for their assistance. The entire operation was only completed at 18h30… but fortunately all ended well, and all the horses and livestock were safely out of danger.
Source: NSRI
If you would like to support the NSRI, there are several options here!