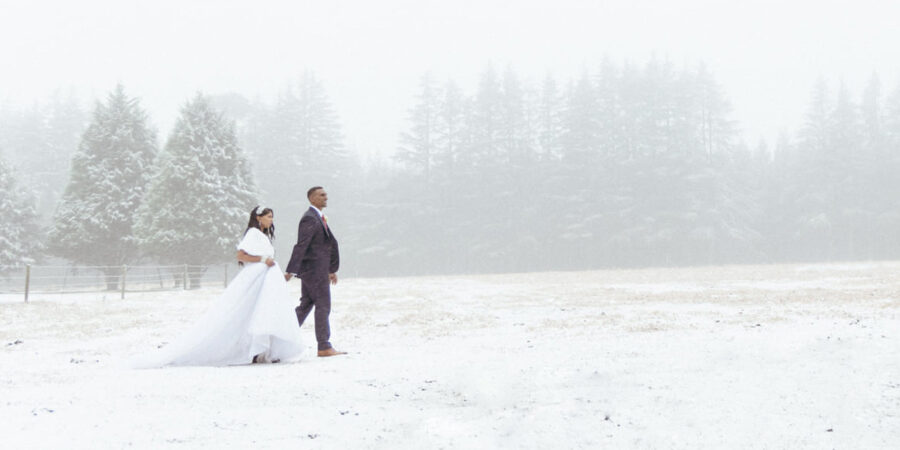 PHOTOS: Fairytale White Wedding Day for Surprised Bridal Couple in KZN as Snow Fell
Simone and Jarryd Aricksamy's wedding day started with a miserable morning as rain fell in KZN and temperatures plummeted. But, like others in KwaZulu-Natal, they were soon surprised by a welcome and very rare downpour of SNOW… transforming their afternoon wedding into a white, winter wonderland fairytale. Professional photographer Stuart Dods captured the exquisite photos […]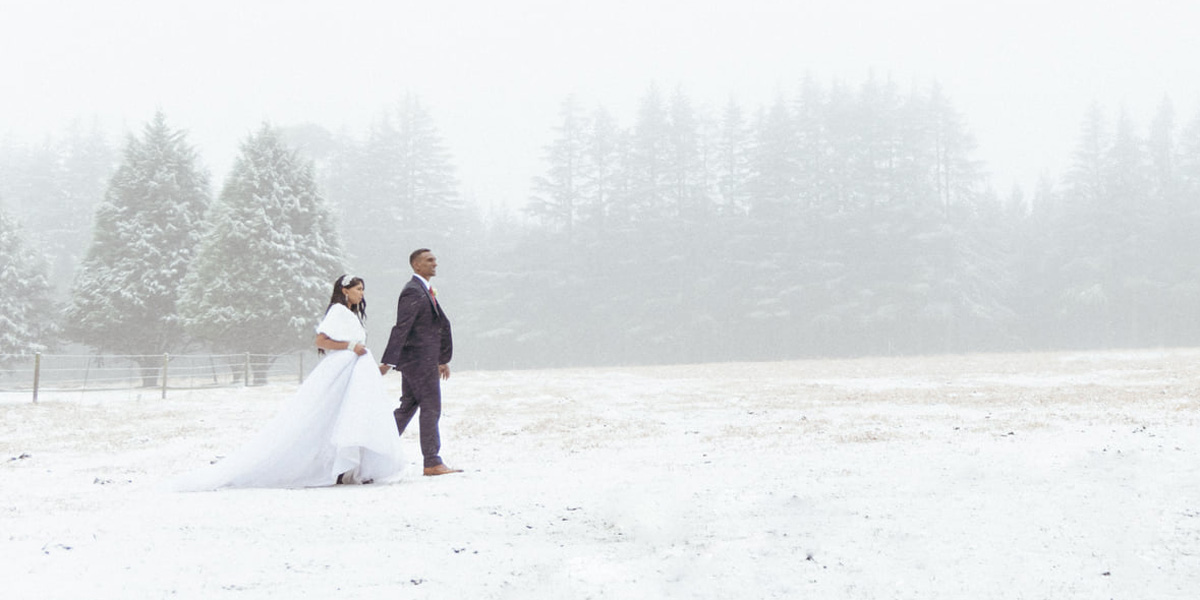 Simone and Jarryd Aricksamy's wedding day started with a miserable morning as rain fell in KZN and temperatures plummeted. But, like others in KwaZulu-Natal, they were soon surprised by a welcome and very rare downpour of SNOW… transforming their afternoon wedding into a white, winter wonderland fairytale. Professional photographer Stuart Dods captured the exquisite photos on this page, with romantic scenes that resembled a beautiful snow globe!
Stuart said:
"In 13 years of shooting weddings I've never had it snow and at the right time on a wedding day. So Jarryd Aricksamy and Simone Aricksamy hit the jackpot (on Saturday) and here's a sneak peek for them of their special day in the snow."
Assisted by Wesley Mclachlan, Stuart took the photos at the gorgeous Providence Country Weddings venue on Nottingham Road in the KZN Midlands.
Simone told IOL how the rain miraculously stopped as she began to walk down the aisle. "And then it snowed. God turned the weather around for us and made a provision for us to have a fairytale white wedding, which is more than we expected."
By the time the service was over in the chapel, the KZN countryside was covered in a white blanket of snow, making the perfect backdrop for the wedding photos.
Stuart revealed he put gumboots on the bride so she wouldn't totally freeze! He said: "It was freezing, I had six pairs of socks on and my feet were still numb. The bride had on a pair of Steven Madden gumboots and probably the least amount of clothes than any of us but she was absolutely amazing. The owners of the venue ran behind her with a blanket as we took pictures and when we were done warmed her up at the fireplace."
The lucky groom told IOL: "It was the perfect white wedding for us and we are truly blessed. We are so thankful."
All photos by STUART DODS, published here with his kind permission. View more photos at Stuart Dods Photography page on FB here, or visit his website: https://www.stuartdods.com/