Praise for cop who switched to mom mode at crash scene in Cape Town
The City of Cape Town has hailed one of its traffic officers – Andisiwe Gxabuza – who switched to "mom mode to get the job done". The municipality said on Wednesday: "They say no one can multitask like a mother. Take Andisiwe Gxabuza, for instance. When this City traffic officer and mom recently responded to […]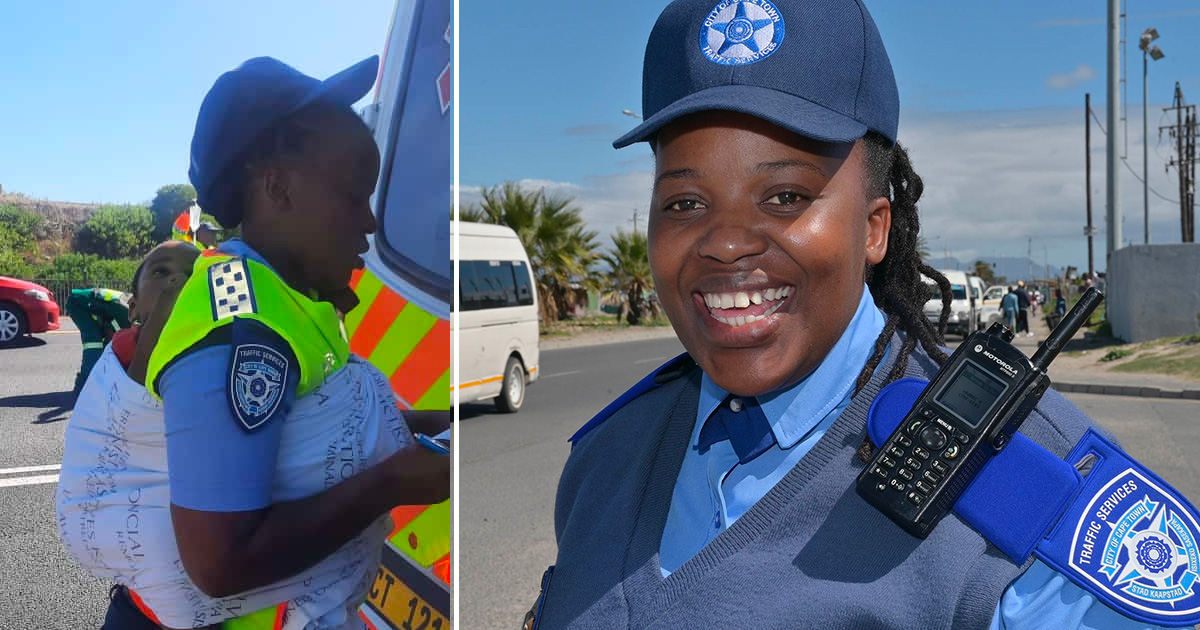 The City of Cape Town has hailed one of its traffic officers – Andisiwe Gxabuza – who switched to "mom mode to get the job done".
The municipality said on Wednesday: "They say no one can multitask like a mother. Take Andisiwe Gxabuza, for instance. When this City traffic officer and mom recently responded to a vehicle accident on the N2, she acted instinctively to calm the traumatised toddler from one of the cars while carrying out her duties on the scene.
"Many City employees boast sought-after, scarce and highly technical competencies. But, as traffic officer Andisiwe Gxabuza recently proved, it is our humanity and compassion that gives us the edge."
In the first week of January this year, Andisiwe attracted attention when a photo posted by Cassim Qolo (who also works for the City of Cape Town) went viral. The picture showed Andisiwe working an accident scene with an ambulance visible in the background… "all while having a baby tied to her back".
Cassim said at the time: "Mother was trapped in car accident! Traffic officer took care of the baby while performing her duties… Well performed SANDY!"
The City of Cape Town said this week: "Some people thought the traffic officer had taken her child to work. But praise quickly started pouring in after the truth was revealed."
More praise poured in yesterday with a comment from Mark Ernstzen summing up the sentiments of many:
"While we expect good service from all City officials and office bearers, Officer Andisiwe Gxabuza, Ma'am I acknowledge and congratulate you for passionately providing service beyond the call of duty. May your work ethic and humility be contagious. May you quickly, literally rise through the ranks. May chapters in training manuals honour your legacy as you lead by example in building our wonderful nation."