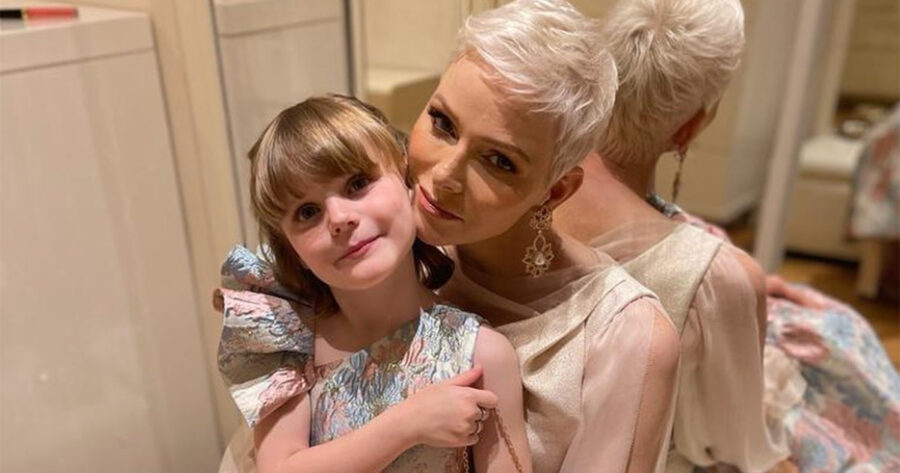 Princess Charlene Shares Gorgeous Mother Daughter Photo with 'My Princess' Gabriella
Princess Charlene of Monaco has delighted royal fans with a beautiful photo of herself and her daughter, Princess Gabriella, dressed for a fabulous night out at the Monte-Carlo Fashion Week. The annual fashion week is held under the 'high patronage' of HSH Princess Charlene of Monaco. This year it runs from 23 to 27 May, […]
Princess Charlene of Monaco has delighted royal fans with a beautiful photo of herself and her daughter, Princess Gabriella, dressed for a fabulous night out at the Monte-Carlo Fashion Week.
The annual fashion week is held under the 'high patronage' of HSH Princess Charlene of Monaco. This year it runs from 23 to 27 May, coinciding with the Cannes Film Festival and ending on Friday, just before the legendary Monaco Grand Prix this weekend.
Princess Charlene posted a beautiful mother-daughter photo before heading out to the event. In the photo, she has her arms wrapped around her precious seven-year-old daughter who's dressed up in a floral frock.
Princess Charlene (nee Wittstock), who was born in Zimbabwe before moving to South Africa where she became an Olympic swimmer for the country, said tonight: "I loved every moment preparing my Princess for her first official event. We're looking forward to a great evening at the fashion awards. ❤️"
Princess Charlene's followers commented on how beautiful, glamorous and happy both mother and daughter are looking, and said "welcome back Princess Charlene" and how wonderful it is to see her looking so well again. (Last year Charlene spent many months grounded in South Africa with an ENT complication, and in November – soon after returning to her family in Monaco – she was admitted to a clinic, believed to be in Switzerland, to recover from extreme fatigue. In March she returned in time for Easter with her husband, Prince Albert II, and their twins – Gabriella and Prince Jacques.)
Tuesday night was the first time Gabriella has attended a Monte-Carlo Fashion Week event with her mom. The occasion was the highlight of the week – the Fashion Awards Ceremony – and was held at the Opéra de Monte-Carlo.
On Instagram:
View this post on Instagram
WATCH the Monte-Carlo Fashion Week fashion awards, Tuesday 24 May
View this post on Instagram